Artist

| Jasper Wiedeman (*1963)
https://www.artist-info.com/artist/Jasper-Wiedeman
Artist Portfolio Catalog Overview\ 20
Exhibition at Galerie Poller, Frankfurt am Main
Exhibition at Galerie Poller, Frankfurt am Main
JASPER WIEDEMAN
Garden Series
30.01. – 21.03.2004
Galerie Poller, Brueckenstrasse 9-11, 60594 Frankfurt am Main, +49 (0) 69 - 624042

Aus Indien, Afrika oder Europa stammen ursprünglich die Pflanzen und Blumen, die Jasper Wiedeman (*1963) in seinem Garten in der Nähe von Amsterdam anpflanzt. Er steht früh morgens auf, wartet und beobachtet sie stundenlang – Jasper Wiedeman findet hier die Motive für seine Fotoarbeiten.
Der Holländische Fotograf, der mit seinen Fotoserien in Museen und Sammlung weltweit vertreten ist, befindet sich unweigerlich in Verwandtschaft zur Niederländischen Stillleben-Malerei des 17. Jahrhunderts. Getrieben von wissenschaftlichem Interesse wollte sie Flora und Fauna detailgetreu dokumentieren. Wiedeman leugnet nicht die symbolische Bedeu-tung, mit denen Blumendarstellungen auf Grund dieser kunsthistorischen Tradition belegt sind. In seinem Werk erhält diese Seite der Interpretation jedoch wenig Bedeutung. Viel eher erkennt er in seiner Arbeit eine erotische Komponente und rückt die ästhetische Sen-sibilität der Darstellung in den Vordergrund. Er suche die "Seele in seinen Objekten", so Wiedeman. Durch die starke Vergrößerung der pflanzlichen Details und einen offenen, monochromen Hintergrund bekommen sie die Qualität eines Portraits. Frei von einem zu viel an Interpretation, bleibt der Blick offen für die zerbrechliche Plastizität und die Orna-mentik der Formen.
Im Unterschied zu der vorangegangenen Serie, in der seine Modelle – Herbstlaub aus dem eigenen Garten – buchstäblich vor seine Füße fielen, ist in den hier gezeigten Arbeiten nicht der Aspekt der Vergänglichkeit entscheidend. Die Blumen stehen am Beginn ihrer Entwicklung, sie öffnen sich und fangen an, zu blühen. Für Jasper Wiedeman ist das schlussendliche Foto das Ergebnis dieses langsamen, langen Prozesses. Ein weiterer Schritt in seiner Arbeit wird für Jasper Wiedeman der Blick auf das Wachsen und das sich Verändern eines ganzen Blumenbeetes sein, das er mit seiner Kamera festhalten möchte.

Biography
Biography
born 1963, Amsterdam
1983 - 85   Politics, University of Amsterdam
1988 - 1993  Gerrit Rietveld Academy Amsterdam, photography graduated
1994   Sandberginstituut, Amsterdam
Under supervision of Willem van Zoetendaal, Jan de Goede, Daan vanGolden en Ton Lutz

Lecturing
Lecturing
1993 - 95   Technical assistent Gerrit Rietveld Academy
1996 - 98   teaching (guest) atterrit Rietveld Academy
1998   Centre for Photography,
1998 . 99   American School of The Hague, Photography

Exhibitions
Exhibitions
2004   Galerie Poller, Frankfurt am Main – Garden Series
2003   Van Zoetendaal Collections, Amsterdam
2002   Galerie La Peripherie, Paris - duo exposition with Carla van de Puttelaar
2001   Van Zoetendaal Collections, Amsterdam - solo exhibition
2000   L'oeuil du Nord, l'Institut Néerlandais, Paris
1999   Galleriy LUMC, Leiden – Blok / Wiedeman
1998   Concertgebouw Amsterdam - Praemium Erasmianum
1998   De Zaaijer, Amsterdam
1998   Berlage Institute, Amsterdam
1998   Gallery 21 /2 bij 41 /2, Amsterdam
1998   Cultural centre de Balie, Amsterdam - still lives
1997   Fotomanifestatie Noorderlicht, Groningen
1997   Fotofestival Naarden - # 4 - solo exhibition
1996   Sala Una, Rome - Contemporary Dutch Photography
1996   Fondazione Italiana per la Fotografia, Torino  - Contemporary Dutch Photography
1996   Centraal Museum Utrecht - 35x Portrait
1995   Former departure halls Holland-Amerika, Rotterdam - Manifestation 50/50, Pavilion
1995   ABC Architectuur Centrum, Haarlem Oude Kerk, Amsterdam - Tulipa
1994   Cultural Centre de Balie, Amsterdam - Bloemstillevens/ flower still lives
1993   Centre for Photography De Moor, Amsterdam - Vier academieverlaters
1993   Arti et Amicitiae, Amsterdam - "morgen gemaakt"
1993   Fotofestival Naarden - Buitenproject billboard
1992   Moi de la Photo, Reims, France
1991   Fotofestival Naarden

Museums and Private Collections
Museums and Private Collections
Nijgh en Van Ditmar, Prometheus, Bert Bakker, Meulenhoff Querido,
SO by Alexander van Slobbe, Netherlands Design Institute, Ajax Museum,
Kröller Müller museum, Stadsschouwburg Amsterdam, Delta Lloyd, Nike, KPMG,
Prins Bernard Cultuurfonds

Awards
Awards
1999   Provincie Noord-Holland,. Documentary commission
1998   Amsterdam Fund for the arts
1996   Foundation for fine arts. Startstipendium.

Bibliography
Bibliography
1999   Deshima.,Van Zoetendaal Collections, Amsterdam
1999   PF, Het Parool, Algemeen Dagblad, Trouw, Volkskrant, NRC, Ode, Nieuwe Revu,
1999   Magnus (D), DAH Aktuel (D), Max (D), AKA (CH)
1996   Catalogue Fashion and Costume, Centraal Museum Utrecht
1994   Tulipa, Basalt publishers, Amsterdam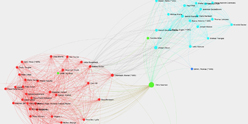 Interested in discovering more of this artist's networks?
3 easy steps: Register, buy a package for a visualization, select the artist.
See examples how visualization looks like for an artist, a curator, or an exhibition place: Gallery, museum, non-profit place, or collector.

Exhibition History

SUMMARY

based on artist-info records. More details and Visualizing Art Networks on demand.
Venue types:

Gallery

/

Museum

/

Non-Profit

/

Collector

Exhibitions in artist-info
7 (S 2/ G 5)

Did show together with

- Top 5 of 36 artists
(no. of shows) - all shows - Top 100

Exhibitions by type

7: 5 / 0 / 2 / 0
Venues by type

6: 4 / 0 / 2 / 0
Curators
1
artist-info records
Feb 1996 - Mar 2004

Countries

- Top 3 of 3
Netherlands (3)
Germany (2)
France (1)


Cities

3 - Top of 3
Amsterdam (4)
Frankfurt am Main (2)
Paris (1)


Venues

(no. of shows ) Top 5 of 6
| | | |
| --- | --- | --- |
| | | Curators (no. of shows) Top 1 of 1 |