Artist

| Gerhard Vormwald (*1948)
https://www.artist-info.com/artist/Gerhard-Vormwald
Artist Portfolio Catalog Overview\ 5
Biography
Biography
1948           geboren in Heidelberg
1954 - 62   Volksschule (bevorzugtes Fach: Malen und Zeichnen; mit liebevoller Unterstützung meiner Mutter)
1962 - 66   Offsetdruckerlehre und erste fotografische Versuche
1966 - 70    Kunststudium an der Freien Akademie Mannheim (Gebrauchsgrafik bei Wolf Magin, Malerei und Plastik bei Hans Nagel)
1969 - 72   Bühnenfotograf am Nationaltheater Mannheim
1970 - 71   Assistent für Druckgrafik an der Werkkunstschule Mannheim
1971          Übernahme des Ateliers von Hans Nagel und Eröffnung des Fotostudios in Mannheim, damit Konzentration auf die Fotografie
ab 1975      viele Auslandsreisen und erste Fotoinszenierungen
1978 - 81   wieder Bühnenfotograf am Nationaltheater Mannheim
1983          Übersiedlung noch Paris; Eröffnung des Fotostudios 52,rue Pernety
1984          noch zehnjähriger Pause Wiederaufnahme von malerischer und zeichnerischer Tätigkeit, verstärkte Auseinandersetzung mit freier Fotografie und Video
1988          Erwerb des Landhauses Le Cuéche im Loiret, Einrichtung eines Ateliers für Malerei
ab 1990     Einschränkung der Werbefotografie zugunsten der freien Fotografie und Malerei, erste Objekte
ab 1991     Konzepte und Realisationen von Scanner Fotografien in Zusammenarbeit mit K.D.Jendrissek, Rollei Fototechnik, Braunschweig
Solo Exhibitions Photography
Solo Exhibitions Photography
1971   Heidelberger Kunstverein "Friedhöfe"
1979   Popular Photographers Gallery New York "Friedhöfe"
1980   Landesbildstelle Hamburg "Friedhöfe"
1981   Galerie Werner Pawlok, Esslingen
           Galerie Sterntaler, München
1987   Mannheimer Kunstverein "Photos!"
           Hamburg, PPS-Galerie, F.C.Gundlach Düsseldorf, CCD-Galerie, H.J.Lorsbach
1990   Zürich, Nikon-Galerie
1992   Ursula Blickle Stiftung, Kraichtal, "Bilder von Menschen und Objektinszenierungen"
1993   Galerie Ernst Volland, Berlin
           Pinacoteca do Estado Sao Paulo, Brasilien
1994    Kunstverein Speyer, "Neue Arbeiten mit Photografie"
Group Exhibitions Photography
Group Exhibitions Photography
1975   Kunstverein Stuttgart "Fotogrofie bis heute"
1981   Stadtmuseum Nürnberg "Fotodesign - Anspruch und Beweis"
           Polaroidgalerie Offenbach "Polaroid Fotografie"
1983   Wanderausstellung New York, Tokio, Rochester "Fotodesign als Auftrag"
1984   Photokina Köln "Werbefotografie - Anspruch und Beweis"
           Goetheinstitut Paris "Fotodesign als Auftrag"
           Stadtmuseum München / Museum für Kunst und Kulturgeschichte Dortmund / Frankfurter Kunstverein / Museum des 20jahrhunderts Wien "Dos Aktfoto,"
           Centre National de la Photographie, Palais Tokio
           Paris Identités"
1986   Photokina Köln "Fotodesign 86"
           Photokina Köln "Modern Color Photography"
           Photographers Gallery London "The Animal in Photography" u.A. mit E.Erwitt, I.Penn, W. Wegman
           Stuttgart "Erkundungen", Internationale Werbefotografie
1987   Bremen, Jahresausatellung des Deutschen Künstlerbundes u. A. mit Robert Häuser
1988   Rochester, International Museum of Photogrophy at Georg Eastmon House "The art of persuasion"
           Photokina Köln, Agfa-Pavillon
1989   Mannheimer Kunstverein "Der beobachtete Beobachter" mit u. a. R. Doisneau, H. C.Bresson, Ph. Halsman
           Tokio, Japan - Wanderausstellung des Bundes Freischaffender Fotodesigner
1990   Moskau, Haus des Malers "Deutsche Fotografie" u. a. F. Adler, J.Schumacher, K. D. Geissler
1991   Paris, Centre George Pompidou "de la reclame à la publicité"; mit u.a. G. Bourdin, P. Lindbergh, J. Larrivière
           Kunstverein Karlsruhe, Museum für Buckunst Leipzig "Die Bildmacher" mit u.a. B. Weber, X. Vallonrath, N. Knight
           Hamburg, internationale Wanderausstellung "Montblanc in Focus" mit u.a. H. Hansen, J. Schumacher, P. Knaup
1993   Fototage, Frankfurt/Main
           Mediale Hamburg, Museum für Kunst und Gewerbe, Hamburg, "Pixel" (Scannerfotos)
1994   Messehalle, Nürnberg, Photofuture"
           Galerie Münsterland, Emsdetten, "Bilderflut, photografische Raumobjekte"
           Galerie Ivonamor Palix, Paris, "Photofiction"
          FIAC, Paris, Stand Ivonamor Palix
Solo Exhibitions Paintings and Editions
Solo Exhibitions Paintings and Editions
1970   Galerie Tangente Mainz (mit R. Negrelli)
1971   Foyer des Nationaltheaters Mannheim (mit Wolfgang Ohlhäuser)
1972   Kunstverein Mannheim (mit Hans Grader und Edgar Schmandt)
Group Exhibitions Paintings and Editions
Group Exhibitions Paintings and Editions
1970   "Le jeune de Mannheim", Galerie Vercamer Paris (mit Rudi Baerwind)
1772   Kunstverein Heidelberg, Cyclus "3x3"
1974   Galerie Wortelkamp, Beindersheim (Pfalz)
           Werkunstschule Mannheim
           Klasse Hans Nagel
1986    "Le jardin secret des photographes célèbres" mit u.a. J. H. Lartigue, D. Bailey, A. Molinier, Paris, Bagatelle
About the work (deutsch)
About the work (deutsch)
Gerhard Vormwald (Jg. 1948), geboren in Heidelberg nach Volksschule und Lehre als Offsetdrucker Kunststudium 1966-1970 an der Freien Akademie Mannheim in den Fächern Gebrauchsgrafik bzw. Malerei und Plastik. In den Jahren 1969 - 1972 und 1978 - 1981 Bühnenfotograf am Nationaltheater Mannheim. Ab 1971 eigenes Fotostudio und Konzentration auf das Medium Fotografie. Erste Fotoinszenierungen entstehen. Das unverwechselbar virtuose Spiel mit Scheinperspektiven und Vexiereffekten macht Vormwalds Arbeiten für Zeitschriften (u.a. »stern«, »Playboy«, »Zeitmagazin«, »Ambiente«, »L'Equipe«, »Epoca«) und Werbung (z.B. für Fiat, Pepsi Cola, Kawasaki, Sony, TDK, Agfa, Kodak) international berühmt. Übersiedlung nach Paris 1983, im Jahr darauf nach langer Unterbrechung Wiederaufnahme von Malerei und Zeichnung, daneben zunehmende Hinwendung zur freien Fotografie sowie Versuche mit Video. Ab 1988 weiteres Atelier im ländlichen Zweitwohnsitz Le Cuéche, in der Folgezeit schränkt Vormwald die kommerziellen Aktivitäten ein und befaßt sich vor allem mit Objektkunst im Grenzbereich von Malerei und Fotografie. Zerstörung und Verfall oder Dinge, die aus ihrem Kontext gerückt sind, faszinieren den fotografierenden Künstler wie den professionellen Fotografen Vormwald. Vormwald versteht sich nicht als Poet oder Phantast, sonder durchaus als Realist. Seine Bilder seien nur scheinbar surreal oder fiktiv. Er arrangiert die Objekte, die er vor die Kamera hole, zwar symbolhaft, doch - so Vormwald - mit dem Medium Fotografie formuliere er ganz realistische Aussagen. Nur ist seine Bildwirklichkeit eine Scheinwelt, die dennoch immer Brüche enthält, Hinweise auf ihren künstlichen Ursprung. Nicht perfekte Illusion oder Täuschung des Betrachters sind das Ziel, sondern die Verunsicherung des Blicks, eine Probe seiner Aufmerksamkeit.
Collections
Collections
Centre Georges Pompidou Paris,
Museum für Kunst und Gewerbe Hamburg,
Polaroid-Sammlung Amstermd
George Eastman House Rochester
Bibliothèque Nationale Paris
Memberships
Memberships
Bund Freischaffender Fotodesigner (BFF)
Deutsche Gesellschaft für Photografie (DGPH)
Art Directors Club für Deutschland (ADC)
Organisation des Photographes d'Edition et de Publicité (OPEP) Paris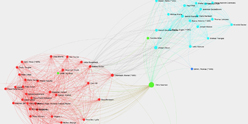 Interested in discovering more of this artist's networks?
3 easy steps: Register, buy a package for a visualization, select the artist.
See examples how visualization looks like for an artist, a curator, or an exhibition place: Gallery, museum, non-profit place, or collector.

Exhibition History

SUMMARY

based on artist-info records. More details and Visualizing Art Networks on demand.
Venue types:

Gallery

/

Museum

/

Non-Profit

/

Collector

Exhibitions in artist-info
18 (S 7/ G 11)

Did show together with

- Top 5 of 434 artists
(no. of shows) - all shows - Top 100

Exhibitions by type

18: 5 / 3 / 9 / 1
Venues by type

15: 3 / 3 / 8 / 1
Curators
8
artist-info records
Nov 1987 - Oct 2019

Countries

- Top 1 of 1
Germany (15)


Cities

- Top 5 of 11
Köln (5)
Mannheim (3)
Frankfurt am Main (2)
Berlin (1)
Nordhorn (1)


Venues

(no. of shows ) Top 5 of 15
| | | |
| --- | --- | --- |
| | | Curators (no. of shows) Top 5 of 8 |