https://www.artist-info.com/artist/Pilar-Albajar
Artist Portfolio Catalog Overview\ 6
Exhibition at in focus Galerie am Dom - Burkhard Arnold, Köln
Exhibition at in focus Galerie am Dom - Burkhard Arnold, Köln
Pilar Albajar "Ein Zimmer mit Blick"
Pilar Albajar + Antonio Altarriba "Gesichter der Angst"
vom 15. Februar bis zum 22. März 2002 in der in focus Galerie am Dom, Köln

Biography
Biography
Pilar Albajar lebt und arbeitet in Spanien als "Bachelor of Arts" und entwickelte seit 1988 ihre Arbeit zum Teil unter eigener Regie, zum Teil in Zusammenarbeit mit Antonio Altarriba. In dieser Ausstellung zeigt die in focus Galerie die beeindruckende Serie "Ein Zimmer mit Blick, 1999-2000" von Pilar Albajar und die Serie "Gesichter der Angst" von Pilar Albajar und Antonio Altarriba. Antonio Altarriba ist Professor für Französische Literatur an der Universität im Baskenland und Schriftsteller. Er entwickelt häufig die Ideen zu den Serien, die dann von Pilar Albajar künstlerisch umgesetzt werden.
Ihre Fotografien wurden 1991 in der Neikrug Galerie in New York, 1992 auf dem Houstoner Fotofest (USA), 1994 in der open-eye Galerie Liverpool und in der Caspar Galerie, London, 1995 in der in focus Galerie Köln, 1999 auf der "Paris Photo" Messe sowie in zahlreichen weiteren Städten in Spanien und Frankreich gezeigt.
Viele Publikationen und Kataloge dokumentieren ihren Weg.

About the work (deutsch)
About the work (deutsch)
"Keine Fotografie und auch kein sonstiges kreatives Ausdrucksmittel kann sich den gewöhnlichen oder außergewöhnlichen Erfahrungen, die dem Künstler widerfahren, vollständig entziehen. Ich weiß, wenn ich mich gut oder schlecht, unglücklich oder glücklich fühle, so spiegelt sich dies unweigerlich in meinem Werk wieder. 1998 wurde bei mir, wie bei so vielen Frauen, Brustkrebs diagnostiziert. Im Jahr der Operation und der Behandlung wäre es mir unmöglich gewesen, Fotos zu machen, die einfach oder reizvoll für den Betrachter gewesen wären. Für den Fall, dass ich die Energie gehabt hätte, etwas wiederzugeben, was über mich selbst hinaus ging.

Ich frage mich, weshalb ich die Notwendigkeit empfunden habe, diesen Akt des Exhibitionismus zu vollführen. Warum konnte ich es nicht verhindern, mich systematisch in einem Augenblick zu porträtieren, in dem ich mich so schlecht fühlte? Ich weiß, dass ich nicht die einzige Fotografin bin, die diese Krankheit erlitten hat, und ich weiß auch, dass sie sich fotografiert und ihre verstümmelten Körper und ihre Narben gezeigt haben. In dieser Serie von sechs Fotos wollte ich nicht so sehr den körperlichen Verfall zeigen, sondern den seelischen Zustand, in dem ich mich während der sechs Chemotherapiesitzungen, aus denen die Behandlung bestand, befand. Eine Behandlung, die heilt, die jedoch kalt und schmerzhaft ist, die bewirkt, dass Du Dich schutzlos, verängstigt fühlst, erstaunt über Dein eigenes Aussehen, allein ... immer wieder, bis zu sechsmal.

Und der Exhibitionismus endet dort nicht. Danach kommen die Ausstellungen, die Veröffentlichungen und damit verbunden die Verpflichtung, die Scham zu überwinden, etwas so intimes wie das Leiden zu zeigen. Und all dies, wozu? Ich glaube nicht an die Theorie, dass alles Böse, was Dir widerfährt, auch sein Gutes hat. Aber in diesem Fall will ich den Frauen, die an dieser Krankheit leiden oder leiden werden, übermitteln, dass dank den Fortschritten der Medizin, der Menschen, die mich auf die eine oder andere Weise begleitet haben und meinem eigenen Willen Hoffnung möglich ist. Die Krankheit kann zurückbleiben, der Schmerz bleibt nur in den Bildern und Du lebst, um es zu erzählen, mit oder ohne Fotos."

Pilar Albajar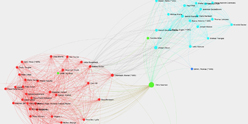 Interested in discovering more of this artist's networks?
3 easy steps: Register, buy a package for a visualization, select the artist.
See examples how visualization looks like for an artist, a curator, or an exhibition place: Gallery, museum, non-profit place, or collector.

Exhibition History

SUMMARY

based on artist-info records. More details and Visualizing Art Networks on demand.
Venue types:

Gallery

/

Museum

/

Non-Profit

/

Collector

Exhibitions in artist-info
4 (S 0/ G 4)

Did show together with

- Top 5 of 43 artists
(no. of shows) - all shows - Top 100

Exhibitions by type

4: 4 / 0 / 0 / 0
Venues by type

3: 3 / 0 / 0 / 0
Curators
0
artist-info records
Nov 1994 - Mar 2002

Countries

- Top 2 of 2
United Kingdom (1)
Netherlands (1)


Cities

3 - Top of 3
Köln (2)
Eindhoven (1)
London (1)


Venues

(no. of shows ) Top 3 of 3
| | | |
| --- | --- | --- |
| | | Curators (no. of shows) Top 0 of 0 |
Insight Basic

Display the full interactive exhibition history and all related artist, exhibition venue, and curator pages for your research. The SUMMARY above shows today's available scope.
Insight Basic 10 Days USD 378 / EUR 394

Insight Basic 1 Day USD 42 / EUR 44

To use Insight Basic or Insight Analytics
Sign-up for free first
Insight Analytics
Use Analytics tools for more insight based on documented exhibitions. More details on your RESEARCH user page.
(Includes Inisght Basic)
COMING SOON