Artist

| Wolfram Ullrich (*1961)
https://www.artist-info.com/artist/Wolfram-Ullrich
Artist Portfolio Catalog Overview\ 5
Biography
Biography
1961   geboren in Würzburg
1980 - 87   Staatliche Akademie der Bildenden Künste Stuttgart
1981 - 85   Kunstgeschichte an der Universität Stuttgart
1990   Stipendium der Graduiertenförderung des Landes Baden-Württemberg
1991   Arbeitsstipendium der Kunststiftung Baden-Württemberg
1992   Arbeitsstipendium des DAAD, NewYork
lebt in Stuttgart
Solo Exhibitions (selection)
Solo Exhibitions (selection)
1983   Kunststudenten stellen aus, Landesbildstelle Stuttgart
1986   3 Studenten der Akademie, Galerie Beatrix Wilhelm, Stuttgart (Katalog)
           Kolloquium der Kunstakademien, Badischer Kunstverein, Karlsruhe (Katalog)
1987   Galerie Beatrix Wilhelm, Stuttgart (Katalog)
1988   30. Jahresausstellung des Deutschen Künstlerbundes, Stuttgart (Katalog)
1990   Kunstraum Göppingen
1991   Galerie Beatrix Wilhelm, Stuttgart
1992   Galerie Carla Fuehr, München
           Interferenzen V, Museum Moderner Kunst, Stiftung Ludwig, Wien (Katalog)
           Galerie Dr. I. Schlégl, Zürich
           Städtische Galerie im Kornhaus, Kirchheim Teck
           Junge Kunst-Saargas Förderpreis, Saarlandmuseum Saarbrücken (Katalog)
1993   Galerie Dr. I. Schlégl, Zürich
           Galerie Carla Fuehr, München
1994   Galerie Beatrix Wilhelm, Stuttgart (Katalog)
           Kunstmuseum Heidenheim (Katalog)
           Galerie 86, Trier
           IDAC - Konkrete Kunst International, Wilhelm Hack Museum, Ludwigshafen
1995   Galerie Dr. I. Sch1égl, Zürich
1996   Galerie Michael Sturm, Stuttgart
           Galerie Dr. I. Sch1égl, Zürich
           Die Konkrete Zeit / Gegenstände eines Jahrhunderts, Stiftung für Konkrete Kunst, Reutlingen
1997   Form und Funktion der Zeichnung, Art Frankfurt
           Kunstverein Frankfurt (Katalog)
         Galerie Michael Sturm, Stuttgart
About the work (deutsch)
About the work (deutsch)
Bei jeder Ausstellung setzt sich Wolfram Ullrich mit dem Ort, an dem sie stattfindet, auseinander. Licht und Raumverhältnisse beeinflussen die Entscheidung, was er zeigt. Die Werke sind nicht "site specific", insofern sie nur für einen ganz bestimmten Ort geschaffen würden, jedoch jeder neue Ausstellungsort bringt eine veränderte Auswahl. Die vorliegende Ausstellung des Künstlers hat sich verzögert, aber diese Verzögerung hat sich positiv auf das Projekt ausgewirkt. Wir haben in der Frankfurter Aufbau AG einen enthusiastischen Sponsor gefunden, der das Projekt Wirklichkeit werden ließ und der veränderte Zeitplan macht einen Vergleich möglich, der für beide Künstler, Klaus Staudt im "Studio 51", Frankfurt/Main und Wolfram Ullrich, im Frankfurter Kunstverein, spannend ausfällt. Ullrich repräsentiert gegenüber dem gleichzeitig gezeigten Klaus Staudt eine jüngere Generation, die sich mit dem visuellen Vokabular einer konkreten Bildsprache am Ende des Jahrhunderts auseinandersetzt. Für ihn sind die Erfahrungen der minimalistischen Skulptur wie der "hard edge" Malerei so wesentlich wie für Klaus Staudt die Prämissen der konkreten Kunst wie sie zu Beginn des Jahrhunderts als autonome und objektive Kunstsprache etabliert wurde. Wolfram Ullrich verbindet Sinnlichkeit, die Faszination von Licht und Farbe mit Kalkül und Reflexion. In seinen Zeichnungen, die hier zum ersten Mal umfassender gezeigt werden, in den Bodenreliefs und Wandskulpturen entwickelt er eine Sprache weiter und fügt einen eigen unverwechselbaren Beitrag hinzu.
Ohne das Engagement von Herrn W. Wolff hätten wir das Projekt nicht zeigen können. Ihm sei wie auch den beiden, Ullrich repräsentierenden Galerien Schlégl und Sturm an dieser Stelle herzlich gedankt.

Text von Peter Weiermair
Anläßlich der Ausstellung im Frankfurter Kunstverein vom 22.05.1997 bis 22.06.1997 mit Wolfram Ullrich und im "Studio 51" der Frankfurter Aufbau AG mit Klaus Staudt.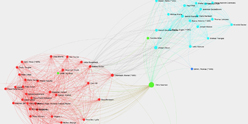 Interested in discovering more of this artist's networks?
3 easy steps: Register, buy a package for a visualization, select the artist.
See examples how visualization looks like for an artist, a curator, or an exhibition place: Gallery, museum, non-profit place, or collector.

Exhibition History

SUMMARY

based on artist-info records. More details and Visualizing Art Networks on demand.
Venue types:

Gallery

/

Museum

/

Non-Profit

/

Collector

Exhibitions in artist-info
32 (S 17/ G 15)

Did show together with

- Top 5 of 219 artists
(no. of shows) - all shows - Top 100

Exhibitions by type

32: 27 / 3 / 1 / 1
Venues by type

17: 12 / 3 / 1 / 1
Curators
5
artist-info records
Mar 1995 - Jul 2015

Countries

- Top 5 of 5
Germany (14)
Switzerland (4)
Belgium (3)
Sweden (2)
Spain (1)


Cities

- Top 5 of 16
Stuttgart (5)
Zürich (4)
Saarbrücken (4)
München (3)
Antwerp (3)


Venues

(no. of shows ) Top 5 of 17
| | | |
| --- | --- | --- |
| | | Curators (no. of shows) Top 5 of 5 |
Insight Basic

Display the full interactive exhibition history and all related artist, exhibition venue, and curator pages for your research. The SUMMARY above shows today's available scope.
Insight Basic 10 Days USD 378 / EUR 394

Insight Basic 1 Day USD 42 / EUR 44

To use Insight Basic or Insight Analytics
Sign-up for free first
Insight Analytics
Use Analytics tools for more insight based on documented exhibitions. More details on your RESEARCH user page.
(Includes Inisght Basic)
COMING SOON