Artist

| Jeanloup Sieff (1933 - 2000)
https://www.artist-info.com/artist/Jeanloup-Sieff
Artist Portfolio Catalog Overview\ 4
Biography
Biography
wurde am 30 November 1933 in Paris als Kind aus Polen stammender Eltern geboren.
Schulbildung am Collège Chaptal und Lycée Decours, Philosophie - Abitur, Philologiestudium (zwei Wochen), Fotoschule an der École Vaugirard (drei Wochen) und an der Schule von Vevey in der Schweiz (sieben Monate).

Sieff begann mit 14 Jahren zu fotografieren, nachdem er eine Kamera zum Geburtstag geschenkt bekommen hatte. Er wollte jedoch Filmregisseur werden, gab aber die Filmpläne rasch auf und arbeitet seit 1954 als freier Fotograf. Zunächst hatte er eine Anstellung bei der Zeitschrift "Elle", ab 1955 als Fotoreporter, ab 1956 als Modefotograf. Sieff kündigte und fotografierte 1958/59 für kurze Zeit für die Agentur "Magnum". Dann ging er 1961 nach New York, wo er bis 1966 lebte und arbeitete.
Lebt seit 1966 in Paris, wo er für zahlreiche Zeitschriften ("Vogue", "Harper's Bazaar", "Paris Match" etc.) fotografiert; er machte Bücher sowie Ausstellungen.
Jeanloup Sieff ist weltweit in den wichtigsten Sammlungen mit Fotografien vertreten.
About the work (deutsch)
About the work (deutsch)
"40 Jahre Fotografie" - Werkschau des international gefeierten französischen Fotografen Jeanloup Sieff
10.9.1999 bis zum 16.10.1999, in focus Galerie am Dom, Köln

Jeanloup Sieff studierte 1953 Literatur, Journalismus und Photographie an der École Vaugirard in Paris und im darauffolgenden Jahr Photographie in Vevey in der Schweiz. Er begann als Freelance Journalist in Paris zu arbeiten und war von 1955-1958 als Reportage- und Modephotograph für die Zeitschrift »Elle« tätig. Nach kurzer Mitgliedschaft bei »Magnum« (1959), während der er Reportagen in Griechenland, der Türkei und Polen machte, arbeitete er bis 1961 als Freelance Photographer und erhielt im selben Jahr den »Prix Niepce«. Seit dieser Zeit photographierte er Mode für alle wichtigen Zeitschriften wie »Harper's Bazaar«, »Glamour«, »Esquire«, »Look«, »Vogue« oder »twen« in den USA und Europa.
Sieff ist außerdem ein gefeierter Aktphotograph. Eines seiner Stilmittel ist der Weitwinkel, der seinen Akten eine Art von Traumverlorenheit gibt und eine gewisse Distanz der nackten Modelle suggeriert, obwohl sie oftmals den Blick direkt auf den Betrachter richten.
Weniger bekannt sind Sieffs exzellente Landschaftsphotographien. "Maison Noire" (Schwarzes Haus), 1964, ist ein frühes Beispiel für dieses Genre - eine Aufnahme, die zeigt, wie dramatisierend der Einsatz eines 28-mm-Objektivs wirken kann und wie virtuos Sieff die Texturen von Holz und Schilf einerseits und Silhouetten, Schatten und Himmelszeichnung andererseits in der Schwarz- Weiß - Aufnahme zur Geltung bringt.
(Text aus: Photographie des 20. Jahrhunderts, Museum Ludwig Köln, 1996, AS)

Öffnungszeiten: Di. - Fr. 15 - 19.Uhr, Do. - 20 Uhr, So. 15.00 - 18.00 Uhr u. n.V.
während der Galerientage/Saisoneröffnung: Samstag, 11.09. von 11 - 16 Uhr, Sonntag, 12.09.99 von 11 - 14 Uhr
während der Internationalen Photoszene Köln: Freitag, 17.09. von 15 - 19 Uhr, Samstag, 18.09. von 15 - 19 Uhr, Sonntag, 19.09.99 von 11 - 15 Uhr

Event zur Internationalen Photoszene Köln '99: Matinée mit Jeanloup Sieff in der in focus Galerie am Dom, Köln
Sonntag, 19. September 1999, 11.00 - 15.00 Uhr, Jeanloup Sieff signiert sein Buch "40 Jahre Fotografie"
Solo Exhibitions (selection)
Solo Exhibitions (selection)
1961   Galerie la Demeure, Paris
1970   Wanderausstellungen in den Maisons de la Culture von Amiens, Angers, Tours, Le Havre 
1971   The Underground Gallery, New York
1971   Académie d'Art Moderne, Gent
1971   Wanderausstellung in den Maisons de la Culture von Abbeville, Bourdeaux
1972   Galerie Nikon, Paris
1973   Galerie des Philosophes, Genf
1973   Galerie Nikon, Tokio
1974   Galerie Spectrum, Barcelona
1975   Galerie Canon, Amsterdam
1975   Silver Image, Tacoma
1975   FNAC Monteparnasse, Paris
1976   Galerie Agathe Gaillard, "43 portraits de Dames remarquables pour une raison ou pour une autre, dont quelques paysages hautains", Paris
1976   Foster White Gallery, Seattle
1976   Galerie Dieuzaide, Toulouse
1977   Galerie Paule Pia, Antwerpen
1978   Buchhandlung La Hune, Paris
1978   Photogalerie Portfolio, Lausanne
1979   Galerie Fiolet, Amsterdam
1981   Galerie Netzhaut, Frankfurt
1982   Galerie Silver Vision, Tulsa
1982   Galerie Watari, Tokio
1982   FNAC Montparnasse, le Mois de la Photo, Paris
1982   Städtische Galerie "Le Château d'Eau", Toulouse
1982   Galerie Photogramme, Montreal 1982.
1982   Galerie Canon, Amsterdam
1982   Galerie Novecento, Palerrno
1983   Institute Français, Köln
1983   Hamilton Gallery, London
1983   Museum Hagen
1984   Institut Français, Aachen
1984   Centre Culturel Français, Essen
1984   Festival von Trégor
1984   Festival von Rennes
1985   Festival von Vienne, Cloiître Saint-André-le-Bas
1985   Maison de la Culture, Dünkirchen
1986   Festival von Amsterdam
1986   Journées Internationales de la Photo, Montpellier
1986   Hamilton Gallery, London
1986   Musée Nicéphore Niepce, "Torses nus", Châlon-sur-Saône
1986   Zeit Foto Salon, Tokio
1986   Musée d'Art Moderne de la Ville de Paris, "Retrospective"
1987   Monat des Photos, "Torses nus", Athen
1988   Galerie Paco, Tokio
1988   Maison de la Culture, "Paysages", Amiens
1988   Galerie Vision, San Francisco
1988   Rencontres Internationales de la Photographie, Arles
1989   Comptoir de la Photo, "L'année dernière", Paris
1999   Galerie Bell Commens, Tokio
1990   Galerie I.P.G., Tokio
1990   Crédit Foncier de France, "Photographies silencieuses", Paris
1991   "Photofolies", Rodez
1992   Wanderausstellung in China
1993   Wanderausstellung des AFAA, "Paris des artistes", seit
1993   Navio Museum, "40 Jahre Mode", Osaka und Art Factory, Sendai
1994   Galerie Contrejour, "Hommage à 93 derrières", Paris
1994   Galerie Bell Commens, "Regards sur la Mode", Tokio
1994   Biennale von Nancy
1995   Fehey/Klein Gallery, Los Angeles
1995   Institute Francais, Krakau
1995   Images 95, Festival von Vevey
1995   Nagoya
1997   Camera Work, Berlin
1997   European House of Photographie, Paris
1998   Biennale de Moscov, Russie
1999   Janssen Galerie, Bruxelles
1999   Stanley Wise Galerie, New York
1999   Odakyu Museum Tokyo, Japan
1999   in focus Galerie am Dom, Burkhard Arnold, Köln
Awards
Awards
1961   Prix Niepce, Paris
1981   Chevalier des Arts et Lettres, Paris
1989   Preis der Japan Society of Photography, Tokio
1990   Chevalier de la Légion d'Honneur, Paris
1992   Grand Prix National de la Photographie, Paris
1994   Grand Prix de la Biennale de Nancy
Bibliography
Bibliography
Diverse Publikationen weltweit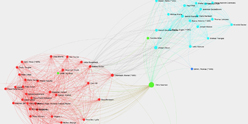 Interested in discovering more of this artist's networks?
3 easy steps: Register, buy a package for a visualization, select the artist.
See examples how visualization looks like for an artist, a curator, or an exhibition place: Gallery, museum, non-profit place, or collector.

Exhibition History

SUMMARY

based on artist-info records. More details and Visualizing Art Networks on demand.
Venue types:

Gallery

/

Museum

/

Non-Profit

/

Collector

Exhibitions in artist-info
24 (S 7/ G 17)

Did show together with

- Top 5 of 495 artists
(no. of shows) - all shows - Top 100

Exhibitions by type

24: 11 / 9 / 4 / 0
Venues by type

14: 7 / 5 / 2 / 0
Curators
9
artist-info records
Dec 1968 - Jul 2018

Countries

- Top 5 of 6
France (8)
Germany (5)
United States (2)
Sweden (1)
United Kingdom (1)


Cities

- Top 5 of 10
Paris (8)
Köln (5)
Leipzig (3)
New York (2)
Stockholm (1)


Venues

(no. of shows ) Top 5 of 14
| | | |
| --- | --- | --- |
| | | Curators (no. of shows) Top 5 of 9 |