Artist

| Constant Permeke (1886 - 1952)
https://www.artist-info.com/artist/Constant-Permeke
Artist Portfolio Catalog Overview\ 1
Constant Permeke

ohne Titel

0
Biography
Biography
1886   geboren am 31. Juli in Antwerpen als Sohn von Stefanie Buytaert (*Burcht) und Henri-Louis Permeke
1908   Permeke kehrt mit Gust de Smet nach Oostende zurück
Sie leben zusammen in einer Dachkammer in der Kaaistraat
1914   Wird in den Kriegsdienst eingezogen, bei der Verteidigung von Antwerpen schwer verwundet, in einem Foldlazarett untergebracht und mit anderen Verletzten nach England evakuiert. Permelke wird aus dem Kriegsdienst entlassen und findet seine Familie in Stanton St. Bernhard (Wiltshire)
1916   Umzug nach Chardstock in Devonshire. Erste große Werke entstehen
Arbeitet in einem Klassenzimmer, das ein anglikanischer Dorfrektor ihm zur Verfügung gestellt hat
1917   Umzug ans Meer: Sidmouth und Sidford
1919   Rückkehr nach Belgien: Kurzer Aufenthalt in Antwerpen; dann Umzug nach Oostende
1922 - 23 Aufenthalt in Astene (zusammen mit Frits Van de Berghe).
1925   Umzug nach Jabbeke (regelmäßiger Besuch von Oscar Jespers)
1926   Kurzer Urlaub in Vevey / Schweiz
1929   Bau des Hauses "Die vier Winde" in Jabbeke
1930   läßt sich endgültig in Jabbeke nieder
1935   Bau eines großen Ateliers
1936   Ernennung zum "Offizier de l'Ordre du Grand Duc Gediminas" (Litauen); wird Mitglied der"Wiener Sezession"
1937   beginnt mit der Bildhauerei
1938   Mitglied der Königlichen Flämischen Akademie der Wissenschaften, Literatur und Schönen Künste
1942   erhält Arbeits- und Ausstellungsverbot durch die deutsche Besatzung
1942   Umzug in ein Haus in der Brugmannlaan 289, Brüssel
1945 - 46 Direktor der königlichen Akademie der Schönen Künste sowie des Hoger-Instituts in Antwerpen
1951    Reise durch die Bretagne zusammen mit seinem Sohn Pol und seinem Freund T. Van Bakel
1947 - 48 Tod seiner Frau Marietje Delacre
1952   Permeke stirbt in Oostende
Exhibitions (selection)
Exhibitions (selection)
1926   Vertritt Belgien auf der XV Internationalen Biennale in Venedig
1929   große Ausstellung im Königlichen Museum der Schönen Künste, Antwerpen
1930   erste Retrospektive im Palast der Schönen Künste, Brüssel
1934   Erneute Teilnahme an der Biennale in Venedig - Ehrenmitglied von "Kunst van Heden"
1935- stellt sein Werk "Große Marine" auf der Weltausstellung in Brüssel aus
1947   Teilnahme an der XXIV Biennale in Venedig
About the work (deutsch)
About the work (deutsch)
Der Maler und Bildhauer Constant Permeke (1886 - 1952) gilt als Hauptvertreter des lyrisch-monumentalen belgischen Expressionismus. Im Unterschied zu den seinerzeit triumphierenden leuchtenden Farben der deutschen Expressionisten oder der französischen Fauves bleibt er in der stillen Kraft seiner Darstellungen des einfachen Lebens auf dem Lande oder an der See und in seinen verschatteten, erdigen, nüchternen Farben eher dem 19. Jahrhundert und der flämischen Tradition bis hin zu Breughel verbunden. In seinem sozialen Engagement und seinem tiefempfundenen Mitleiden der menschlichen Not verweist sein Werk aber auch auf Künstler wie Käthe Kollwitz oder Ernst Barlach.

Permeke hatte mit dem hektischen Stadtleben der Zwischenkriegszeit nichts im Sinne, er suchte den Einklang mit der Natur, das traditionelle Landleben und fand seine Seelenverwandten bei den Menschen seiner Umgebung, die fern der pulsierenden Moderne seit eh und je mit dem Überleben beschäftigt waren und die aus dieser ursprünglichen, elementaren Lebensweise ihre unscheinbare Größe gewannen. Diese Bauern und Fischer, Familien und Mütter mit Kind stellte er immer wieder in seiner eher derben, urwüchsigen Art in monumentaler, flächenfüllender Weise so unmittelbar dem Betrachter gegenüber, daß Distanz zum Sujet kaum noch möglich erscheint.

Der Einfluß der Moderne, insbesondere des Kubismus, den er wie andere Tendenzen seiner Zeit eher am Rande streifte, äußert sich in seinen vereinfachten, oft geometrischen Formen, insbesondere mit demonstrativ vergrößerten, deformierten Händen, Füßen und Gesichtszügen, die die elementare Körperlichkeit der Personen betonen. Zugleich brachte er auf diese Weise sein unmittelbares Verständnis für ihre Not, seine eigenen Gefühle und seine Identifikation mit ihnen zum Ausdruck.

Mit Landschaftsdarstellungen voller Unschuld und Unmittelbarkeit des Empfindens hatte sich Constant Permeke schon früh beschäftigt. Allmählich löste er sich von der flämischen Tradition und nahm auch hier Einflüsse der Moderne auf, etwa die Vereinfachung der Formen zu eckigen Flächen. In der Tradition des europäischen Expressionismus mit einer aufgehellten Farbpalette malte Permeke in seiner Ostender Zeit eine Reihe von Meeres- und Hafendarstellungen. Während der dreißiger Jahre konzentrierte sich sein Werk weiter auf Landschaften, in denen deutlich lyrischere Töne in der naiven, einfachen Bildauffassung mitschwangen. Zuweilen erinnern sie an Courbet. Nebenher entstanden immer wieder Akte, deren elementare Darstellungsweise er über viele Jahre hinweg weiterentwickelte. Diese intensive Auseinandersetzung führten ihn schließlich von 1937 an zur Skulptur, in der er seine Erkenntnisse von unmittelbarer Körperlichkeit umsetzte.

Constant Permeke, Sohn des Malers und Restaurators Henri-Louis Permeke (1849 - 1912), erlernte die Malerei zunächst bei seinem Vater und später im Rahmen seines Studiums an den Akademien und Brügge und Gent. Jarnes Ensor war ein Freund der Familie, der ihn beeinflußte. Permeke begann seine Karriere im Kreise von Symbolisten in der naturschwärmerischen Künstlerkolonie Laethern Saint Martin in der Nähe von Gent. Nach dem Ersten Weltkrieg, der ihn als Soldat tief erschütterte, lebte er bis 1925 in Ostende, wo sich sein Interesse für Hafen- und Meeresansichten entwickelte. Später zog er nach Jabbeke bei Brügge. In seinem Wohnhaus befindet sich heute das Provinciaal Museum Constant Permeke mit einer großen Auswahl seiner Gemälde, Zeichnungen und Skulpturen.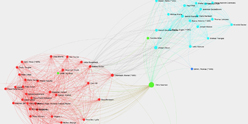 Interested in discovering more of this artist's networks?
3 easy steps: Register, buy a package for a visualization, select the artist.
See examples how visualization looks like for an artist, a curator, or an exhibition place: Gallery, museum, non-profit place, or collector.

Exhibition History

SUMMARY

based on artist-info records. More details and Visualizing Art Networks on demand.
Venue types:

Gallery

/

Museum

/

Non-Profit

/

Collector

Exhibitions in artist-info
28 (S 7/ G 21)

Did show together with

- Top 5 of 758 artists
(no. of shows) - all shows - Top 100

Exhibitions by type

28: 1 / 14 / 13 / 0
Venues by type

21: 1 / 10 / 10 / 0
Curators
16
artist-info records
Apr 1924 - Sep 2015

Countries

- Top 5 of 8
Germany (7)
Belgium (6)
Italy (4)
Netherlands (3)
Switzerland (2)


Cities

- Top 5 of 19
Venezia (4)
Gent (3)
Oostende (2)
Bielefeld (2)
Paris (2)


Venues

(no. of shows ) Top 5 of 21
| | | |
| --- | --- | --- |
| | | Curators (no. of shows) Top 5 of 16 |