Artist

| Helmut Newton (1920 - 2004)
https://www.artist-info.com/artist/Helmut-Newton
Artist Portfolio Catalog Overview\ 1
Helmut Newton

Big Nude III

1980
Biography
Biography
Born in 31 October 1920 in Berlin, Australian citizenship
At sixteen he starts an apprenticeship under the Berlin photographer Yva, famous for her fashion, portrait and nude photography.

In 1957 he moves to Paris.
In the sixties and seventies, he provides regular contributions to the French, American, Italian and English editions of Vogue, also for Elle, Marie-Claire, Jardin des modes, U.S. Playboy, Nova, Queen, and Stern.

Since 1981 a resident of Monte Carlo.
Exhibitions / Awards (selection)
Exhibitions / Awards (selection)
1975   First solo exhibition, Galerie Nikon, Paris.
1976   Prize of the Art Directors Club, Tokyo, for the best photography of the year.
1977 / 78   Prize of the American Institute of Graphic Arts for his first book, White Women.
1978 / 79   Gold Metal of the Art Directors Club, Germany, for the best journalistic photograph.
1989   Named Chevalier des Arts et des Lettres by the French Minister of Culture, Jack Lang.
1989   Receives the "Photographers Award for Outstanding Achievements and Contributions to Photography During the Sixties and Seventies" from the Photographic Society of Japan.
1989   The French Prime Minister, Jacques Chirac, presents him with the "Grand Prix national de la ville de Paris".
1989   "Fashion Photographs & Portaits", Metropolitan Teien Museum, Tokyo. 
1989   "Fashion Photographs & Portraits", Seibu Art museum, Funabashi, Japan.
1989   "Helmut Newton, Nuevas Imágenes", Fundación Caja de Pensiones, Madrit. 
1989   "Helmut Newton in Moscow", Puschkin Museum & Perwaia Galeria, Moscow. 
1989   "Fashion Photographs & Portraits", Prefectural Museum of Art, Fukuoka, Japan. 
1989   "New Images", Galleria d' arte moderna, Bologna. 
1989 / 90   "New Images", Carlsberg Glyptothek Gallery, Kopenhagen. 
1990   Presented the "Grand Prix national de la photographie" by Jack Lang.
1990   Kunstforum Galerie, Vienna. 
1990   Hochschule fùr Graphic und Buchkunst, Leipzig. 
1990   "Fashion Photography & Portraits", The Museum of Modern Art, Shiga, Japan. 
1991   "World Image Award" for the best portrait photograph, New York. 
1991   "Biennale", Lyons. 
1991   Museum of Modern Art, Bratislava, Czechoslovakia. 
1991   "Naked & Dressed", Hamilton Gallery, London. 
1992   Awarded the Grosses Bundesverdienstkreuz by the Federal Republic of Germany. 
1992   Named Chevalier des Arts, Lettres et Science by S.A.S. Princess Caroline of Monaco. 
1992   "Naked & Dressed in Hollywood", Pascal de Sarthe Gallery, Los Angeles. 
1992   "Helmut Newton", Goro International Exhibition, Tokyo. 
1992   "Archives de Nuit", Crédit Foncier de France, Head Office, Paris. 
1993   "Helmut Newton", Carla Sozzani Gallery, Milan. 
1993   Centre culturel français de Rome, Rome.
1993   "Archives de Nuit", Villa Medici, Rome. 
1993 / 94   "Helmut Newton. Aus dem photographischen Werk", Deichtorhallen, Hamburg.
1994   Josef-Albers- Museum, Bottrop.
1994   Fotomuseum Winterthur, Winterthur.
1994   Castelo di Rivoli, Turin.
1994   Museum Quadradt, Bottrop.
About the work
About the work
TOO MANY NAKED WOMEN 

Helmut Newton has had it with female flesh. The photographer who gained worldwide notoriety for his coldly stylish portraits of naked women says he will never shoot nudes again. 

"I just had a bellyful and realized I had shot enough nudes to last a lifetime," Newton says, pointing to a gigantic female nude photograph in his Monaco apartment's guest bathroom. "In fact, although I have no idea of the number, I think I photographed too many naked women." 

The tanned and trim 75-year-old photographer leads a visitor through his expansive 19th-floor high-rise apartment and office complex and onto an outdoor balcony which features a picture-postcard view of the Monte Carlo Casino, the yacht-filled port and the tiny principality's salmon-pink palace. 

It was on this very balcony that Newton once posed one of his trademark power models against the Mediterranean backdrop -- first dressed, then wearing only high heels. 

But now the German-born photographer has put all that flesh behind him. No more shots of predatory naked women wearing chains and dog collars. No Amazonian voyeurs or sadomasochistic high-society belles. Those decadent scenarios with million-dollar models posing as midgets and wearing saddles -- images found in books like "Private Property" (Schirmer's Visual Library/Norton, 1990) and his most recent book, "Helmut Newton Illustrated #4" (Schirmer-Mosel, 1995), are a thing of the past. He has even bid adieu to his hard-edged fashion shots. In the new buttoned-up dispensation, the phrase "very Helmut Newton" will no longer be accompanied by knowing leers. 

What was behind his decision? Not protests by feminists, or age, or mellowness, Newton says. It was just too much skin. 

"It is like when I got tired of doing the bondage-dominated fashion shots in the early 1980s," he says. "I just couldn't bring anything new or fresh to the subject any more." 

Sounding like a former smoker, Newton says, "I now have a strong reaction against the exposed female body. Nudes will no longer be a subject for me -- though I might regret saying that the next time I see a beautiful girl on the beach." After interrupting himself briefly to address his assistant in excellent French, he continues, "Today I have a strong desire to photograph women clothed from head-to-foot with hardly an inch of flesh. It will be a challenge to work under such restraints." 

Newton moves away from the balcony to a far corner of his living room and opens a door leading into a two-room office which looks beyond Karl Lagerfeld's villa "La Vigie" and the Monte-Carlo Sporting Club to the Mediterranean Sea. Amid the Memphis-style contemporary furniture and photos of Newton with his wife is an inflatable doll still stuffed in her cardboard box. On one window sill are a pair of handcuffs given to Newton by a policeman. 

Newton and his Australian-born wife June, who married Helmut on May 13, 1948 and assumed the nom de plume Alice Springs when she began her own photographic career 25 years ago, have lived at 7 avenue Saint-Roman in Monte-Carlo since 1981. He calls her "Pussy" or "Junie"; she calls him "Helmie" or "Hel." 

"I certainly wasn't devastated when Helmie made the sudden decision to quit shooting nudes," June admits. "Like many of his decisions, it really was very sudden. He just decided one day to stop doing nudes and that was that. But he's always photographed whatever he wanted to despite what I thought." 

June says her husband's controversial images, which sometimes presented dressed men dominating naked and subservient women, never bothered her. 

"Helmie is nothing like his work," June continued. "That's another side, the dark side. I don't know anything about that. With me, he is never suspicious and always extremely sensual." 

Newton says that his work with nudes served to liberate him. "The point of my photography has always been to challenge myself, to go a little further than my Germanic discipline and Teutonic nature would traditionally permit me to," he says, as he walks by blow-ups from the "Big Nudes" series which line his office. "The nudes and bondage shots were my way of going beyond my own bounds. Now that I've done that, I want to return to fashion with a fresh and mature eye and do more portraits. 

"Women assume marvelous expressions when they look at themselves," Newton explains. "They lose themselves in their own image. It's fascinating to observe and shoot. It really inspires me physically and mentally." 

Besides self-portraits, Newton has shot only one nude man -- actor Helmut Berger, standing before a mirrored fireplace admiring his reflection in 1984. "I was never interested in naked men," he remarks. "I've done quite a lot of nudes of myself. When I'm in a hotel room and bored I'll get a camera and shoot myself in the mirror. But I haven't shown many and I'm getting a bit old for that." 

Yet whether his subject is man or woman, clothed or unclothed, Newton's forte is his role as the grand seducer. "My job as a portrait photographer is to seduce, amuse and entertain," explains Newton, whose most recently "seduced" subjects include Monaco's Princess Caroline and female cabinet ministers in the French government. "Most of my work is meant to be funny. Because I'm quite timid myself, I try to determine whether my subject will be receptive to a wild idea before I suggest anything. I would never force anybody to do anything. I never push very far. I think subjects pose so openly for me because I inspire confidence or because I'm older than most of them." 

While he has sworn off flesh, the photographer will occasionally reminisce by taking a look at one of his "Big Nudes" on the office wall or flipping through an old book of bondage photos. But he says he doesn't get excited. 

"The photographs don't arouse me," he concludes as he shows a visitor to the elevator. "All I can think about is the hard work it took to make them. Look, I'm not an intellectual -- I just take pictures." 

Text by Joel Stratte-McClure 


Over the past two decades, Helmut Newton's world of images has acquired a distinctive place in contemporary photography.
Helmut Newton, who was born in 1920 in Berlin, emigrated to Australia in 1938, and currently lives in Monte Carlo and Los Angeles. He is a photographer and cosmopolitan figure, made famous especially by his fashion and nude photographs, which since 1974 have regularly appeared as commissioned work in famous magazines such as Vogue, Harper's Bazaar, Lui and Stern
At the same time, the art world has also taken notice of the unusual and bizarre features of Newton's work. At least since the retrospective of the Musee d'art moderne de la ville de Paris in winter 1984/85, Helmut Newton's black-and-white images have attracted the attention of, and cross-fire from art critics.
Nunerous museum exhibitions followed the Paris premiere: Turin, Groningen, Vienna, London, Madrid, Tokyo and Moscow are some of the places where his pictures have been exhibited. Widely circulatedthrough book publications, his images have become indelible contemporary icons.
This exhibition, that after Hamburg, Bottrop, Winrethur and Turin, is presented now in Thessaloniki, puts less emphasis on the retrospective aspect than on the various thematic areas that Helmut Newton's work deal with. In addition to the well-known areas of fashion and nude photography, equally masterfull portraits, cityscapes, night scenes and ballet images are presented.
The exhibition also shows Helmut Newton as the creator of brilliant colour photographs, an area that has recently gained importance in his work. With the exception of his polaroids, the exhibition includes all the thematic spheres found in his extensive work, and also presents a considerable number of photographs to the public for the first time.
From fashion photography to portraiture, from nude studies to images from the world of ballet, from the erotic to the topic of death - Newton's work encompasses a truly ample wealth of themes, also embodying facets of the mass-media world of glamour, masquerade and show. Newton's genius lies in not being dazzled by this world, but illuminating and exposing it. His voyerism is linked with the dissecting gaze of an observer who is less interested in the outward sheen of what he sees than its significance and complexity.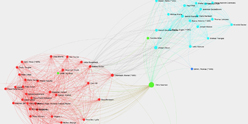 Interested in discovering more of this artist's networks?
3 easy steps: Register, buy a package for a visualization, select the artist.
See examples how visualization looks like for an artist, a curator, or an exhibition place: Gallery, museum, non-profit place, or collector.

Exhibition History

SUMMARY

based on artist-info records. More details and Visualizing Art Networks on demand.
Venue types:

Gallery

/

Museum

/

Non-Profit

/

Collector

Exhibitions in artist-info
75 (S 27/ G 48)

Did show together with

- Top 5 of 1281 artists
(no. of shows) - all shows - Top 100

Exhibitions by type

75: 32 / 25 / 18 / 0
Venues by type

60: 25 / 18 / 17 / 0
Curators
29
artist-info records
Mar 1982 - Jul 2018

Countries

- Top 5 of 12
Germany (37)
United States (11)
France (6)
Italy (4)
Switzerland (3)


Cities

- Top 5 of 37
Berlin (11)
Paris (6)
New York (6)
Köln (5)
Stuttgart (5)


Venues

(no. of shows ) Top 5 of 60
| | | |
| --- | --- | --- |
| | | Curators (no. of shows) Top 5 of 29 |