Artist

| Aldo Mondino (1938 - 2005)
https://www.artist-info.com/artist/Aldo-Mondino
Artist Portfolio Catalog Overview\ 1

About the work (deutsch)
About the work (deutsch)
Betreff: Aldo Mondino
Galerie Binz & Krämer, 50677 Köln, Elsaßstraße 9
Ausstellung vom 22.6. bis 27.7.2001
Öffnungszeiten: Mo-Fr 14.00-18.00 Uhr, Sa 11.00-14.00 Uhr u.n.V.

Aldo Mondino "Tanzmanie"
Weise Sultane, feurige Toreros, jiddische Rabbis, indische Heilige und tanzende Derwische: der Kunstkosmos des Aldo Mondino ist bunt bevölkert.
Nach einem halben Jahrhundert Nomadentum und Großstadtleben in Turin, Paris, Rom und Mailand lebt Maestro Mondino seit Ende der achtziger Jahre in Monferrato in einem restaurierten Gehöft inmitten der Piemonteser Hügellandschaft.
Der exzentrische Maler, ein Weggefährte von Alighiero Boetti und Freund von Paul Bowles, Burroughs, Genet, Choukri ist ein "Rätsel-Verrückter" Künstler par excellence. Leben ist ein Kreuzworträtsel, dass jemand für uns geschrieben hat. Mondino interessiert sich immer mehr für eine Kunst der geistreich, witzigen Bemerkungen als einer Kunst der langweiligen Prophezeihungen. Er lebt im Hier und Jetzt. Er zieht es vor als Professional zu überleben, ein unermüdlicher Künstler der Fantasie.
So produzierte er farbenfrohe Skulpturen aus tausenden bunt verpackten Nougats, Schokolade, Zucker und Toffees, "damit der Sammler in Zeiten des Hungers, wenn er es nicht verkaufen kann, wenigstens etwas zum Essen hat". Oder er malt, wie in der Ausstellung "Tanzmanie" tanzende Derwische in Öl auf Linoleum. Derwische mit ihren wirbelnden Tänzen faszinieren ihn aufgrund der Art und Weise, sich in einer außergewöhn-lichen Performance selbst zu verlieren, um in der Meditation die wahre Zugehörigkeit und Freude zu fühlen. Sufi-Mystik identifiziert den Moment großer Verständigung, kollektiver Befreiung vom totalitären, ständigen "Ichdenken". Die rotierende Pinselbewegung Mondinos verbindet die Vorstellung einer feierlichen Zeremonie wesentlicher Gesten. Der Künstler nimmt mit dieser genauen Bewegung an einer Aktion teil: es ist seine Synthese, sein Abschluss.
Jenseits und über der Repräsentation der Männer, die im Tanz verwickelt sind, beides, die Komposition und die Gestik kommen in empathische Korrespondenz mit dem Subjekt des Gemäldes. In diesem Fall erfahren wir beim Gezeigten und Übertragenen – es ist nicht die einfache Reproduktion eines Ereignisses. Die Leichtigkeit der Figuren erscheinen als einfaches Filigran einer Gedankenoperation, die sich entwickelt. Sprache bekommt Wichtigkeit und formt ein Depot, während die Gedanken sich selber befreien, die Luft aufwirbeln.
Die Gesichter der Menschen, die Mondino in raschen fetten Pinselstrichen ausarbeitet, sind der Versuch, mit dem Pinsel die Geschwindigkeit eines kurzen Blickes oder einer Bewegung wieder einzufangen. Die Bilder sind auf einem typischen industriellen Material gemalt: Linoleum. Der Untergrund bekommt seine eigene Struktur, seine eigene Farbigkeit. Er wird Teil der Arbeit, bringt kunstloses Massenprodukt in einen künstlerischen Zusammenhang. 
Das Linoleum läßt die Haut der Figuren wie tätowiert aussehen. Vergangenheit und Gegenwart sind glücklich vereint, Design und Dekoration sind nicht länger separierte Realitäten, sind symbiotische Produkte, die keine weiteren Medien erfordern. Ohne Rhetorik oder Moralismus, versucht er eine Katalogisierung oder Etikettierung zu vermeiden, aber er kann natürlich nicht umhin, in allem seine eigene Kuriosität heraus zu stellen.

Geboren 1938 in Turin,Italien
Seit 1960 Ausstellungen weltweit in Galerien und Museen, 1993 Biennale Venedig.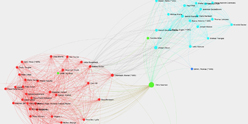 Interested in discovering more of this artist's networks?
3 easy steps: Register, buy a package for a visualization, select the artist.
See examples how visualization looks like for an artist, a curator, or an exhibition place: Gallery, museum, non-profit place, or collector.

Exhibition History

SUMMARY

based on artist-info records. More details and Visualizing Art Networks on demand.
Venue types:

Gallery

/

Museum

/

Non-Profit

/

Collector

Exhibitions in artist-info
47 (S 14/ G 33)

Did show together with

- Top 5 of 675 artists
(no. of shows) - all shows - Top 100

Exhibitions by type

47: 29 / 7 / 11 / 0
Venues by type

32: 16 / 5 / 11 / 0
Curators
22
artist-info records
May 1963 - Apr 2018

Countries

- Top 5 of 5
Italy (34)
Germany (5)
France (3)
Switzerland (2)
Sweden (1)


Cities

- Top 5 of 20
Milano (11)
Torino (9)
Paris (3)
Roma (3)
Berlin (3)


Venues

(no. of shows ) Top 5 of 32
| | | |
| --- | --- | --- |
| | | Curators (no. of shows) Top 5 of 22 |