Artist

| Robert Mapplethorpe (1946 - 1989)
https://www.artist-info.com/artist/Robert-Mapplethorpe
Artist Portfolio Catalog Overview\ 1
Robert Mapplethorpe
Exhibition at Galerie Stefan Roepke
Exhibition at Galerie Stefan Roepke
Robert Mapplethorpe
"Flowers"
05.07. – 07.09.2002
Galerie Stefan Röpke, St.-Apern-.Straße 17-21, D-50667 Köln

Robert Mapplethorpe (*1946), der mit 42 Jahren am 9. März 1989 an Aids starb, ist einer der bekanntesten zeitgenössischen Photographen der USA. Vor allem durch seine homoerotischen Motive erregte er Aufsehen, die in Amerika und später auch in Europa zu einer Welle der Entrüstung, aber auch zu einem Nachdenken über Zensur führten.

Die Ausstellung "Flowers" zeigt ausschließlich die schwarzweißen Blumenaufnahmen von Robert Mapplethorpe, die in den achtziger Jahren zu einer bedeutenden Werkgruppe in seinem OEuvre wurden. Ihm gelang es, die Blumenphotographie in die moderne Kunst einzuführen, ohne sich damit im geringsten dem Vorwurf des Kitsches stellen zu müssen.

Auch bei den floralen Motiven lässt sich Mapplethorpe's vorrangiges Thema ablesen: die zum Stilleben stilisierte Sexualität. Formal zeichnen sie sich durch eine absolute Klarheit der Komposition aus, die dennoch eine erotische Intensität vermittelt, die die dargestellten Blumen jenseits der unschuldigen Symbolik, die ihnen gewöhnlich zueigen ist, erscheinen lässt. Die Aktaufnahmen werden durch das Ideal der Schönheit sublimiert, welches durch jede von ihnen durchscheint. Die Blumenaufnahmen hingegen erhalten eine Aura der Unheimlichkeit, die aus der Darstellung ihrer Analogie zu menschlichen Körperteilen und der damit verbundenen erotischen Wirkung resultiert.

Doch am pointiertesten hat Robert Mapplethorpe dies selbst zusammengefasst: "Meine Haltung beim Photographieren einer Blume unterscheidet sich nicht sehr von der, wenn ich einen Schwanz aufnehme. Im Grunde ist es das Gleiche. Es geht um Beleuchtung und um den Bildaufbau. Es macht kaum einen Unterschied. Der Blick ist derselbe."

Biography
Biography
Robert Mapplethorpe was born in 1946, the third of six children. He remembered a very secure childhood on Long Island, which he summed up by saying, "I come from suburban America. It was a very safe environment, and it was a good place to come from in that it was a good place to leave." He received a B.F.A. from Pratt Institute in Brooklyn, where he produced artwork in a variety of media. He had not taken any of his own photographs yet, but he was making art that incorporated many photographic images appropriated from other sources, including pages torn from magazines and books. This early interest reflected the importance of the photographic image in the culture and art of our time, including the work of such notable artists as Andy Warhol, whom Mapplethorpe greatly admired.

Mapplethorpe took his first photographs soon thereafter, using a Polaroid camera. He did not consider himself a photographer, but wished to use his own photographic images in his paintings, rather than pictures from magazines. "I never liked photography," he is quoted as saying, "Not for the sake of photography. I like the object. I like the photographs when you hold them in your hand."His first Polaroids were self-portraits and the first of a series of portraits of his close friend, the singer-artist-poet Patti Smith. These early photographic works were generally shown in groups or elaborately presented in shaped and painted frames that were as significant to the finished piece as the photograph itself. The shift to photography as Mapplethorpe's sole means of expression happened gradually during the mid-seventies. He acquired a large format press camera and began taking photographs of a wide circle of friends and acquaintances. These included artists, composers, socialites, pornographic film stars and members of the homosexual underground. Some of these photographs were shocking for their content but exquisite in their technical mastery. Mapplethorpe told ARTnews in late 1988, "I don't like that particular word 'shocking.' I'm looking for the unexpected. I'm looking for things I've never seen before…I was in a position to take those pictures. I felt an obligation to do them."

During the early 1980s, Mapplethorpe's photographs began a shift toward a phase of refinement of subject and an emphasis on classical formal beauty. During this period he concentrated on statuesque male and female nudes, delicate flower still lifes, and formal portraits of artists and celebrities. He continued to challenge the definition of photography by introducing new techniques and formats to his oeuvre: color Polaroids, photogravure, platinum prints on paper and linen, Cibachomes and dye transfer color prints, as well as his earlier black-and-white gelatin silver prints.

Mapplethorpe produced a consistent body of work that strove for balance and perfection and established him in the top rank of twentieth-century artists. In 1987 he established the Robert Mapplethorpe Foundation to promote photography, support museums that exhibit photographic art, and to fund medical research and finance projects in the fight against AIDS and HIV-related infection.

Robert Mapplethorpe died march 9, 1989

Exhibition Announcements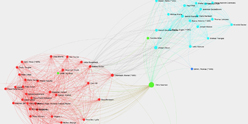 Interested in discovering more of this artist's networks?
3 easy steps: Register, buy a package for a visualization, select the artist.
See examples how visualization looks like for an artist, a curator, or an exhibition place: Gallery, museum, non-profit place, or collector.

Exhibition History

SUMMARY

based on artist-info records. More details and Visualizing Art Networks on demand.
Venue types:

Gallery

/

Museum

/

Non-Profit

/

Collector

Exhibitions in artist-info
214 (S 63/ G 151)

Did show together with

- Top 5 of 2734 artists
(no. of shows) - all shows - Top 100

Exhibitions by type

214: 108 / 68 / 33 / 5
Venues by type

147: 65 / 52 / 26 / 4
Curators
77
artist-info records
Jun 1977 - Aug 2021

Countries

- Top 5 of 18
United States (86)
Germany (48)
United Kingdom (16)
France (13)
Switzerland (9)


Cities

- Top 5 of 73
New York (59)
London (14)
Köln (11)
Paris (9)
Frankfurt am Main (8)


Venues

(no. of shows ) Top 5 of 147
| | | |
| --- | --- | --- |
| | | Curators (no. of shows) Top 5 of 77 |
Offers/Requests

Exhibition Announcement

S / G Solo/Group Exhibitions

(..) Exhibitions + Favorites

Read texts, reviews, comments, and Press Releases about this exhibition for more insight

Dulwich Picture Gallery
G
May 2021 - Aug 2021
London
(10)
+0
Moore, Alexander (Curator)
+0
National Gallery of Canada
G
May 2018 - Sep 2018
Ottawa
(29)
+0
Thomas, Ann (Curator)
+0

Read texts, reviews, comments, and Press Releases about this exhibition for more insight

Hal Bromm Gallery
G
Mar 2018 - May 2018
New York
(71)
+0
Kanali d'arte
G
Mar 2017 - May 2017
Brescia
(9)
+0
Menolascina, Graziano (Curator)
+0
Kanali d'arte
G
Nov 2016 - Dec 2016
Brescia
(9)
+0
Alison Jacques Gallery
S
Nov 2016 - Jan 2017
London
(71)
+0
Teller, Jürgen (Curator)
+0