Artist

| Barbara & Michael (*1940 - *1944) Leisgen
https://www.artist-info.com/artist/Barbara-Michael-Leisgen
Artist Portfolio Catalog Overview\ 1
Barbara & Michael (*1940 - *1944) Leisgen

0
Exhibition at ARTISCOPE
Exhibition at ARTISCOPE
Barbara & Michael Leisgen

"ARTIST'S LUCK"

Du 27 Septembre au 27 Décembre 2002

ARTISCOPE  -  35, BOULEVARD  ST MICHEL   -  B-1040 BRUXELLES  -  TEL : +32 02 735 52 12  -  FAX: +32 02 735 95 15



"ARTIST'S LUCK"

Le bonheur de l'artiste, est-ce que cela existe? Et, si oui, quel est-il ?

Rêve de gloire? Conviction d'atteindre l'immortalité?

Ou plutôt, tout simplement, ce contact continu avec la beauté de la nature et des êtres humains?

Cependant, si par son geste créateur l'artiste parvient à faire bouger les étoiles, son bonheur le plus grand ne serait-il pas de changer le monde?

Voici, pour Barbara et Michael Leisgen, autant de réflexions faites au cours de trente années d'activité artistique. Un questionnement que le duo allemand a voulu rappeler dans le titre de cette expo bruxelloise, comme s'il pouvait servir de clé de lecture à toute leur aventure d'artistes photographes.



Les étoiles, Barbara et Michael Leisgen, les ont véritablement fait bouger dans leurs photos.

Vous souvenez-vous de leurs « Ecritures du soleil »? Ils les obtenaient, c'etait les années 70, en photographiant le soleil tout en déplaçant la caméra. Quelle liberté dans le traitement du matériau ! Au fil des années, le soleil leur a inspiré des signes, des pictogrammes, des lettres, l'alphabet entier, jusqu'à l'Apocalypse…



Avant cela, une autre série de photos mémorables, celle des « Mimesis », inspirées par les tableaux de Caspar David Friedrich: Barbara, photographiée debout et de dos, s'intégrait comme par mimétisme, par le geste de ses bras, au paysage vallonné; puis elle se prit à étreindre les nuages, à porter le soleil dans son ventre…. Panthéisme, avant-garde, poésie!



Tout le travail des Leisgen s'est réalisé sous le signe de l'expérimentation. Barbara et Michael ont expérimenté, avec euphorie, nouveaux médias, vidéo, photographie. Avec, dans l'âme, un formidable lien avec l'humus allemand et ses deux facettes traditionnelles du classicisme et du romantisme: d'un côté la parole limpide que la raison ne cesse de distiller; de l'autre la volonté d'un geste radical. Le langage des Leisgen nous parle de la réalité par le biais de la culture: images métaphoriques où la lumière et l'ombre sous-tendent la vie et la mort. Comme dans «Tauromachie», série de photos prises lors d'un voyage à travers les arènes espagnoles…



Leur première exposition chez Artiscope en 1998 fut l'occasion de présenter une suite de photos où des mains de chef d'orchestre émergeant d'un fond noir et tenant une baguette étaient l'occasion d'une réflexion sur la résistance, la liberté et le suicide : elles rendaient hommage au destin tragique de l'écrivain Walter Benjamin.



Aujourd'hui, à l'occasion de leur deuxième exposition, les mêmes mains deviennent celles d'un magicien tenant la baguette lumineuse du destin de l'artiste, celle qui doit lui apporter la chance, voire la force, de faire éprouver au spectateur le bonheur d'exister, ou, plus simplement, le bonheur d'apprécier le travail de deux grands créateurs.



L'exposition présentera un choix de photos de 1998 à 2002. À côté des pièces uniques, une édition de 7 exemplaires sera proposée.


Biography
Biography
Barbara Leisgen (Gengenbach,1940)
1961-1967 Studium an der Akademie der Schönen Künste, Karlsruhe
Michael Leisgen (Spital a. Pirn,1944)
1965-1969 Studium an der Akademie der Schönen Künste, Karlsruhe

1970   Beginn ihrer künstlerischen Zusammenarbeit, erste Fotoarbeiten und erste Videos 
1974   Stipendium der Stadt Aix-la-Chapelle
1979   Stipendium des Kulturkreises der Stadt Köln
1981   Stipendium des Kunstfonds der Stadt Bonn
Seit 1992 unterrichtet Barbara Leisgen an der École Nationale Supérieure des Beaux-Arts von Paris

live and work in Aachen, Germany.

Solo Museum Exhibitions (selection)
Solo Museum Exhibitions (selection)
1974   Neue Galerie Sammlung Ludwig, Aachen
1975   Palais des Beaux-Arts, Bruxelles
1978   CPAC, Bordeaux - Muséé d'Art Moderne de la Ville de Paris, Paris
1980   Kunstverein, Bochum
1982   Kunstmuseum, Düsseldorf
1987   Neue Galerie-Sammlung Ludwig, Aachen
1987   Musée Municipal, La Roche-sur-Yon
1988   Kunstverein, Heidelberg
1988   Stadtgalerie, Saarbruck
1989   PMMK, Oostende
1990   L'École de Nîmes, Nîmes
1997   Maison Européenne de la Photographie, Paris
2000   Ludwig Forum für Internationale Kunst, Aachen

Group Exhibitions (selection)
Group Exhibitions (selection)
1973   Kunst und Umwelt, Städtische Galerie, Wolfsburg
1975   New Media, Kunsthalle, Malmö
1975   IXe Biennale de Paris, Paris
1975   Körpersprache, Haus am Waldsee, Berlin
1976   Daily Bul et Co, Fondation Maeght, Saint-Paul-de-Vence
1976   Identité, Identifications, CAPC, Bordeaux
1977   Documenta 6, Kassel
1977   Art as Photography 2 , ICA, London
1979   Le soleil et le futur, Fondation Ledoux, Arc-et-Senans
1980   Europe 80, Espace lyonnais d'Art Contemporain, Lyon
1980   Ils se disent peintres, ils se disent photographes, Musée d'Art moderne, Paris
1982   Videokunst in der BRD, Museum of Modern Art, New York
1983   Art vidéo. Rétrospective et perspectives, Palais des Beaux-Arts, Charleroi
1983   Kunst mit Photographie. Die Sammlung Krauss, Nationalgalerie, Berlin
1985   Lisible / Illisible, Centre Georges Pompidou, Paris
1989   Video-Skulptur, Kölnischer Kunstverein, Köln
1993   Romantik in der Kunst der Gegenwart. Sammlung Murken, Aachen
1996   Les (Dé)-Finitions de l'art, Musée d'Art moderne, Saint-Etienne
1998   Encontros da Imagem, Braga
1998   Une culture sans frontière, Centre Wallonie-Bruxelles, Paris
1999   4 from Germany, Ellipse Arts Center, Arlington
1999   Goethe-Institut, Washington
1999   Liberté, libertés chéries ou l'Art comme résistance... à l'art, I.S.E.L.P., Bruxelles
1999   Résidences d'Artistes. Un état des lieux, Contretype, Bruxelles
2001   Between Hearth and Heaven, Provinciaal Museum voor Moderne Kunst, Oostende
2002   Les explorateurs, FRAC Bourgogne, Dijon

About the work (deutsch)
About the work (deutsch)
Bebende Erstarrung

Barbara und Michael Leisgen lassen sich nur schwer einer Kunstströmung zuordnen. Am Anfang ihrer Karriere sind sie sicherlich stark vom Zeitgeist der 70er geprägt: Euphorisch wird mit den neuen Medien Video und Fotografie experimentiert, gleichzeitig aber mit dem Ausstieg aus Moderne und Sachlichkeit gespielt.

Schwarzweiß-Aufnahmen, auf denen sich das "Modell" Barbara mimetisch in eine Hügellandschaft einschreibt, untersuchen die Beziehung zwischen Postkarten-Stereotypen und Caspar-David-Friedrich-Romantik. Der dekonstruierend-semiotische Ansatz kippt die herkömmliche Perspektive. Ein breiter Frauenrücken hält den Blick des Betrachters fest,
Schattenlos breitet sich die Hügelkette in der Fläche aus, wird durch den Verzicht auf Raumillusionen und plastische Wirkung in der Nähe der Kalligraphie gerückt. Der Pantheismus, nach Schleiermacher "die heimliche Religion der Deutschen", hat ausgedient. Zelebriert wird Attitude, die Form wird, sei es, daß Barbara Leisgen eine Wolke umarmt, die Sonne im Bauch  trägt oder die Erde sich wellt in natürlicher Korrespondenz zu Michaels Stirnfalten.

Die Neuorientierung vollzieht sich über Medienreflektionen, Aktionen und Formalisierung. Zeichen haben keine Bedeutung mehr, sondern funktionieren wie Fahrpläne. Oder sie kennzeichnen, etwa die drei Häuser der Sonne als feuerfest, durch Kreis, Dreieck, Quadrat. Alle bilder des Künstlerpaares suchen Dauer. Barbara und Michael Leisgen haben damit nicht nur gegen das Zeitgefühl reagiert, das der Schnappschuß ausdrückt. Von der ursprünglichen Bedeutung des Wortes Licht-Bild ausgehend sind sie auf eine surrealistisch anmutende Erfindung gestoßen: den Himmelschreiber.

Sonnenalphabete, Sonnenstraßen und Sonnengräber wurden auf unbelichtete Filme eingebrannt. Es war die Zeit, da nicht mehr die Technik, sondern das künstliche Vorgehen den Stil definierte und der Protest gegen eine glatte, utilitaristische Perfektion die physikalischen und chemischen Eigenschaften im Werk sichtbar machte. Bei Barbara und Michal Leisgen führte die vollständige Freiheit im Umgang mit dem Material dazu, daß die als brennender Bewegungskürzel konzipierte Film-Sonne zum schwarzen Streifen schmolz und die Linse der Videokamera durchschmorte. Noch die poetischsten und kontemplativsten Aufnahmen stellten radikale Gesten dar, indem bewußt eingesetzt wurde, was als stümperhaft galt: in die Sonne fotografieren, die Kamera schwenken, unscharf einstellen, einen langweiligen Bildausschnitt auswählen. Verständlich, daß vor dem Hintergrund eines verbreiteten bräunungsgeilen Sonnenhungers die dunklen Licht-Bilder der 70er, 80er wie Schwarzmalerei wirkten. Doch selbst die Farbserien glichen eher Röntgenkamera-Fahrten ins Innere von Katastrophen als einer Feier des Mythisch-Erhabenen, was Titel wie Apocalypse oder The Laste Dance verstärkten.

In der Chronologie des Werks bricht sich das barocke Schwelgen großformatiger Tableaux an dunklen Epitaphen, denen schwarze Tafeln beigegeben sind, welche Orte von Atomexplosionen in Erinnerung rufen. 1987-92 entstehen Studien zu Licht, Schatten und Bewegung (die Stierkampfbilder), auf die Ende der 90er die kontrapunktische Serie Mehr-Licht-Finsternis folgt. In den jüngsten Arbeiten - einem Nachdenken über Widerstand, Freiheit und Frei-Tod -, zu denen das tragische Schicksal Walter Benjamins den Ausgangspunkt bildete, ist die individuelle Handschrift der Leisgens mit ihren unwiederholbaren Belichtungszeiten, ihrer Empfindlichkeit für das Detail und die Leere, völlig zurückgenommen. Gesten und Attribute haben sich zu Ikonen verdichtet, als wollten die Künstler das Benjaminische Paradoxon illustrieren : "Das Beben (des Lebens) macht die Schönheit, seine Erstarrung die Wahrheit des (Kunst)Werkes aus." (1)
Anna Mohal   Paris, April 2000


(1) "Si le tremblé constitue la beauté de l'art, le figé en donne la vérité", zitiert nach Christine Buci-Glucksmann. In : Passages. Verlag Hermann Schmidt, Mainz. 1992, S. 86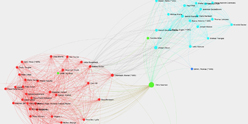 Interested in discovering more of this artist's networks?
3 easy steps: Register, buy a package for a visualization, select the artist.
See examples how visualization looks like for an artist, a curator, or an exhibition place: Gallery, museum, non-profit place, or collector.

Exhibition History

SUMMARY

based on artist-info records. More details and Visualizing Art Networks on demand.
Venue types:

Gallery

/

Museum

/

Non-Profit

/

Collector

Exhibitions in artist-info
42 (S 8/ G 34)

Did show together with

- Top 5 of 535 artists
(no. of shows) - all shows - Top 100

Exhibitions by type

42: 13 / 9 / 19 / 1
Venues by type

29: 5 / 6 / 17 / 1
Curators
12
artist-info records
Sep 1973 - Sep 2017

Countries

- Top 5 of 5
Germany (18)
France (9)
Belgium (3)
Switzerland (1)
United States (1)


Cities

- Top 5 of 19
Bruxelles (11)
Paris (5)
Berlin (5)
Dijon (2)
Frankfurt am Main (2)


Venues

(no. of shows ) Top 5 of 29
| | | |
| --- | --- | --- |
| | | Curators (no. of shows) Top 5 of 12 |
Insight Basic

Display the full interactive exhibition history and all related artist, exhibition venue, and curator pages for your research. The SUMMARY above shows today's available scope.
Insight Basic 10 Days USD 378 / EUR 394

Insight Basic 1 Day USD 42 / EUR 44

To use Insight Basic or Insight Analytics
Sign-up for free first
Insight Analytics
Use Analytics tools for more insight based on documented exhibitions. More details on your RESEARCH user page.
(Includes Inisght Basic)
COMING SOON