Artist

| Fritz [Friedrich Paul] Schwarzbeck (1902 - 1989)
Alias: Fritz Schwarzbeck [Friedrich Paul Schwarzbeck]
https://www.artist-info.com/artist/Fritz-Schwarzbeck
Artist Portfolio Catalog Overview\ 1
Fritz [Friedrich Paul] Schwarzbeck

0
Exhibition at Galerie Netuschil
Exhibition at Galerie Netuschil
Fritz Schwarzbeck – zum 100. Geburtstag
Bronzeplastiken – Alabasterskulpturen – Zeichnungen
29.11.2002 – 25.01.2003
Galerie Netuschil – Adelungstraße 16 – D-64283 Darmstadt – T +49 (0) 6151 – 24 939 – e-mail e-mail galerie.netuschil@t-online.de 

Das Unsagbare des Kunstwerks
Dem Bildhauer Fritz Schwarzbeck zum 100. Geburtstag
Zu einer Ausstellung in der Darmstädter Galerie Netuschil
Anlässlich des 100. Geburtstages des Darmstädter Bildhauers Fritz Schwarzbeck (1902-1989) zeigt die Galerie Netuschil Bronzeplastiken, Alabasterskulpturen und Bildhauerzeichnungen des Künstlers. Die Auswahl umfasst sechs Jahrzehnte künstlerischen Schaffens von 1928 bis zu seinem Tod 1989. Die Ausstellung versucht an Hand exemplarischer Arbeiten einen Überblick über das Gesamtwerk zu geben mit dem Schwerpunkt Bronze, Stein und Zeichnung.

Zu Leben und Werk, das die Galerie Netuschil seit fast 2 1/2 Jahrzehnten vertritt, erscheint zur Ausstellung ein Katalogbuch mit Texten von Dr. Christmut Präger, Dr. Friedhelm Häring, Robert d'Hooghe und anderen. Claus K. Netuschil, der gemeinsam mit dem Heidelberger Kunsthistoriker Dr. Christmut Präger die Ausstellung am Freitag, 29. November 2002 um 19 Uhr eröffnet, hat ein Vorwort beigesteuert und das Buch herausgegeben; Biographie und ein dokumentarischer Anhang runden die. Publikation ab. Es umfasst ca. 25 farbige und ebenso viele schwarzweiß Abbildungen, 60 Seiten, gebunden und kostet ca. € 16,50.

Fritz Schwarzbeck wurde am 22. Dezember 1902 im fränkischen Wickelsgreuth bei Ansbach geboren. Nach dem Besuch der Städtischen Berufsoberschule in Nürnberg von 1924-1927 bei Prof. Schmid-Riegel (Metallkurs) und bei Prof. Konrad Roth (Bildhauerklasse) studierte er 1927-30 an der Staatlichen Kunstakademie Düsseldorf bei Prof. Richard Langer. Seit 1931 lebte Fritz Schwarzbeck in Darmstadt, wo er über 20 Jahre, von 1947-68 die Bildhauerklasse an der Werkkunstschule leitete. Seit 1968 arbeitete er vorwiegend mit dem Werkstoff Alabaster. Das Material, das eine große Tradition von den Etruskern bis Constantin Brancusi hat, ist heute selten zu finden und noch seltener in der Anwendung im Künstlerischen.

Schwarzbeck variierte das Thema Mensch in seiner unverwechselbaren Bildsprache und konzentrierte sich im Wesentlichen auf Figur, Torso und Kopf. Trotz vorgegebener Form und Farbgebung des gefundenen Steins, gerade dieses miteinbeziehend, fand er immer zu neuen Gestaltungsideen. Mit seinen Bronzen und Zeichnungen steht er in der großen Traditionslinie klassischer französischer Bildhauerei des frühen 20. Jahrhunderts, die mit Namen wie Maillol und Despiau verbunden ist. Mit seinen Alabasterskulpturen gelingt ihm eine Neubesinnung auf antike Ideale, einer eigenen Prägung des Klassischen im goethischen Sinne der "stillen Größe". In seinem Text zum Katalogbuch schreibt Dr. Christmut Präger: "Fritz Schwarzbeck hatte den Mut, auch in den Jahrzehnten nach 1945, als der Kunstbetrieb und die Kunstkritik in den westlichen Ländern Europas immer ausschließlicher allein der Abstraktion die Eigenschaften von Avantgarde und Modernität zusprachen, an seiner eigenen Sache festzuhalten und sich nicht von seinem Weg abbringen zu lassen. Nur wenige der deutschen Künstler waren dazu bereit, sich dem Hauptstrom der Kunstentwicklung zu verweigern und ihren persönlichen, in vielen Jahren entwickelten Stil beizubehalten und sich nicht dem Diktum der Kunst-Mächtigen zu beugen. In dieser Hinsicht ist Fritz Schwarzbeck mit Kurt Lehmann und Gerhard Marcks zu vergleichen, auch mit Gustav Seitz, der aber später auch die Beschäftigung mit den Formideen der Abstraktion in sein Werk aufgenommen hat.

Schwarzbeck hielt an seinen künstlerischen Maximen fest, ohne in eigenbrötlerischer Enge zu verharren. Er entwickelte auch nach dem Zweiten Weltkrieg seinen Formenapparat weiter, ohne dabei aber die Grundlagen der überlieferten klassischen Moderne aufzugeben. Er hatte dabei das Glück, Arbeiten in allen Formaten und vielen Materialien anfertigen zu können. Große Statuen aus Bronze oder ganze Denkmalanlagen hat er ebenso geschaffen wie kleinformatige Figuren aus Alabaster."

Fritz Schwarzbeck entwickelte, auf solidem Handwerk fußend, ein reduziertes, abstrahierendes, fast verklärtes Menschenbild, dem ein ausgeprägter Humanismus und eine gelebte Naturverbundenheit zu Grunde lag. Dr. Friedhelm Häring charakterisierte Fritz Schwarzbeck 1990 so: "In unverbrüchlicher Treue zu sich selbst hat Fritz Schwarzbeck in seinem jahrzehntelangen Tun die Treue zum Material und die Treue in der Entfaltung seines Stils und seiner Form gehalten und entwickelt. In den frühen Bronzeporträts ebenso wie in den späten Alabasterfiguren ist seine Eigenschaft und sein gedankliches künstlerisches Tun unverbrüchlich präsent. Dabei ist deutlich, wie über verschiedene Reifeprozesse das Unsagbare und das Saglose des Kunstwerkes sich in einer atmenden Stille in der Schönheit des Geschaffenen versöhnen."

Text Claus K. Netuschil

Die Ausstellung in der Galerie Netuschil ist bis 25. Januar 2003, jeweils dienstags bis freitags von 14.30 bis 19 Uhr und samstags von 10-14 Uhr zu sehen. Vom 22.12. bis 6.1.2003 ist die Galerie geschlossen.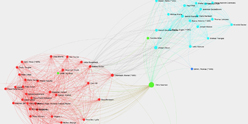 Interested in discovering more of this artist's networks?
3 easy steps: Register, buy a package for a visualization, select the artist.
See examples how visualization looks like for an artist, a curator, or an exhibition place: Gallery, museum, non-profit place, or collector.

Exhibition History

SUMMARY

based on artist-info records. More details and Visualizing Art Networks on demand.
Venue types:

Gallery

/

Museum

/

Non-Profit

/

Collector

Exhibitions in artist-info
14 (S 5/ G 9)

Did show together with

- Top 5 of 369 artists
(no. of shows) - all shows - Top 100

Exhibitions by type

14: 3 / 0 / 11 / 0
Venues by type

10: 2 / 0 / 8 / 0
Curators
1
artist-info records
Oct 1934 - Jan 2013

Countries

- Top 2 of 2
Germany (13)
Italy (1)


Cities

- Top 5 of 7
Darmstadt (5)
Wiesbaden (3)
München (2)
Roma (1)
Berlin (1)


Venues

(no. of shows ) Top 5 of 10
| | | |
| --- | --- | --- |
| | | Curators (no. of shows) Top 1 of 1 |