Artist

| Fabrizio Corneli (*1945)
https://www.artist-info.com/artist/Fabrizio-Corneli
Artist Portfolio Catalog Overview\ 3
Exhibition at Artiscope
Exhibition at Artiscope
Fabrizio Corneli
23.01 - 14.03.2003
ARTISCOPE - 35, Boulevard St. Michel - B-1040 Bruxelles - Tel +32 (0) 2 - 735 52 12

Qu'il s'agisse de grandes installations urbaines, ou d'œuvres de chambre, tantôt imposantes tantôt minuscules, Fabrizio Corneli ne manque jamais d'étonner, emmenant le regard dans un monde de magie et de mystère.

Fasciné depuis toujours par le thème de la lumière –dont les implications philosophiques et scientifiques lui sont aussi familières que les applications à l'art et au théâtre-, Fabrizio Corneli a fait de l'ombre et de la lumière les médias favoris de sa recherche. Un travail qui, tout en pouvant être rapproché de celui d'autres « architectes » contemporains de la lumière comme p. ex. l'américain James Turrell, n'en demeure pas moins profondément enraciné dans la culture européenne.

A la lumière du jour, les images de Fabrizio Corneli se montrent à peine. Telles des apparitions évanescentes, elles préfèrent émerger à la lumière d'une chandelle (ou de sa descendance halogène), dès la tombée du jour.

Fabrizio Corneli découpe des feuilles de papier (ou des boîtes de cuivre, ou des coquilles d'œuf…ou tout autre support, car il expérimente sans cesse) - sur lesquelles il dirige ensuite des faisceaux lumineux. Un monde d'images surprenantes s'éveille petit à petit sur le mur, laissant défiler devant nos yeux tantôt les chefs-d'œuvre de la sculpture grecque ou de la Renaissance italienne, tantôt un univers fantastique d 'elfes et de centaures, de dragons et de hiboux, ou encore des effigies de jeunes rêveuses, des silhouettes de voyageurs exotiques. N'est-ce pas une invitation au rêve?

Pour donner vie à cet univers enchanteur, Fabrizio Corneli a dû conquérir une maîtrise parfaite des lois de l'optique et de la physique avec tout ce qui a trait à l'anamorphose, aux projections des ombres et à la réfraction de la lumière.

À la lumière du jour le spectateur ne peut même pas vaguement imaginer à quoi ressembleront, une fois l'obscurité tombée, les projections sur les murs de ces silhouettes abstraites. D'ailleurs, l'artiste lui-même, lorsqu'il découpe ses formes zigzagantes, travaille, pour ainsi dire, «dans le noir» car il ne voit pas exactement ce que sera l'image. Question d'expérience, de technique et de…hasard.

Héritier d'une tradition scientifico-artistique toute florentine (celle qui de Filippo Brunelleschi mène à Leonard de Vinci et à Galilée), Corneli conjugue art et science, technologie et beauté, raisonnement abstrait et image. Et si, en appliquant la formule et le calcul, il parvient à générer l'émerveillement et la poésie, n'agit-il pas comme ces grands maîtres de l'étonnement que furent les ingénieurs des lumières du théâtre baroque qui, faut-il le rappeler, connût à Florence un rayonnement exceptionnel?

Nourri d'une double fascination, - l'obscurité, royaume de tous les charmes et de tous les rêves, et la lumière, forme du divin, de la raison éclairée, de l'énergie créatrice – l'art de Fabrizio Corneli pousse nos regards dans ce hiatus.

Paradoxe d'images qui, tout en étant insaisissables, aspirent à une vie plus durable que les images médiatiques de notre époque.

Biography
Biography
Fabrizio Corneli, born in Florence, 1958
lives and works in Florence.

Solo Exhibitions & Installations (selection since 1990)
Solo Exhibitions & Installations (selection since 1990)
1990   Galerie Jade, Colmar
1990   Galleria Studio G7, Bologna
1996   Kunstverein, Neuenhaus
1997   Parkplaz Kölner Stadt-Anzeiger, Köln
1997   Villa Celle, Pistoia
1999   Église Sainte-Foy, Sélestat
2000   Circo Massimo, Roma
2000   Ex-Convento S.Maria, Gonzaga (Mantova)
2000   Chiesa S.Andrea in Tontoli, Prato
2001   Mssohkan Gallery, Kobe
2001   Contemporary Art Institute, Sapporo
2001   Shushinkan Head Quarters, Kobe
2001   Metropolitan Museum of Photography, Tokyo
2002   Galleria Studio G7, Bologna
2002   Galleria Studio Trisorio, Napoli
2002   ELEC 2002, Parc des Expositions de Paris-Nord Villepinte, Paris
2003   Artiscope, Bruxelles

Group Exhibitions (selection)
Group Exhibitions (selection)
1979   Le alternative del nuovo, Palazzo delle Esposizioni, Roma
1979   Padiglione d'Arte contemporanea, Ferrara
1981   Linee della ricerca artistica in Italia 1960/1980, Palazzo delle Esposizioni, Roma
1984   Quadrivio, Palazzo Vecchio, Firenze
1986   XI Quadriennale, Roma; Arte giovane italiana, P.A.C., Milano
1992   Cadencias. Figuras del arte italiano de los anos 90, Museo de arte contemporaneo, Caracas
1996   XII Quadriennale, Roma
1997   Arte italiana. Materiali  anomali, Galleria Comunale d'Arte Moderna, Bologna
1997   Cinq ans d'acquisitions, FRAC Alsace, Sélestat
1999   Biennale d'art contemporain, Sélestat
2000   Dal Futurismo al laser. L'avventura della materia, Palau de la Virreina, Barcelona / Kunstforum, Berlin
2002   Fabrizio Corneli-Jaume Plensa, Villa Vogel, Firenze; Nel segno della luce, Museo Stauros d'Arte Sacra Contemporanea, Teramo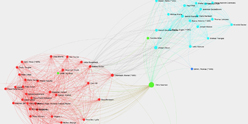 Interested in discovering more of this artist's networks?
3 easy steps: Register, buy a package for a visualization, select the artist.
See examples how visualization looks like for an artist, a curator, or an exhibition place: Gallery, museum, non-profit place, or collector.

Exhibition History

SUMMARY

based on artist-info records. More details and Visualizing Art Networks on demand.
Venue types:

Gallery

/

Museum

/

Non-Profit

/

Collector

Exhibitions in artist-info
14 (S 4/ G 10)

Did show together with

- Top 5 of 229 artists
(no. of shows) - all shows - Top 100

Exhibitions by type

14: 7 / 1 / 6 / 0
Venues by type

10: 3 / 1 / 6 / 0
Curators
2
artist-info records
Feb 1981 - Jan 2018

Countries

- Top 2 of 2
Italy (7)
Korea (1)


Cities

- Top 5 of 7
Bruxelles (5)
Roma (3)
Firenze (2)
Prato (1)
Bologna (1)


Venues

(no. of shows ) Top 5 of 10
| | | |
| --- | --- | --- |
| | | Curators (no. of shows) Top 2 of 2 |