Artist

| Tim Eiag (*1945)
https://www.artist-info.com/artist/Tim-Eiag
Artist Portfolio Catalog Overview\ 1
Tim Eiag
Biography
Biography
1945 Geboren in Hamburg
1965  Studium Buehnenbild und  BILDHAUEREI  bei Fritz Wotruba Akademie der bildenden Kuenste Wien
1968  Aktivist im Littoral  SCHILLERPLATZ   Wien
1969  Aktionen und Engagements in Schauspiel /Oper / Festwochen Wien
1970  Freie Kunst im Dialog contra Spoerri Kunsthalle Hamburg
1971  Installation im FOLKWANG Museum Essen
1972  Event und  NETZSPIELE  zu den Olympischen Sommerspielen Muenchen
1973  TUCHRAEUME und Pendel im STEDELIJK  Museum of Modern Art  Amsterdam  und Wiesbaden
1974  Gastvorlesungen in USA Harvard und Berkeley
1975  PENDELFLUG  und Desert zur ART 6 Basel
1976  KUNST-STAAT -Bilaterale Praesentation  Berlin / Paris
1977  Oasen ohne Sand im Museé Royal Bruessel
1978  ELFSTEIN Skulpturen definieren einen ORT bei Wien
1979  Elf Stein- PLASTIKEN  reisen nach Spanien
1980  Ausstellung in der  FUNDACION JOAN MIRÓ  Barcelona
1981  Installationen mit Tanzgruppe La Gran Compania Barcelona
1983  Coudrage und Installationen bei Eduard MICUS Ibiza
1984  Verbundsystem  PUBLIC-ART
1985  10 Years after  Desert ART 16 Basel
1986  HAUTNAH   mit  BOWTIE SCULPTURE   im Kunstraum Muenchen
1989  BLECHKUNST & Werbung im Malkasten Duesseldorf
1990  ZaunKunst am Ungers-Bau Hypobank Kö 17 Duesseldorf
1991  HOMMAGE À BEUYS  Installation mit Hut Koeln/Duesseldorf
1992  ArtShip im Malkasten Duesseldorf
1993 Klassik am Meer mit Justus Frantz in Bremerhaven ArtChip auf See
1994  BERLIN Outdoor; Kunst-Raum-Schiff  MS STUBNITZ
1995  LICHTZELT Duesseldorf  RUINE der Kuenste Berlin ROTE SOCKE Duesseldorf  Charity Art   Kobe Japan
1996  Kunstpalast Duesseldorf Kleinplastik Biennale in Hilden. DAS KALTE HERZ- Stadtmuseum Duesseldorf. Neues Stadttor Duesseldorf STAHL-BINDER
1997  WEISSES RAUSCHEN -Lauschraeume- im Arbeitsamt    NETZWERK - Salzmannbau Duesseldorf
1998  Die GELBe Linie/ begeistert mit GHOSTS in 30 Deutschen Staedte. MEGAVISION - Roy Lichtenstein Saal Heinrich Heine Uni Duesseldorf
1999 VIRTUAL MUSEUM Landmarkenkunst  ENERGY SCULPTURE   Landschaftspark  Duisburg - Meiderich
2000 MEDIENPROJEKT  punktet fuer  BANANENSTAU  dot  DE
2001 BARRIKA.DE  Visionen und kritisches INTERNETZO   FREIE WAHLEN BADEN-BADEN  Kur Nostalgiefieber Verortet WIEN
2002 RIESEN , GEISTER , GROSSE KUNST /  Open Air Produktionen

About the work (deutsch)
About the work (deutsch)
Eiag entwickelt  SOCIAL -ART und energetische Raeume, komprimiert, vernetzt und reduziert oder verbringt mehrere Tage in der HAENGE-SKULPTUR. Frueh erkennt E, dass der Gebrauchscharakter eines Gegenstandes zugunsten des Erlebnischarachters ins Hintertreffen geraet und revitalisiert traditionelle PFADE der Kunst. Aus Verdichtung entsteht Energie. Sie wirkt als  KONTRAPUNKT  zwischen Sehen und Verstehen.


Seit 1968 strukturiert die GELBE LINIE seine interdisziplinaere Arbeit. Gleichwohl Interaktion und NETGAMEZ stimulierend, verweist sie auf Neue Sinnlichkeit und Integration. Dabei focussiert  E  weniger auf Einzelaspekte oder den Innovationsgrad seiner Installationen. Im Vordergrund steht vielmehr das Zusammenführen von Kunst, Mensch und Natur. Im Portalbereich KUNSTHALLE  BADEN-BADEN  setzt E   Zeichen und dockt an Mediale Arbeiten der 60er an. Parallel zum  STRUKTURWANDEL  entstehen raumgreifende Energy -Sculptures und die noch nicht realisierten  Netzwerk-  Projekte  INTERNETZO  fuer Gasometer Oberhausen  und  BARRIKA.DE fuer Duesseldorf


Kunstwesen und Kunstwelt verschmelzen im Roy Lichtenstein- Saal der Heinrich-Heine Universitaet zu einem medial gesteuerten und die Konsumwelt hinterfragenden Kraftraum. VIRTUELLE RAEUME  Sound- maschinen, Zukunftsvisionen und quadrophonische Klaenge kommen in der faustischen Persiflage zum Einsatz. Waehrend sich ein Android in paranoides Delirium hineinsteigert, macht E  dem Publikum klar, dass die Vorstellung, die es sich ueber die Geschichte hin vom Homo Sapiens gemacht hat, immer abhaengig vom Entwicklungsstand der Technik war. Keine Art bleibt ewig. Soll der Mensch durch Computer-Gehirnkopplung Optimierungsfähig gemacht oder zum biologischen Auslaufmodell werden ? Die kontrastreiche Inszenierung buendelt Satire, Endzeit- und Nano- Visionen. Seine Installationen und kryptischen Faehren kreuzen Zeitgeist, Natur und Retrogarde.


Zum Auftakt der Wiener Festwochen 68 verspannt E den SCHILLERPLATZ und knuepft Verbindungen zum Burgtheater. PUBLIC -ART  strukturiert das Spannungsfeld zwischen Stadtkultur, Kunst,  Freiraum, Wirklichkeit und Cyberspace. Sanft bewegt und hart beleuchtet tanzen  breite Baender zwischen Himmel und Erde. 1972 kozipiert E NETZ -SPIELE  fuer die Olympischen Sommerspiele Muenchen. Spiel Stadt Leistung, Erfahrung statt Medaillen, vernetzt Wirklichkeit und generiert kommunikatives Miteinander. Olympische Landschaft, Kampfgeist, Trends zu Hedonistischer Spasskultur und kulturelle Identitaet werden hinterfragt.


Mit  ELFSTEIN entsteht bei Wien ein poetischer Klang- Raum. Grosse STEIN Skulpturen werden sinnlich und geometrisch  verortet. Raum- Positionen, nach Echo + Klang ausgelotet, muenden in  OBJEKTE. Im Tast- Raum, einem abgedunkelten Environment, gleitet der Besucher ueber haptische Oberflaechen und sensoren zu Tast-Skulpturen und findet im Littoral von Angst und Traum zu den Grenzen seiner Selbst. Die Raeume sind Erfahrungs- Raeume. Als monochrome HUELLEN vermitteln sie die geheime Sprache und Kraft der Farbe. Sie wird auf die HAUT geschminkt, als Tuch am Koerper getragen, erfuehlt, geschmeckt oder geatmet. Die Strukturen haben Parallelen zu Haeuten, Pneus, aufblasbaren Sphaeren, Bubbles, Hinchables, Burbujas oder grossen Plastiken, in denen Menschen auf dem Wasser gehen oder tanzen.


In SKULPTUREN und Schwingbeuteln  laesst Eiag schweben, baumeln, flattern, trudeln und schlenkernd ueber die Kraft des Pendelns oder Wurzeln der IDENTITAET und die Gravitation nachdenken. Aus innerer Leere entsteht Dynamik. Aus Reduktion wachsen neue Impulse, neue Einsichten, neue Horizonte. Bewegung, Wechselwirkung, Schubumkehr, soziale Integration und Ueberwindung informationeller Ausgrenzung strukturieren die Rahmenbedingungen unserer Kultur und praegen Verhaltensmuster des taeglichen Lebens.


E entwirft Objekte fuer die STAHLINDUSTRIE und STEHT,  Identitaet  verschmelzed  auf Blech. ICH WAR eine Dose. Focussiert auf Ueberschneidungen, Ausgrenzung und Kollektionismus in der Kunst, Gleichwohl fuer Industrie- und Medien- Kultur punktend.


Fuer die Ausstellung Hautnah baut E die  BOWTIE SCULPTURE und ein scharfes Hemd mit Stahl- Krawatte. Mitwirkende werden in Farbe getaucht und agieren rythmisch im Hypergrossen Objekt. Fuer Das kalte Herz, einem Theater-Stueck von Jens Pruess entwirft E Buehnenbild und Titanen. Sie agieren TRANSNATURAL in stratosphaerischer Leere, ueberzeichnen Vorstellungen aber schaffen als GHOSTS geistige Verbindungen zu Sagen und Mythos. Informell Gigantismus und kuenstliche Intelligenz hinterfragend decodieren sie echt - simulierte Wirklichkeit und erinnen an Urszenen im hybriden Dreiklang Mensch, Maschine, Natur.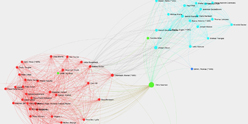 Interested in discovering more of this artist's networks?
3 easy steps: Register, buy a package for a visualization, select the artist.
See examples how visualization looks like for an artist, a curator, or an exhibition place: Gallery, museum, non-profit place, or collector.

Exhibition History

SUMMARY

based on artist-info records. More details and Visualizing Art Networks on demand.
Venue types:

Gallery

/

Museum

/

Non-Profit

/

Collector

Exhibitions in artist-info
2 (S 1/ G 1)

Shown Artists

- 3 of 3 artists
(no. of shows) - all shows - Top 100

Exhibitions by type

2: 1 / 0 / 1 / 0
Venues by type

2: 1 / 0 / 1 / 0
Curators
0
artist-info records
Jun 2001 - May 2002

Countries

- Top 1 of 1
Germany (2)


Cities

2 - Top of 2
Düsseldorf (1)
Baden-Baden (1)


Venues

(no. of shows ) Top 2 of 2
| | | |
| --- | --- | --- |
| | | Curators (no. of shows) Top 0 of 0 |
Offers/Requests

Exhibition Announcement

S / G Solo/Group Exhibitions

(..) Exhibitions + Favorites

artship
S
May 2002 - May 2002
Düsseldorf
(1)
+0
Staatliche Kunsthalle Baden-Baden
G
Jun 2001 - Jun 2001
Baden-Baden
(239)
+0
Insight Basic

Display the full interactive exhibition history and all related artist, exhibition venue, and curator pages for your research. The SUMMARY above shows today's available scope.
Insight Basic 10 Days USD 378 / EUR 394

Insight Basic 1 Day USD 42 / EUR 44

To use Insight Basic or Insight Analytics
Sign-up for free first
Insight Analytics
Use Analytics tools for more insight based on documented exhibitions. More details on your RESEARCH user page.
(Includes Inisght Basic)
COMING SOON