Artist

| Candida Höfer (*1944)
https://www.artist-info.com/artist/Candida-Hoefer
Artist Portfolio Catalog Overview\ 3
Biography
Biography
Née en 1944, ancienne étudiante à l'Académie des Beaux-Arts (Kunstakademie) de Düsseldorf, elle a suivi l'enseignement de Bernd BECHER en compagnie d'Andreas GURSKY, Thomas RUFF et Axel HÜTTE. Cependant, bien que fréquemment exposé en Allemagne et aux Etats-Unis son travail n'avait pour l'instant fait l'objet d'aucune exposition d'envergure en France.
About the work (français)
About the work (français)
Candida HÖFER a ponctuellement travaillé pour la presse et réalisé plusieurs reportages notamment sur la communauté turque en Allemagne ; à partir du milieu des années 80, elle radicalise son point de vue.
Evitant toute forme de systématisation, d'inventaire, ou de typologie, elle photographie les intérieurs de lieux publics : bibliothèques, musées, salle d'attente, zoos. Ce ne sont pas des espaces génériques, elle les choisit pour leur spécificité : intrigante correspondance des masses et des couleurs dans la salle de l'électricité du Palais de la Découverte, modernité architecturale de la maison des pingouins du zoo de Londres , fascinant agencement des ouvrages dans la salle de lecture de la Bibliothèque Nationale de France, rue Colbert. 
La simplicité des moyens mis en œuvre par l'artiste (utilisation de la lumière ambiante et d'un appareil 24x36) lui permet une grande mobilité. Se tenant ainsi à l'écoute de la respiration des espaces, Candida HÖFER porte une attention particulière à la qualité de la lumière et aux riches variations des couleurs.
Ses images peuvent être perçues à de nombreux niveaux de lecture. Au-delà du simple aspect informatif, elles laissent parfois apparaître un réseau complexe de références à d'autres champs de la création contemporaine. Ainsi les mannequins du Deutsches Museum de München évoquent les sculptures de George SEGAL et l'agencement régulier des sièges du Deutsche Hochschule für Körperkultur de Leipzig fait écho à la répétition des modules de Donald JUDD. 
Certaines images sont aussi traversées par une ironie subtile : confrontation surprenante entre des tigres et l'architecture néoclassique de leur enclos du zoo de Rotterdam ; rencontre incongrue entre un extincteur d'incendie et un lévrier empaillé au Museum d'Histoire Naturelle de Londres. 

Ce rapprochement entre deux réalités de nature différente est aussi le principe sur lequel repose la vidéo intitulée 80 pictures. Dans cette œuvre de 1997, Candida HÖFER revisite ses travaux anciens (de 1971 à 1983) en prenant la forme d'une projection de diapositives. Les images apparaissent par paire et sont précédées par un mot très court (plante, rideaux, moustache…) qui s'inscrit quelques secondes sur l'écran noir. Ainsi préparé, le regard du spectateur est dirigé vers l'élément qu'il désigne. Cette lecture orientée des photographies propose au visiteur de découvrir des parties auxquelles il n'aurait peut-être jamais prêté attention et l'invite à se poser la question de ce qui a pu pour l'artiste être l'élément déclencheur de l'acte photographique. Parallèlement, cette œuvre lui pose la question de la nature de son propre regard sur les photographies de Candida HÖFER.
Text par Sylvain LIZON
Works of the Exhibition at the CPIF (17.12.97 – 22.02.98)
Works of the Exhibition at the CPIF (17.12.97 – 22.02.98)
23 photographies de la série des Jardins zoologiques (1990-1997) ;
38 photographies de la série des Intérieurs (1987-1997) ;
installation vidéo : 80 pictures, 1997 
Exposition réalisée en partenariat avec le Goethe-Institut, Paris et la galerie Wilma Tolksdorf, Franfort-sur-le Main
Construit par le groupe Tekton en 1933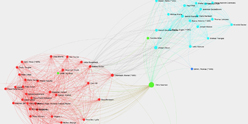 Interested in discovering more of this artist's networks?
3 easy steps: Register, buy a package for a visualization, select the artist.
See examples how visualization looks like for an artist, a curator, or an exhibition place: Gallery, museum, non-profit place, or collector.

Exhibition History

SUMMARY

based on artist-info records. More details and Visualizing Art Networks on demand.
Venue types:

Gallery

/

Museum

/

Non-Profit

/

Collector

Exhibitions in artist-info
177 (S 55/ G 122)

Did show together with

- Top 5 of 2587 artists
(no. of shows) - all shows - Top 100

Exhibitions by type

177: 56 / 56 / 57 / 8
Venues by type

136: 35 / 43 / 51 / 7
Curators
74
artist-info records
Jun 1979 - Jan 2023

Countries

- Top 5 of 20
Germany (81)
United States (22)
Switzerland (9)
Italy (5)
Denmark (5)


Cities

- Top 5 of 80
Berlin (14)
New York (11)
Düsseldorf (10)
Frankfurt am Main (9)
Köln (7)


Venues

(no. of shows ) Top 5 of 136
| | | |
| --- | --- | --- |
| | | Curators (no. of shows) Top 5 of 74 |
Offers/Requests

Exhibition Announcement

S / G Solo/Group Exhibitions

(..) Exhibitions + Favorites

Photographische Sammlung / SK Stiftung Kultur
G
Sep 2022 - Jan 2023
Köln
(61)
+0

Read texts, reviews, comments, and Press Releases about this exhibition for more insight

Huis Marseille - Stichting for Fotografie
G
Mar 2018 - Jun 2018
Amsterdam
(41)
+0
Hofmann-Johnson, Barbara (Curator)
+0
Kunstmuseum Stuttgart
G
Jul 2017 - Nov 2017
Stuttgart
(90)
+0
Groos, Ulrike (Curator)
+0
Friese, Klaus Gerrit (Curator)
+0
Städel Museum
G
Apr 2017 - Aug 2017
Frankfurt am Main
(161)
+1
Engler, Martin (Curator)
+0
Baumann, Jana (Curator)
+0
Kanali d'arte
G
Mar 2017 - May 2017
Brescia
(9)
+0
Menolascina, Graziano (Curator)
+0
Neuer Berliner Kunstverein - NBK
S
Dec 2016 - Jan 2017
Berlin
(347)
+0
Babias, Marius (Curator)
+0