Artist

| Keith Haring (1958 - 1990)
https://www.artist-info.com/artist/Keith-Haring
Artist Portfolio Catalog Overview\ 3
Retrospective Exhibition
Retrospective Exhibition
Keith Haring
Retrospektive
im Ludwig Forum, Aachen

vom 29.09. bis 26.11. 2000

Das Baby im Strahlenkranz ziert unser Kopfkissen, ein fliegender Penis schmückt unsere Kaffeetasse und kopulierende Hunde markieren auf unseren Badehandtüchern ihr Revier. Keine schockierende Vorstellung, sondern alltägliche Vertrautheit verbindet uns mit den Motiven Keith Harings. Gegenüber Künstlerkollegen etabliert und von Kritikern anerkannt, avancierte er bereits in jungen Jahren zum amerikanischen Exportschlager, erlangte Ruhm und kommerziellen Erfolg. Tausende tragen seine T-Shirts, Millionen kennen seinen~ Stil. Keith Haring, schon zu Lebzeiten eine Institution, fasziniert immer noch. Warum? Was ist das Besondere, das besonders Auffällige an der Person und am Werk Keith Harings?

Heute, zehn Jahre nach seinem Tod, präsentiert das Ludwig Forum für Internationale Kunst, Aachen als einzige deutsche Station eine groß angelegte Retrospektive.

Zu sehen sein werden Zeichnungen, Bilder und Skulpturen aus nationalen und internationalen Museumsbeständen, sowie Leihgaben der New Yorker Keith-Haring-Stiftung und aus Privatbesitz.
Mit ca. 80 Exponaten, darunter noch nie ausgestellte oder kaum gezeigte Werke, fasziniert er als Meister der Malerei, als jugendlicher Held einer ganzen Generation und als Kenner des Marktes.

Alexandra Kolossa
Kuratorin
Catalogue
Catalogue
Zur Ausstellung wird ein umfangreicher Katalog (deutsch / italienisch) zum Preis von DM 39, - / Euro 20, - erscheinen.
Ludwig Forum für Internationale Kunst, Jülicherstrasse 97 - 109, 52070 Aachen
ludwigforum@aachen.heimat.de
Biography
Biography
Geboren 1958 in Reading, Pennsylvania, entwickelt Keith Haring schon als Kind eine große Vorliebe für das Zeichnen. Seine Familie unterstützt diese Leidenschaft, indem sie ihn dazu ermutigt, Vignetten zu zeichnen und Museumsbesuche fördert. Ein Ausflug in das Hirshhorn Museum in Washington D.C., wo er zum erstem Mal Arbeiten von Warhol - eine Marylin-Serie - sieht, hinterlässt einen unauslöschlichen Eindruck bei Haring. Ihm wird bewusst, dass ein wichtiger Unterschied zwischen ,Vignetten machen" und dem Kunstschaffen besteht.

Von der Alltagskultur abgesehen, werden die Arbeiten von Künstlern wie Pierre Alechinsky, Jean Dubuffet, Robert Henri und Christo zu Harings künstlerischer Inspirationsquelle. Unter ihrem Einfluss entwickelt sich sein Stil zu einer Art graphischer Ausdrucksfähigkeit unter dem Primat der Linie. Haring studiert und arbeitet ab 1976 in Pittsburgh. Er wird 1978 aufgefordert, seine Arbeiten im Pittsburgh Arts and Crafts Center auszustellen. Auch wenn er begeistert ist, so schnell eine solche Chance zu bekommen (er ist gerade einmal 19 Jahre alt), wird ihm klar, dass Pittsburgh nur wenige Möglichkeiten künstlerischer Weiterentwicklung zu bieten hat. Noch im selben Jahr entscheidet er deshalb, Pittsburgh zu verlassen. Später äußert er: "New York war der einzige Ort, wo ich hingehen wollte".

In New York angelangt, entdeckt er, dass die Energie und der Enthusiasmus, den er für das Kunstschaffen empfindet, auch von anderen jungen Leuten geteilt wird, die zusammen mit ihm die School of Visual Arts (SVA) besuchen. Sie stellen ihre Arbeiten auf den Straßen, in den Unterführungen und den Clubs aus - für jedermann, der Lust hat, sie anzuschauen. Haring entwickelt daraus seinerseits eine Überzeugung, die er den gesamten Verlauf seiner Karriere über bewahrt: dass die Kunst für alle da ist, nicht nur für eine exklusive Elite. Er schließt Freundschaft mit Künstlern wie Kenny Scharf und Jean-Michel Basquiat sowie mit Musikern und Theaterschauspielern. Haring wird erfasst von einer sich formierenden alternativen Strömung.

Als Student der SVA entwickelt er Videos, Installationen und cut-ups nach den Truisms von Jenny Holzer und den Techniken von William Burroughs und Brion Gysin. Er findet jedoch für sich ein geeigneteres Betätigungsfeld, das ihm erlaubt, mit einem viel breiteren Publikum zu kommunizieren: an einer Haltestelle der U-Bahn entdeckt er eine leere, schwarze Werbefläche. Er steigt sofort aus, um eine Schachtel weißer Kreide zu kaufen, kehrt zurück und beginnt zu zeichnen. Die Weichheit der Plakatpapiere empfindet er als perfekt, um darauf die Kreide gleiten zu lassen. Bedeutsamer noch ist für ihn der Umstand, dass ihm die Plakatflächen als der einzig wahre Ort erscheinen, Kunst mit anderen zu teilen und Ideen zu entwickeln. Bald schon wird die Untergrundbahn, um es mit den Worten Harings auszudrücken, ein "laboratory", in dem er Experimente mit seinen klaren Linien durchführen kann. Als er an dem Punkt anlangt, an dem er rund vierzig öffentliche Arbeiten am Tag produziert, sind Haring und seine New Yorker Mitstreiter über die enorme eigene Produktivität verwundert. In einem Interview mit dem "Rolling Stone Magazine" sagt Haring, als er über seine eigenen Zeichnungen in der Untergrundbahn spricht: "Da sie so empfndlich waren, ließen die Leute sie stehen und respektierten sie; niemand zerstörte sie, niemand 'versuchte, sie zu beschmieren. Sie hatten eine spezielle Ausstrahlung. Da war diese zarte weiße Kreide inmitten all der Kraft, der Spannung und der Gewalt der Untergrundbahn. Die Leute wurden dadurch völlig überrumpelt".

Viele der von Haring entworfenen Bilder entstehen einfach, um unmittelbar mit demjenigen zu kommunizieren, der sie betrachtet. Indem er die allgemeinen Vorstellungen von Geburt, Tod, Liebe, Krieg zum Ausdruck bringt, gelingt es Haring, ein- breites Publikum anzuziehen. Außerdem hofft er, durch die systematische Anordnung derselben Figuren in verschiedenen Variationen, unterschiedliche Geschichten erzählen zu können, die jeweils die gleichen grundlegenden Ideen transportieren. Als Semiotik bekannt ist die Untersuchung der Zeichen und Symbole bezogen auf ihre Sprachlichkeit, Zeichnungen, weiche Ideen repräsentieren, werden Piktogramme genannt. Haring entwickelt sehr schnell ein eigenes Vokabular an Piktogrammen, indem er mit einfachen Formen operiert. Einmal erklärt er: "Ich versuche, die Dinge auf möglichst einfache Weise auszudrücken, wie eine Primzahl. Eine große Menge an Informationen kann mit einer einzigen Linie übermittelt werden."

Im April 1986 eröffnet Haring den Pop Shop, einen Laden in Soho, der T-Shirts, Spielzeug, Poster, Aufkleber und Magneten verkauft. Als Erweiterung seines Werks fungierend, sollte der Pop Shop den Leuten erlauben, an seine Kunst zu kommen physisch und ökonomisch. Außerdem, wie Haring in einem Interview für einen Artikel der "New York Times" sagte, " waren dermaßen viele Imitationen meiner Arbeit in Umlauf, dass ich dachte, ich müsste etwas tun, damit die Leute wenigsten wüssten, welches Aussehen meine Arbeiten wirklich hatten".

Auch wenn Haring für Empfänge und Eröffnungen von Galerien und Museen oder um mit anderen Künstlern zusammenzuarbeiten, überall hinreist, er bleibt immer volksnah. Er produziert mehr als fünfzig öffentliche Arbeiten - oft mit sozialen Botschaften - in den Städten der ganzen Weit. Einige sind an exponierten Orten wie Krankenhäusern und Kirchen angebracht; andere Wandbilder hingegen entstehen in abgeschiedenen Zonen der Untergrundbahn ohne Genehmigung der Behörden. Wie in dem Fall der U-Bahn-Zeichnungen, ist sein Ziel, das System der Galerien zu durchbrechen, um die Kunst direkt an den Menschen zu bringen. Verrottete Basketballfelder und ausgediente Spielfelder sind für Haring die perfekten Orte, die Wände mit sozialen Botschaften zu ergänzen.

Ein großer Teil seiner öffentlichen Arbeiten steht in Zusammenhang mit Projekten für Kinder. Er gibt Zeichenunterricht in Schulen und Museen in New York, Amsterdam, London, Tokyo und Bordeaux und entwirft Motive für Alphabetisierungskampagnen in den Vereinigten Staaten. Da er, wann immer er in der Öffentlichkeit arbeitet, regelmäßig von Kindern und Jugendlichen umringt ist, trägt er mit Begeisterung die gleichen Schuhe, Jeanshosen und T-Shirts wie sie und hat immer Aufkleber und Malbücher dabei, die er an seine kleinen Fans verteilen kann.

Keith Haring stirbt am 16.Februar 1990 an AIDS - im Alter von 31 Jahren.

Auch wenn seine Künstlerlaufbahn kurz war, seine Figuren sind in das Bewusstsein der Masse eingedrungen. Sie sind überall vertreten: auf den Magneten, die an den Kühlschränken haften, bis hin zur Berliner Mauer. Es ist schwierig, seinen Beitrag zur Kunst des 20.Jahrhunderts abschließend einzuschätzen, weil er auf viele Arten dazu beigetragen hat, den Begriff der Kunst selbst zu transformieren. Als er gefragt wird, was er mit seiner Kunst beabsichtigt, antwortet Haring: "Sie [die Kunst] einführen in jeden Bereich des Lebens, sie von ihrem Sockel stoßen. Ich glaube, dass ich dabei bin, sie den Menschen wiederzugeben". Vor seinem Tod gründet er eine Stiftung, die seinen Namen trägt und der er die Aufgabe überträgt, die Unterstützung der Kinder, die von AIDS betroffen sind sowie der Organisationen zur Bekämpfung von AIDS darunter AMFAR, GMHC und God's Love We Deliver - fortzuführen. Zu den Organisationen, die regelmäßig finanzielle Unterstützung und die Rechte bekommen, die Bilder von Haring zu verwenden, gehören UNICEF, Special Olympics and Best Buddies, The Boys Club, Children's Village. Die Stiftung widmet sich außerdem der Aufgabe, den Menschen und Künstler Keith Haring einem breiten Publikum näherzubringen. Durch die Zusammenarbeit mit Museen und Verlagen ist die Stiftung in der Lage, dem Publikum Informationen und Kunstwerke anzubieten, die sonst unbeachtet in den Archiven verbleiben würden. Außerdem wurde eine Web-Site eingerichtet, die eine Biographie, zusammengestellt aus Interview-Zitaten von Haring, eine Auswahl seiner Arbeiten sowie einige Produkte, die derzeit in den Pop Shops angeboten werden, umfasst.
Internet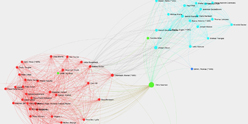 Interested in discovering more of this artist's networks?
3 easy steps: Register, buy a package for a visualization, select the artist.
See examples how visualization looks like for an artist, a curator, or an exhibition place: Gallery, museum, non-profit place, or collector.

Exhibition History

SUMMARY

based on artist-info records. More details and Visualizing Art Networks on demand.
Venue types:

Gallery

/

Museum

/

Non-Profit

/

Collector

Exhibitions in artist-info
129 (S 47/ G 82)

Did show together with

- Top 5 of 2092 artists
(no. of shows) - all shows - Top 100

Exhibitions by type

129: 59 / 36 / 30 / 4
Venues by type

109: 45 / 34 / 27 / 3
Curators
50
artist-info records
Dec 1980 - Jul 2019

Countries

- Top 5 of 14
United States (57)
Germany (34)
Italy (13)
France (4)
United Kingdom (4)


Cities

- Top 5 of 57
New York (37)
Berlin (8)
San Francisco (5)
Milano (4)
Nürnberg (4)


Venues

(no. of shows ) Top 5 of 109
| | | |
| --- | --- | --- |
| | | Curators (no. of shows) Top 5 of 50 |