Artist

| Julio González (1876 - 1942)
Alias: Julio González [Julio González i Pellicer, Jean Gonzalez, Julio Gonzales]
https://www.artist-info.com/artist/Julio-Gonzalez
Artist Portfolio Catalog Overview\ 1

Biography (deutsch)
Biography (deutsch)
1876   am 21. September wird Julio Gonzalez in Barcelona geboren. In der Werkstatt seines Vaters, der als Goldschmied und Bildhauer tätig ist, lernen er und sein älterer Bruder Juan schon im Kindesalter Metall zu bearbeiten. Bald entdecken sie ihre Neigung zur Malerei und belegen Abendkurse an der Kunsthochschule in Barcelona.

1892   beteiligen sich die beiden Brüder an der internationalen Ausstellung in Chicago und Barcelona. Ihre Werke werden ausgezeichnet.

1900   lässt sich die Familie in Paris nieder. Julio befreundet sich mit der Gruppe von Picasso, Manolo, Max Jacob, Gris, Appollinaire, Maurice Raynal u.a.
Erste gehämmerte Metallmasken entstehen.

1908   stirbt sein Bruder Juan. Dieser Verlust trifft Julio hart. Er zieht sich zurück, lässt seine Arbeit monatelang liegen. Er trifft sich nur noch mit seinen engsten Freunden Picasso und Brancusi.

1918   arbeitet er in den "Ateliers de la Soudure Autogène Française", wo er die neuen Schweisstechniken erlernt, die er später für seine Plastiken anwenden wird.

1926 - 27   realisiert er seine ersten geschweißten Metallplastiken.

1931   hilft er Picasso bei der Ausführung verschiedener Metallplastiken.

1937   realisiert er "La Montserrat", die Eisenplastik, die im Spanischen Pavillon an der Weltausstellung in Paris stehen wird.

1939 - 41   zu Beginn des 2. Weltkrieges zieht er sich aufs Land zurück, wo er sich hauptsächlich mit Zeichnen beschäftigt.
Wieder in Arcueil, entstehen seine letzten Werke in Gips und Plastilin, da er seine autogene Schweißanlage nicht mehr benutzen kann.

1942   am 27. April stirbt Julio Gonzalez in Arcueil.
About the work (deutsch)
About the work (deutsch)
Längst hat Julio Gonzalez seinen Platz unter den Pionieren der modernen Skulptur wie Brancusi, Giacometti und Picasso gefunden. Zudem steht er mit seinem Werk am Anfang der Tradition der modernen Eisenschmiedekunst, die sich ab den 30er Jahren bis heute erhalten hat. Sein Werk gab der modernen Skulptur eine radikale Wendung und eröffnete dadurch neue Möglichkeiten des Sehens und Arbeitens für die jüngeren Generationen.

"Mit Hilfe neuer Mittel in den Raum zeichnen, diesen Raum so zu benutzen und mit ihm zu arbeiten, als handle es sich dabei um ein erst kürzlich erworbenes Material - dahin gehen alle meine Versuche."
Julio Gonzalez

"Das wahre Problem, das es hier zu lösen gilt, besteht nicht nur darin, zu einem harmonischen Werk zu gelangen, zu einer vollkommen ausgewogenen Darstellung - nein -, es gilt, das Resultat durch die Verbindung des Materials mit dem Raum zu erzielen, durch die Verbindung realer Formen, mit Formen, die durch Anhaltspunkte etwas vorstellen, etwas andeuten, oder durch Zwischenräume. Diese Formen müssen untrennbar miteinander verschmolzen werden, so wie Körper und Geist."
Julio Gonzalez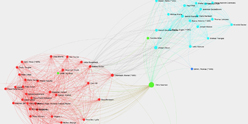 Interested in discovering more of this artist's networks?
3 easy steps: Register, buy a package for a visualization, select the artist.
See examples how visualization looks like for an artist, a curator, or an exhibition place: Gallery, museum, non-profit place, or collector.

Exhibition History

SUMMARY

based on artist-info records. More details and Visualizing Art Networks on demand.
Venue types:

Gallery

/

Museum

/

Non-Profit

/

Collector

Exhibitions in artist-info
133 (S 42/ G 91)

Did show together with

- Top 5 of 2338 artists
(no. of shows) - all shows - Top 100

Exhibitions by type

133: 30 / 59 / 44 / 0
Venues by type

86: 19 / 33 / 34 / 0
Curators
73
artist-info records
May 1903 - Oct 2021

Countries

- Top 5 of 12
Germany (51)
France (27)
United States (24)
Switzerland (9)
Spain (7)


Cities

- Top 5 of 52
Paris (22)
New York (16)
Köln (12)
Berlin (9)
Valencia (5)


Venues

(no. of shows ) Top 5 of 86
| | | |
| --- | --- | --- |
| | | Curators (no. of shows) Top 5 of 73 |
Offers/Requests

Exhibition Announcement

S / G Solo/Group Exhibitions

(..) Exhibitions + Favorites

Staatliche Kunsthalle Karlsruhe
G
Jul 2021 - Oct 2021
Karlsruhe
(96)
+0
Voigt, Kirsten Claudia (Curator)
+0
Beiersdorf, Leonie (Curator)
+0
Borkhardt, Sebastian (Curator)
+0
Galerie Dreiseitel
G
Nov 2014 - Feb 2015
Köln
(73)
+0
Kunsthalle Mannheim
G
Mar 2013 - Nov 2013
Mannheim
(100)
+0
Ecker, Bogomir (Curator)
+0
Lorenz, Ulrike (Curator)
+0
Patruno, Stefanie (Curator)
+0
Bock, John (Curator)
+0
Hirschhorn, Thomas (Curator)
+0
Rentmeister, Thomas (Curator)
+0
Signer, Roman (Curator)
+0
Smith, Kiki (Curator)
+0
Musée d'Art Moderne de la Ville de Paris - MAM (1/2)
G
Oct 2012 - Feb 2013
Paris
(808)
+0
Munck, Jacqueline (Curator)
+0
Dorléac, Laurence Bertrand (Curator)
+0
documenta XIII
S
Jun 2012 - Sep 2012
Kassel
(1)
+0
Christov-Bakargiev, Carolyn (Curator)
+0
Opelvillen Rüsselsheim
G
May 2012 - Aug 2012
Rüsselsheim
(43)
+0
Kemfert, Beate (Curator)
+0