Artist

| Udo Achterholt (*1952)
https://www.artist-info.com/artist/Udo-Achterholt
Artist Portfolio Catalog Overview\ 15
Biography
Biography
Udo Achterholt wurde 1952 in Münster geboren.
Er lebt und arbeitet in Havixbeck.
1969 Buchdruckerausbildung und 1976 Graphikdesignstudium an der Fachhochschule Münster,
1981 Exarnen.
Freier Maler und Siebdrucker.
Solo Exhibitions
Solo Exhibitions
1983      Galerie "S", Münster
1984      Galerie Mertins, Dortmund
1986      Kulturgesellschaft, Ahlen
1987      Galerie Reincke, Osnabrück
1989      Galerie MS Leismann, Lagin, Münster
1991      Galerie Depelmann, Langenhagen
1993      Galerie Vogt, Herten
1993      Galerie Reincke, Osnabrück
1994      Galerie Moderne, Bad Zwischenahn
1994      Galerie Depelmann, Langenhagen
1994      Galerie Kiliansmühle, Lünen
1995      Kunstkreis Versmold
1995      Galerie Vier, Basel, CH
1995      Deutsche Bank Frankfurt
Group Exhibitions
Group Exhibitions
1985      BFG-Kunstforum, Münster
1985      Städtische Galerie Osnabrück
1986      Kunstverein Emsdetten
1986      Kunst in der City, Installationen, Hamm
1988      Kunstverein Oldenburg
1990      Atelierhalle Werk Thyssen, Hamm
1991      Schloß Oranienburg
1991      Galerie MS Lagin, Münster
1992      Große Kunstausstellung Düsseldorf
1992      Ausstellung zum Kulturpreis Hude
1993      Villa Weiner, Ochtrup
1994      "10 Jahre" Galerie Reincke, Osnabrück
1995      "20 Jahre" Galerie Moderne, Bad Zwischenahn
1996      Galerie Breitbach, Unna
...
1999      De Muelenaere & Lefevere, Oostduinkerke (Belgien) mit Jan Jacob
About the work (deutsch)
About the work (deutsch)
Während mancher Künstler - ob klar formuliert oder unausgesprochen - mit seiner Arbeit eine Art Ewigkeitsanspruch verbindet, relativiert Udo Achterholt sein Schaffen ganz ausdrücklich: "Ich habe bei meinen Bilder nicht den Anspruch, daß sie 300 Jahre für die zukünftigen Kunstwissenschaftlergenerationen erhalten sein müssen, sondern ich bin der Meinung, daß die nach einer gewissen Zeit auch sich so verhalten können, wie sich alles verhält. Ein Mercedes für 120 000 Mark - das ist für jeden ganz normal, daß der nach 25 Jahren kaputt ist, nicht mehr existiert. Warum sollte jetzt eine Zeichnung von mir, auf Teufel komm raus, 200 oder 300 Jahre erhalten bleiben? Finde ich unnötig." Er male "nicht mit dem Ziel, daß ich in 50 Jahren in der großen Enzyklopädie unter dem Namen Achterholt erscheine, sondern ich male, weil ich malen will." Ganz einfach weil es ihm richtig Spaß mache, sei er Maler geworden.
Dabei ist es ihm freilich nicht gleichgültig, wie die Betrachter auf seine Werke reagieren. Zwar müsse es einen Künstler wahrscheinlich mißtrauisch machen, wenn seine eigene Arbeit zum Publikumsrenner werde, aber: "Natürlich freut man sich immer, wenn man Bestätigung von außen kriegt. Keiner kann auf die Dauer damit zufrieden sein, wenn man in Bezug auf seine eigene Arbeit eine negative Resonanz kriegt. Auf der anderen Seite entwirft man ja kein Designstück oder Modeprojekt, wo es darum geht, eine möglichst breite Kundschaft anzusprechen, sondern man entwickelt ja etwas Spezielles. Etwas Hochspezialisiertes im Grunde genommen, wo es ein bestimmtes Spektrum von Publikum gibt, und alles was sich links und rechts außerhalb dieses Spektrums bewegt, interessiert nicht."
Zu Udo Achterholts Spezialität gehört es nach seinen eigenen Worten, daß er nicht themenorientiert arbeitet, sondern die Arbeiten sich aus sich selbst entwickeln läßt. Dabei seien die Farben entscheidend für die Formen. "Die Form kristallisiert sich bei mir erst im Laufe der Zeit der Bildbearbeitung heraus, schält sich praktisch dadurch heraus, daß ich viele Schichten anlege vor bestimmten Formen, durch die Farbschichten immer stärker eingrenzen und herausheben kann, akzentuieren kann. Und die leuchtenden Farben, die ich als Akzente einsetze, z.B. das Türkis oder Orange, die haben ja schon so eine Bildwirkung, daß man eine bestimmte Form linear umgrenzen müßte, um diese Form dadurch sichtbar zu machen. Oft reichen schon verschiedene geometrische Zeichen, um diese Form in ihrer Wirkung ganz anders werden zu lassen, die also entweder die Form stärker definieren in ihrer Ausdehnung oder bestimmten Stellen einer Form eine andere Wertigkeit geben oder meinetwegen eine Form auch teilen, die Teile voneinander abgrenzen."
Was die Auswahl der Farben angeht, so arbeitet Udo Achterholt bevorzugt mit bestimmten Farbbereichen: "Es gibt für mich ein paar wichtige Farben, die aber nie eine Rahmenfarbe sind, sondern ein gewisses Spektrum an Variationen haben. Wenn ich zum Beispiel von Weiß spreche - das erst mal für mich eine wichtige Farbe ist - dann meine ich nie ein strahlend reines Weiß, sondern ich meine damit einen bestimmten Bereich von hellem Grau bis zum Weiß, in verschiedenen Schattierungen. Dieser Weißbereich ist für mich sehr wichtig, als Kontrast dazu die Gegenfarbe Schwarz. Im Grunde genommen benutze ich alle Farben nur in unterschiedlicher Intensität. Das heißt, die roten Farben, jenseits von Weiß und Schwarz, haben sich als sehr wichtige Farben für mich in den letzten Jahren herauskristallisiert, die ich als Akzentuierung einsetze.
Dieses ganz spezielle Türkisgrün, das sehr oft vorkommt in den Bildern, oder ein Orange, also sehr leuchtende Farben, die von ihrer Wertigkeit innerhalb des Bildes Akzente setzen, aber nie bildbestimmend in einer großen Fläche werden können. Meistens werden sie auch nur durch Pastellkreiden linear eingesetzt. Ansonsten ist sehr wichtig die Farbigkeit der ganzen Zwischenbereiche, wobei ich sehr zurückhaltende und sehr diffuse Farben benutze, die ja immer dadurch entstehen, daß ich sehr viele Lasuren übereinander lege, so daß hinterher eine einzelne Farbe gar nicht mehr identifizierbar ist. Es sind Zwischentöne, die nicht planbar sind, die man also mischtechnisch überhaupt nicht erzielen könnte, sondern die sich nur durch Überlagerung ergeben können, durch transparente Überlagerung."
Zu seinem Prinzip, nicht themenbezogen zu arbeiten, gehört für Udo Achterholt fast logischerweise das serielle Arbeiten: "Die Bilder entstehen ja immer in Bildergruppen. Das heißt, wenn ich die Bilder anfange, fange ich mit einer ganzen Gruppe von Bildern gleichzeitig an, sagen wir mal: zehn Bilder. Und diese Bilder ergeben durch die Gleichzeitigkeit, in der man sie bearbeitet, im Grunde ja schon immer eine geschlossene Gruppe, die man nachträglich, wenn sie fertig ist, auch als Gruppe identifizieren kann. Wo man also irgendwie sehen kann, die Sachen gehören zusammen. Das ist eine Gemeinsamkeit, die nicht durch eine Thematik entsteht, sondern eine Gemeinsamkeit der Bilder, die entsteht durch ihre Bearbeitung zu einem bestimmten Zeitpunkt." Für die Bearbeitung eine solche Gruppe von durchschnittlich zehn Arbeiten braucht Udo Achterholt normalerweise ein bis zwei Wochen Zeit.
Eine der wichtigsten Inspirationsquellen ist für Udo Achterholt, wie er erzählt, seine eigene Vorgehensweise, zurückgezogen im Atelier zu arbeiten, wo die Bilder sich in vielen einzelnen Schritten im Laufe mehrerer Tage entwickeln, "wo immer wieder nacheinander etwas Neues passiert, was man in dem Moment selber gibt und dann weiterentwickeln kann. Das finde ich eine große Inspiration: Einfach das, was von einem selber kommt und entsteht, und damit meine ich nicht etwas Vergeistigtes, was im Kopf entsteht, sondern ich liebe es einfach, mit dem Material umzugehen; irgendwie das Arbeiten an sich auch als immer sich erneuernde Inspirationsquelle. Das finde ich sehr wichtig. Ich sag das mal so ein bißchen im Gegensatz zur sehr starken konzeptionellen Kunstauffassung."

Eigentlich sagen wolle er mit seiner Kunst gar nichts, aber: "Ich kann damit Leuten, die Interesse daran haben, Beispiele geben für Bereiche, die ich als Mensch irgendwo künstlich schöpfe, aus meinem Inneren heraus, die so in der sichtbaren Welt ja gar nicht vorkommen und wo ich andere Ästhetiken aufzeigen kann, die erst einmal fremd erscheinen." Anders als früher nähme er sich selbst dabei heute jedoch nicht mehr so wichtig und: "Ich will keine anderen Leute mehr überzeugen. Ich will vielmehr darauf achten, daß ich selbst gut klarkomme. Das meine ich nicht finanziell. Ich meine damit einfach, daß man Zufriedenheit erreichen und auch erhalten kann."
(Redaktionelle Bearbeitung eines von Marion Braun mit dem Künstler geführten Interviews)

Aus der Perspektive des Menschen scheint das Fortschreiten der Zeit vor allem gleichbedeutend mit Verfall und Vergehen zu sein. Wir nehmen unsere Lebensspanne je einzeln als sehr begrenzt wahr, während wir die uns umgebende Natur als dauernd und als sich dauernd erneuernd auffassen: was hier abgetragen wird, setzt sich andernorts an - nichts geht verloren. Dieses Prinzip gilt für den Menschen als Gattung auch, aber eine nur uns eigene Struktur des Geistes bewirkt, daß die je persönliche Sicht auf die Welt die überindividuelle überlagert. Der Erosion seiner Physis hat der Mensch, seit er seiner selbst bewußt wurde, daher eine Art geistiger Sedimentation entgegengesetzt, das heißt: eine stetig anwachsende Sammlung von Erkenntnissen (und Mißverständnissen) über sich selbst und die Welt, die nicht genetisch tradiert werden und dennoch das Individuum überdauern. Die Religion hat hier ihren Ursprung, aber ebenso die Kunst.
Die Kunst kann sogar - auf einer Metaebene - diese ihre eigenen Wurzeln und die sich daraus ergebenden Konsequenzen thematisieren. Udo Achterholt ist ein Künstler, der sich genau damit befaßt, unter verschiedenen Gesichtspunkten.
Zunächst findet man in seinen Arbeiten den Aspekt der Sedimentation als Visualisierung der ursprünglichen Bedeutung. Mehrere Lagen bemalten Packpapiers sind auf Büttenkarton aufgeklebt, geologischen Schichten vergleichbar. Auch das Moment der Erosion ist präsent, denn mit Ölkreiden hat Achterholt die Oberflächen aufgerieben. Nicht zufällig auch arbeitet der Künstler mit einem Farbspektrum, das die Anmutung von Erde und Gestein hervorruft: die Töne von Ziegeln, von gebrannnter Siena und dem aufgehellten Umbra von Mutterboden sind an die Ränder des Blattes gesetzt, gehen dann über zum Graublau des Schiefers, das im Zentrum zur Farbe der Kreidefelsen von Rügen oder Dover aufgehellt wird. Hier ist das Kolorit auch nicht mehr allein Äquivalent, nicht Simulation eines Materials, vielmehr verdankt sich die mineralische Anmutung der Verwendung des Gesteins - der Kreide nämlich - selbst. Es ist wohl kein Zufall, daß sich die Farben von innen nach außen dem Alter geologischer Formationen entsprechend staffeln: der Kreidezeit folgt gleichsam der Schiefer des Alt- und die Braunkohle des Jungtertiärs - drei Gesteine übrigens, die gleichzeitig drei verschiedene Aspekte unserer Kultur symbolisieren, je nach ihrer Nutzung. Die Braunkohle würde hierbei die Wärmeenergie bezeichnen, der Schiefer die Architektur, die Kreide das Schreiben und Zeichnen: die Reiche also der physischen Notwendigkeit, der Verbindung von Nutzen und Schönheit sowie der Zeichen, mithin des Geistes und der Kunst. In Achterholts Anordnung bildet Letzteres nicht den "Überbau", sondern im Gegenteil den Nukleus, um den die anderen Bereiche sich anlagern. Überfaßt ist dieser "geologische Schnitt" von geometrischen Formen, deren Konturen zum Teil aus den Rändern der geschichteten Papiere, zum Teil aus in Pastellkreide gezogenen Linien gebildet werden. Den archaischsten und vom Menschen immer noch unkontrollierbarsten Vorgängen in der Natur kontrastiert Achterholt die naturfernste Hervorbringung menschlichen Geistes. Dabei führt er jedoch die Geometrie nicht allein als die anschauliche Seite der abstrakten Mathematik vor, sondern auch als Grundlage der handfesten, höchst materialen und dem Nutzen verpflichteten Baukunst. In Verbindung mit der Bogenform am rechten oberen Bildrand erscheint die zentrale helle Form wie eine Toröffnung, umrahmt von massiven grauen Quadern. Hier schließt sich der Kreis, denn die Architektur führt jahrmillionenaltes Gestein mit der kreativen Potenz des Menschen zusammen, die, gemessen an ihrem Material, erst seit einem Augenblick existiert, aber Dauer anstrebt: eine Allianz von natürlicher und geistiger Sedimentation, die Achterholt wiederum in die Form des Bildes faßt, ohne jedoch zur platten Abbildlichkeit seine Zuflucht zu nehmen. In diesen Zusammenhang gehört auch eine weitere Verknüpfung, die der Künstler schafft: diejenige nämlich zwischen der äonenumfassenden Erdgeschichte und dem überzeitlichen Charakter der Mathematik.
Achterholt meißelt seine Werke nicht aus Marmor oder Granit, er benutzt Leinwände, Papier und Farben, auch deshalb, weil er sich der hybriden Aspekte seines Themas wohl bewußt ist; weil er nicht die Ewigkeit herausfordern, sondern das Menschenmögliche vor ihrem Hintergrund darstellen will. Seine Arbeit täuscht nicht vor, "Urgestein" zu sein, sondern will als Sediment verstanden werden, das sich in Geist und Sinnen des Betrachters langsam zu künftiger Verfestigung anlagert.
Text von Ernest W. Uthemann
Bibliography
Bibliography
All my books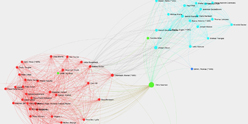 Interested in discovering more of this artist's networks?
3 easy steps: Register, buy a package for a visualization, select the artist.
See examples how visualization looks like for an artist, a curator, or an exhibition place: Gallery, museum, non-profit place, or collector.

Exhibition History

SUMMARY

based on artist-info records. More details and Visualizing Art Networks on demand.
Venue types:

Gallery

/

Museum

/

Non-Profit

/

Collector

Exhibitions in artist-info
6 (S 6/ G 0)

Shown Artists

- 0 of 0 artists
(no. of shows) - all shows - Top 100

Exhibitions by type

6: 5 / 0 / 0 / 1
Venues by type

3: 2 / 0 / 0 / 1
Curators
0
artist-info records
Jul 1991 - Apr 2015

Countries

- Top 1 of 1
Germany (5)


Cities

3 - Top of 3
Hannover (4)
Basel (1)
Frankfurt am Main (1)


Venues

(no. of shows ) Top 3 of 3
| | | |
| --- | --- | --- |
| | | Curators (no. of shows) Top 0 of 0 |