Artist

| Deborah Sengl (*1974)
https://www.artist-info.com/artist/Deborah-Sengl
Artist Portfolio Catalog Overview\ 4
Exhibition at Galerie Binz & Krämer
Exhibition at Galerie Binz & Krämer
Deborah Sengl
Ertarnungen, Oriontarnungen, Erzüchtungen
3 April - 12.Juni 2003
Galerie Binz & Krämer - Elsaßstrasse 9 – D-50677 Köln - Tel. 0221/ 9311170

Mit ihren Objekten, Zeichnungen und Collagen hat die Wienerin Deborah Sengl bereits international für Aufsehen gesorgt. Soeben hat sie den Förderpreis der Stadt Wien gewonnen und nimmt an der Sonderschau Kunst 2003 Zürich "ZUGLUFT/Aktuelle Kunst aus Wien " (Kuratorin: Brigitte Huck ), die als Museumsausstellung nach Moskau geht.
Tarnen und täuschen ist das Thema ihrer Arbeiten. Sengl: Die Wissenschaft interessiert und fasziniert mich, andererseits ist mir Prinzipiell in der Kunst, nicht nur in meiner, der Humor sehr wichtig. Trotzdem bleibt der Hintergrund sehr ernst: es geht um Fressen und Gefressen werden, Täter und Opfer. Da geht es ums Verkleiden, um das etwas vorgeben müssen, um im Alltag bestehen zu können. Ist Natur immer natürlich? Wie wiegt man sich im Standard-Balztanz der Geschäftswelt?

Ertarnungen
Sie hat die Fragen nach Identität, Camouflage und Maskerade aufs Tierreich übertragen. Da zeigt sich dreist ein Schalentier als Forelle, die Schlange als Maus, selbst vor dem Klassiker " Wolf im Schafspelz " macht Deborah Sengl nicht halt und zeigt das Schaf im Wolfskleid. Der Täter wird zum Opfer, das Opfer zum Täter. "Heute kann sich doch jeder als alles verkleiden", sagt die Künstlerin, die in ihren Tieren und deren Bestreben, wer anderer zu sein, nur allzu Menschliches sieht. Selbsttäuschung, Fremdtäuschung, Fake identity, wen kratzt das, wenn´s funktioniert. Da wird jeder kleine Fisch zum tollen Hecht.

Auch in der zweiten Werkgruppe präsentiert die Abgängerin der Meisterklasse Attersee, was sonst gerne getarnt wird.

Oriontarnungen
Deborah Sengl hat sexuelle Phantasien aus Pornoheften mit grellen Farben in bunten Steckperlen gross ins Bild gesetzt und würdig gerahmt. Blow Job im Goldrahmen. Damit zeigt sie, was üblicherweise verschämt in der untersten Schublade verschwindet in jenem Rahmen, der sonst nur dem röhrenden Hirschen aus der aussterbenden Kategorie Schlafzimmerbilder vorbehalten war. Eine schlichte Berechnung kleinbürgerlicher Idylle und doch verstörend, wie die ausgestopften Tiere und singenden Kitschobjekte, denen die Perfektionistin Sengl ihre exakt gearbeiteten Tarnkleider verpasst.

Erzüchtungen
"Sich den Luxus erzüchten"
In weiterer Folge der Ertarnungen und Oriontarnungen folgen seit neuestem die "Erzüchtungen", die letzteren den Menschen betreffen. Die Luxusindustrie und Gentechnologie kreieren ( erzüchten ) "Labelfrauen". Die Künstlerin verändert mit ihrer Mischtechnik  die Haut der Fotomodelle als Werbeträger. Gucchi-Häute, MCM-Bräute. Die gesamte Modewelt ist Tarnung. Wie kleide ich mich wo? Die Tiere sind für sie nur Spiegelbild. Natürlich gibt es in der Natur auch agressive Mimikry. Aber vor allem tarnen sich Tiere zm Schutz. Das man sich als Gut verkleidet um Böses zu tun, das ist vor allem uns Menschen eigen. Sengl: Diese Tarngeschichten bleiben mein Hauptthema: Wie geht der Mensch mit sich um? Wie mit anderen? Wie mit Tieren? Gentechnologie, Klonen - da liegt noch ungeheueres Potenzial, da kann ich forschen.

Exhibition at Karin Sachs Gallery, Munic
Exhibition at Karin Sachs Gallery, Munic
Deborah Sengl
"ERTARNUNGEN" 
10. November bis 14. Dezember 2002
Eröffnung Samstag, den 9. November 2002,  14.00 bis 19.00 Uhr
 Galerie Karin Sachs   -  Buttermelcherstr.16  -  D - 80469 München  -  Tel/Fax +49 (0) 89 - 201 12 50 

In Deborah Sengls Ertarn Serie werden die Fragen nach Identität, aber auch nach Camouflage, Pastiche und Maskerade auf das Tierreich übertragen, gleichzeitig wird der gesamte Komplex Opfer gegen Täter untersucht. "Das Schaf-als Opfer-ertarnt sich seinen Täter"-wie sieht das aus, wenn man sich jemanden ertarnt? Der Wolf, der Täter, schaut ziemlich schlapp aus, wie er so auf seinem Opfer festgeschnallt ist. Hat das Opfer durch seine Tarnung den Täter zur Strecke gebracht?
"Die Schlange-als Räuber-ertarnt sich die begehrte Beute"-hier sieht der Täter die Schlange noch ganz intakt aus, während die Beute flachgedrückt ihren Räuber umklammert. Opfer/Täter- alles das Gleiche?

Aus einem Text von Matthias Herrmann

Biography
Biography
1974   am 2. Jänner in Wien geboren
1992   Studium an der Hochschule für angewandte Kunst, Wien (Mkl. Terzic, Abteilung für visuelle Mediengestaltung)
1995   Gastsemester an der Kunsthochschule Berlin / Weißensee   (Modeabteilung)
1996     Diplomabschluß  (Mkl. Attersee, Abteilung für bildende Kunst)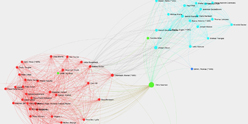 Interested in discovering more of this artist's networks?
3 easy steps: Register, buy a package for a visualization, select the artist.
See examples how visualization looks like for an artist, a curator, or an exhibition place: Gallery, museum, non-profit place, or collector.

Exhibition History

SUMMARY

based on artist-info records. More details and Visualizing Art Networks on demand.
Venue types:

Gallery

/

Museum

/

Non-Profit

/

Collector

Exhibitions in artist-info
36 (S 8/ G 28)

Did show together with

- Top 5 of 496 artists
(no. of shows) - all shows - Top 100

Exhibitions by type

36: 22 / 3 / 6 / 5
Venues by type

23: 12 / 3 / 6 / 2
Curators
13
artist-info records
Jul 1998 - Jul 2018

Countries

- Top 2 of 2
Austria (16)
Germany (15)


Cities

- Top 5 of 17
Wien (16)
Berlin (2)
Marburg (2)
Köln (2)
Saarbrücken (2)


Venues

(no. of shows ) Top 5 of 23
| | | |
| --- | --- | --- |
| | | Curators (no. of shows) Top 5 of 13 |
Insight Basic

Display the full interactive exhibition history and all related artist, exhibition venue, and curator pages for your research. The SUMMARY above shows today's available scope.
Insight Basic 10 Days USD 378 / EUR 394

Insight Basic 1 Day USD 42 / EUR 44

To use Insight Basic or Insight Analytics
Sign-up for free first
Insight Analytics
Use Analytics tools for more insight based on documented exhibitions. More details on your RESEARCH user page.
(Includes Inisght Basic)
COMING SOON