Artist

| Paul Flora (1922 - 2009)
https://www.artist-info.com/artist/Paul-Flora
Artist Portfolio Catalog Overview\ 4
Exhibition at Galerie Gerersdorfer, Vienna
Exhibition at Galerie Gerersdorfer, Vienna
PAUL FLORA   -   Neue Zeichnungen

Galerie Gerersdorfer
Vernissagen November - Dezember 2001

1. VERNISSAGE: Donnerstag, 22. November, 18 - 20 Uhr
Paul Flora wird anwesend sein und Signierwünsche erfüllen

2. VERNISSAGE: Dienstag, 11. Dezember, 18 - 20 Uhr
Paul Flora wird ansesend sein und seine neue Radierung signieren:

"Monsieur Corbeau mit drei Raben im Geäst"
Handkolorierte Radierung, Auflage 200, Plattengröße 20 x 25 cm, Subskriptionspreis bis 23. Dezember  ATS 2.500,- / EUR 181,68 ( Normalpreis ATS 3.000,- )

Biography
Biography
1922   in Glurns im Vinschgau, Südtirol geboren
1927   Übersiedlung nach Innsbruck
1942 bis 1944 in München
1948   Mitglied des Art-Club, Wien
1953   Beginn der Zusammenarbeit mit dem Diogenes Verlag, Zürich
1957   Beginn der 14 Jahre währenden Mitarbeit an der Wochenzeitschrift "Die Zeit", Hamburg
seit 1945 zahlreiche Einzelausstellungen im In- und Ausland; Veröffentlichungen zahlreicher Bücher und Mappenwerke; Bühnenbilder (Akademietheater Wien, Deutsches Schauspielhaus Hamburg), Gestaltung von Sonderbriefmarken (1985 bis 1992). 

About the work (deutsch)
About the work (deutsch)
Besonders viel über Paul Flora sagt aus, was er vierzehn Jahre für die ZEIT gezeichnet hat. Woche für Woche lieferte er seine Blätter ab, immer nach eigener Idee und Betrachtung der Commedia del Mundi. Das hat ihn so groß gemacht, zum unerreichten Verwalter seiner Feder-Phantasien, daß er in allem listig Bühne und Auftritt, Schurke und Unschuld zu bezeichnen wußte.
Alle Bilder entstehen auf der Hungerburg, in seinem Arbeitszimmer, dessen Fenster den Blick freigeben nach Süden, zum Brenner hin, auf die Grenze, die alle Tiroler schmerzt. Paul Flora hat beides vor Augen, die vergangene Herrlichkeit der k. u. k. Monarchie und den Glanz der italienischen Kultur. Paul Flora geht mit der Gegenwart, aber er sitzt zu Tisch mit Vergangenheit und Zukunft. Was er mit der Feder aufs Blatt strichelt, das sticht oft und streichelt ebenso oft, in der Spannung zwischen venezianischem Maskenspiel und Herzmanovskys Reporterhaftigkeit, zwischen Grillparzer und Thomas Bernhard.

Paul Flora schafft aus dem vollen. Sein Fleiß und seine Produktivität wirken gelegentlich unheimlich auf weniger schnelle Arbeiter. Er sieht dabei nie hastig aus, hat immer  Zeit zu Ausflügen für Kopf und Füße. Manchmal plagt ihn das Stundenglas, und er sagt dann Sätze wie "Man müßte fünf Leben haben, um alles zu tun, was man machen möchte ..."
Zeit Magazin

Der Zeichner und der Schriftsteller, diese Zwillinge, sind Erzähler. Sie fabulieren, berichten, träumen, klagen an, spotten, lachen und schwärmen. Zu allem braucht man Welt: Palmen, Gesichter, Pluderhosen, Kirchenportale, Kentauren, Blumentöpfe, Karyatiden, Generäle und reisende Engländer. Beide Zwillinge hantieren mit Stift und Feder. Beide schreiben, was sie zu erzählen haben, auf Papier. Der eine bedient sich der Buchstaben. Der andere schreibt in Bilderschrift. Und er hat den beneidenswerten Vorteil, daß seine Geschichten, Anekdoten, Pamphlete, Hymnen und Humoresken nicht übersetzt zu werden brauchen. Für den Zeichner gibt es keine Fremdsprachen. Er schreibt in der Muttersprache aller Völker. Flora ist ein Bildschriftsteller. Er ist ein Literat.
Erich Kästner

Ich hege große Bewunderung für Paul Flora. Er gehört zu den Zeichnern, die unsere Epoche zu bereichern vermögen und ich staune immer wieder über seine Ideenvielfalt. Ich ziehe brüderlich meinen Hut vor ihm.
Georges Simenon

Paul Floras Venedig­Bilder sind die Impressionen eines Melancholikers, der dem Tageslicht die Dämmerung, dem Harten, Festumrissenen das nur vage Angedeutete vorzieht. Doch was das Wunderbare an diesen Zeichnungen ist: erreicht werden diese Stimmungen zumeist mit dem härtesten und schärfsten Zeichengerät, der Stahlfeder, die Flora mit unglaublicher Leichtigkeit zu handhaben versteht. Als feines, durchsichtiges Filigran liegen die Tuschestriche auf dem Papier und verdichten sich, wo Dunkel gefordert ist, zu gewebeartigen Schraffuren.
Rudolf Koella

Flora durchschaut die Welt, er will sie nicht ändern. Er ist ein scharfer Beobachter und ein sanftmütiger Beschreiber, und wie er Verständnis hat für die Fehler der Menschen, so hat er Verständnis für die Schwächen der Dinge, ihr Brüchigwerden, ihren Verfall, ihre Einsamkeit. Sein Humor ist nie entblößend, er ist eher maskierend; Flora steht auf Seiten der Opfer, und oft umgeben die Striche eine Sache schützend wie ein Verband aus zartestem Gewebe, selbst mit den Vogelscheuchen hat er Mitleid, schenkt ihnen eine winzige Krone oder einen riesigen Federschmuck, gibt ihnen ein Strichbündel als Rute in die Hand, flickt ihr ausgefasertes Gewand mit dichteren Fäden.
Wieland Schmied

Der Tiroler Flora ist der Denker und Grübler unter den Karikaturisten. In seiner zeichnerischen Dialektik setzt sich die Gegenwart mit der Vergangenheit auseinander und verliert die Partie. Flora ist nicht ohne Traurigkeit. In seinem Werk sind Welten untergegangen und wir ahnen, daß auch wir untergehen. Die Gegenwart scheint von der Vergangenheit umklammert, kommt nicht von ihr los, wird selber zur Vergangenheit, wird von ihr verschluckt. Nur auf dem Umweg über die Vergangenheit wird daher eine Aussage über die Gegenwart möglich: die Gegenwart liest sich an ihrer Vergangenheit ab. Flora schreitet rückwärts in die Zukunft. Das scheint unzeitgemäß in einer Zeit, in der jeder, der da pinselt, schreibt oder komponiert, gleich die Gegenwart verändern will. Doch ist es nicht unwissenschaftlich. Schließlich treiben wir in einem Meer von Vergangenheit dahin, lehrt die Astronomie. Die Sterne, die uns umgeben, sind Vergangenheit, und blicken sie auf uns, glotzen ihnen Dinosaurier entgegen.
Friedrich Dürrenmatt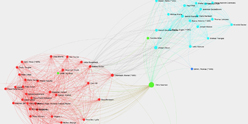 Interested in discovering more of this artist's networks?
3 easy steps: Register, buy a package for a visualization, select the artist.
See examples how visualization looks like for an artist, a curator, or an exhibition place: Gallery, museum, non-profit place, or collector.

Exhibition History

SUMMARY

based on artist-info records. More details and Visualizing Art Networks on demand.
Venue types:

Gallery

/

Museum

/

Non-Profit

/

Collector

Exhibitions in artist-info
44 (S 36/ G 8)

Did show together with

- Top 5 of 190 artists
(no. of shows) - all shows - Top 100

Exhibitions by type

44: 32 / 5 / 7 / 0
Venues by type

19: 10 / 5 / 4 / 0
Curators
6
artist-info records
Jun 1950 - Jan 2019

Countries

- Top 3 of 3
Austria (28)
Germany (10)
Switzerland (5)


Cities

- Top 5 of 16
Wien (21)
Zürich (5)
Innsbruck (3)
Lübeck (2)
Austria (2)


Venues

(no. of shows ) Top 5 of 19
| | | |
| --- | --- | --- |
| | | Curators (no. of shows) Top 5 of 6 |