Artist

| Sandro Vadim (*1964)
https://www.artist-info.com/artist/Sandro-Vadim
Artist Portfolio Catalog Overview\ 1
Sandro Vadim

Ohne Titel

1999
Biography
Biography
Sandro Vadim wurde 1964 in Rom geboren.
Von 1983 bis 1988 studierte er Malerei und Graphik an der Staatlichen Akademie der Bildenden Künste in Karlsruhe.
Seit 1988 ist er als freischaffender Künstler tätig.
About the work (deutsch)
About the work (deutsch)
Die Bilder von Sandro Vadim verdanken ihre Wirkung einer der ältesten Maltechniken, der Temperamalerei. Der sinnliche Reiz der Farbe ist die Quelle für Vadims Schaffen. Großflächige Farbformen, häufig beschränkt auf die Kontraste der Primärfarben Blau, Gelb und Rot und mit breitem Pinsel oder Farbspachtel aufgebracht, erzeugen eine starke Dynamik. Die dominante, meist leuchtende Farbe scheint auf den ersten Blick wichtiges Kennzeichen seiner Bilder, die jedoch aus einem differenzierten Prozess hervorgehen, bei dem Farbe übermalt, Bildpartien überdeckt oder freigehalten werden. Die Bildoberfläche wird zusätzlich durch gestische Farbkürzel und subtile Kratzer akzentuiert. Sandro Vadim konzipiert Werkgruppen, was ihm das gleichzeitige Arbeiten an mehreren Bildern und Korrespondenzen von Leinwand zu Leinwand ermöglicht. Die Bilder sind pure Malerei und wollen nichts anderes sein. Sie behauptet sich, neben der Sprache, als eigenständige Kommunikationsform.

"Die Bilder von Sandro Vadim machen es eigentlich schwer, sie mit Worten zu erläutern, gar zu interpretieren. Ich glaube, sie wollen es gerade dem Transponieren ins Wort schwer machen. Die Bilder sind pure Malerei und wollen nichts anderes sein. Allein die Farbe trägt das Bild. Sie organisiert eine abstrakte Komposition, die ganz für sich gesehen werden will. Aber das Bild ist nicht frei von gegensätzlichen Assoziationen, z.B. an Landschaften, und will auch das nicht sein. Die Bilder sind aus einem subtilen und anhaltenden Prozess hervorgegangen, bei dem Farbe übermalt, Bildpartien überdeckt oder freigehalten werden, Zweit- und Drittfarben hervorlugen und vermögen durch Farbe erzeugte Formgebilde darzustellen. Sandro Vadim wurde als Sohn deutscher Eltern in Rom geboren, ist sechs Jahre dort aufgewachsen und dann nach Deutschland übersiedelt. Aber italienische Reminiszenzen - die Farbe, das Licht, das Leuchten - sind in seinen Gemälden spürbar geblieben." Aus dem Text zum Ausstellungskatalog (20.05.2000) von Prof. Dr. Harald Siebenmorgen.
Exhibitions since 1987 (selection)
Exhibitions since 1987 (selection)
1987   Kleine Galerie, Wien
1988   1. Karlsruher Produzenten Galerie, Karlsruhe
1989   Palais Hirsch, Schwetzingen
1990   38. Jahresausstellung des Deutschen Künstlerbundes, Berlin
1991   Galerie Elke Zink, Baden-Baden
1993   Badischer Kunstverein Karlsruhe: Kunst der Neunziger Jahre
1993   Ehemalige Orgelfabrik Karlsruhe-Durlach
1994   Galerie Poirel, Nancy
1995   ob art Galerie, Karlsruhe
1995   Kunstverein Bruchsal am Damianstor, Schloß Bruchsal
1996   Galerie Hauptsache Kunst, Karlsruhe
1998    Sparkasse Südliche Weinstraße in Landau
1999   Villa Wieser, Herxheim
1999   Doktor Haus, Wallissellen/Schweiz 2000 Badenia Bausparkasse, Karlsruhe
1999   Galerie im Künstlerhaus, Karlsruhe
1999   Frankfurter Westend Galerie
2000   Frankfurter Westend Galerie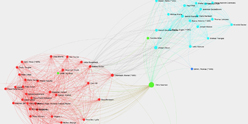 Interested in discovering more of this artist's networks?
3 easy steps: Register, buy a package for a visualization, select the artist.
See examples how visualization looks like for an artist, a curator, or an exhibition place: Gallery, museum, non-profit place, or collector.

Exhibition History

SUMMARY

based on artist-info records. More details and Visualizing Art Networks on demand.
Venue types:

Gallery

/

Museum

/

Non-Profit

/

Collector

Exhibitions in artist-info
7 (S 5/ G 2)

Did show together with

- Top 5 of 37 artists
(no. of shows) - all shows - Top 100

Exhibitions by type

7: 6 / 0 / 1 / 0
Venues by type

3: 2 / 0 / 1 / 0
Curators
2
artist-info records
May 2000 - Mar 2019

Countries

- Top 2 of 2
Germany (6)
Austria (1)


Cities

3 - Top of 3
Frankfurt am Main (5)
Trier (1)
Wien (1)


Venues

(no. of shows ) Top 3 of 3
| | | |
| --- | --- | --- |
| | | Curators (no. of shows) Top 2 of 2 |
Insight Basic

Display the full interactive exhibition history and all related artist, exhibition venue, and curator pages for your research. The SUMMARY above shows today's available scope.
Insight Basic 10 Days USD 378 / EUR 394

Insight Basic 1 Day USD 42 / EUR 44

To use Insight Basic or Insight Analytics
Sign-up for free first
Insight Analytics
Use Analytics tools for more insight based on documented exhibitions. More details on your RESEARCH user page.
(Includes Inisght Basic)
COMING SOON