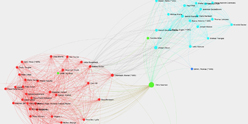 Interested in discovering more of this artist's networks?
3 easy steps: Register, buy a package for a visualization, select the artist.
See examples how visualization looks like for an artist, a curator, or an exhibition place: Gallery, museum, non-profit place, or collector.

Exhibition History

SUMMARY

based on artist-info records. More details and Visualizing Art Networks on demand.
Venue types:

Gallery

/

Museum

/

Non-Profit

/

Collector

Exhibitions in artist-info
1 (S 1/ G 0)

Shown Artists

- 0 of 0 artists
(no. of shows) - all shows - Top 100

Exhibitions by type

1: 1 / 0 / 0 / 0
Venues by type

1: 1 / 0 / 0 / 0
Curators
0
artist-info records
Jan 1998 - Dec 1999

Countries

- Top 1 of 1
Russia (1)


Cities

1 - Top of 1
Moscow (1)


Venues

(no. of shows ) Top 1 of 1
| | | |
| --- | --- | --- |
| | | Curators (no. of shows) Top 0 of 0 |
Offers/Requests

Exhibition Announcement

S / G Solo/Group Exhibitions

(..) Exhibitions + Favorites

Russian Artinfo
S
Jan 1998 - Dec 1999
Moscow
(2)
+0

N/A

Avetik S. Abadzhan; Mikhail Abakumov; Giya (Guram Georgievich) Abramishvili; Victor Afanasiev; Rasih Ahmetvaliev (1956); Ivan N. Akimov; Irina L. Akulenko; Tatiana N. Akulova; Kirill Yurievich Aleksandrov; Valentina Alexandrova; Alexandr Alexeyev; Nikita Felixovich (Alexey Nikitin) Alexeyev; Liya Ye Altman; Thérèse Ampe-Jonas (1944); Georgii Ananiev; Nikolay Valentinovich Andrievich; Nikolaj Ivamovic Andronov (1929 - 1998); Konstantin Antonov; Sergei S. Antonov; Valentina I. Apukhtina; Alexander R. Arzumanov; Rashid Ia. Asaev; Andrei Aseriants; Ashot E. Asratyan; Azam Atakhan; Yuriy Igorevich Avvakumov (1957); Rasim Babaev; Vladimir Babin; Inna Bagaeva; Leonid Michailowitsch Baranov (1943); Victor A. Bartenev; Aleksei Victorovich Barvenko; Valerii V. Bashenin; Vladimir Ivanovich Bashlykov; Vladimir A. Basmanov; Garif Sharipovich Basyrov; Natalia Bazhenova; Inna Bazhutina; Shalva Bedoev; Nikolai Belianov; Alexey Yurievich Belyaev (Guintovt) (1965); Concepcion Benedito; Boris Berger; Yuri Yu. Berishvili; Leonid L. Berlin; Chantal Berry-Mauduit; Ela M. Binshtok; Georgii Biriukov; Anna Maksovna Birshtein (1947); Valerii Blokhin; Larisa Blokhina; Eleonora Mikhailovna Bobrova; Alexei L. Bobrusov; Vasilii Bogachev; Farid Yahaevich Bogdalov; Lyubov Vladimirovna Bogomolova; N. Bogorodskaya; Sergey Mikhailovich Bordachev; Mikhail S. Borisov (1950); Aleksandr Sergeevich Borodin (1959); Vladimir Efimovich Brainin (1951); Karl Brandstätter (1946); Alexander Brener (1957); Alexandre Brodsky (1955); Yaroslav Broitman; Alexandr Brovin; Zoia Brovina; Lavrenty Vasilievich Bruni; Asta D. Brzhezitska; Alexandr Buganin; Feliks A. Bukh; Artis Bute; Sergei Bychkov; Galina Albertovna Bystritskaia; Vladimir Bzhezovskii; Aleksei Charugin; Elena Chelombitko; Alexandr Chemakin; Valery & Natalia Cherkashins; Sergei G. Chernyshev; Aristarch Alexandrovich Chernyshov; Boris Cherstvyi; Nikolai Chervotkin; Yana A. Cheskidova; Efim Chestniakov; Igor Dmitrievich Chetvertkov; Maria Mikhailovna Chuykova; Ciris-Vell; Paco Corell; Kirill Danelia; Victor A. Danilov; Thomas Baumgärtel (1960); Anna G. Danilova; Alla S. Davydova; Alexandr Dedushev; Dmitry Valerievich Demsky; Sergei Dergun; Vladimir Nicolaevich Diomin; Helga Ditrich; Vadim V. Dmitriev; Anastasia Dmitrievna Dmitrieva; Galina Soslambekovna Dmitrieva; Tatyana Dober; Guram N. Dolendzhashvili; Victor Anatolievich Dolgopolov; Rashid R. Dominov; Mikhail V. Dronov (1956); Irina D. Dubrovskaya; Alexandr Dudin; Viktoria V. Dukhina; Vladimir Dukhovlinov; Henri-Francois Dumont; Ivan Semenovic Efimov (1878 - 1959); Vladislav Eduardovich Efimov; Natalia Egorshina (1926 - 2010); Tatiana Elenok; Maria V. Elkonina (1935); Vera Elnitskaia; Valerii A. Epikhin; Igor Ermolaev; Dmitrii Iu. Ershov; Askar Esdauletov; Arkadii A. Eskin; Irina N. Eskina; Galina A. Estis; Nikolai A. Estis; Oleg N. Estis; Igor I. Evsikov; Semyon Natanovich Faibisovich (1949); Tatiana A. Faidysh; Nelli S. Fedchun; Dmitrii Pavlovich Fedorin; [Fenomen Soznaniya] FENSO; Boris V. Feodorov; Katerina Filimonova; Vadim Vilenovich Fishkin (1965); Vladimir N. Fomin; Lidia Fomina; Georgii G. Fomiriakov; Alexander Ye. Fonin; Fuencisla Frances; Georgy V. Frangulian; Lazar T. Gadayev; Vladimir Ivanovich Galatenko; Sergey Georgievich Galeta; Ilona Gansovskaia; Radik Garifullin (1956); Aladin R. Garunov; Nikita Borisovich Gashunin; Tyree Gayton; Valery V. Gazukin; Sergey Vasilyevich Gerasimov (1885 - 1964); Petr Gergilenko; Marina Mikhailovna Gertsovskaya; Ashraf N. Geybatli; Alexandr Gidulianov; Zurab Gikashvili; Evgenii M. Ginzburg; Natalia V. Glebova; Vladimir Glukhov; Vladimir Gobozov; Omar Godinez Lanzo; Georgii Gogitadze; Evgeny Rafailovich Gor; Rezeda V. Goriacheva; Alexandr Goriachkin; Mikhail M. Gorlov; Ludmila Alexandrovna Gorlova; Viacheslav Grachev; Olga Nikolajewna Grechina (1947); Andrei Gresh; Nairi Grigorian; Yurik Sourenovich Grigorian; Igor Grigoriev; Ekaterina Grigorieva; Dmitry S. Grigorovich; Aleksandr Gripp; Andrey Borisovich Grositsky (1934); Ruslan Nikolaevich Gudiev; Tamara Gudzenko; Vasily P. Gusarov; Alexander V. Guschin; Nina E. Gushchina; Dmitry Gennadievich Gutov (1965); Emzar Habuliani; Zaza Habuliani; Tatiana Iu. Ianovskaia; Kanat Ibragimov; Ekaterina Borisovna Ilinskaia; Natalia N. Illarionova; Ieva Iltnere; Francisco Infante-Arana (1943); Igor A. Ioganson; Khuta A. Iremadze; Alexey Nikolaevich Isaev; Aleksandr V. Ishin; Galina V. Ishina; Timur E. Iskhakov; Boris Ivanov (1957); Gazali-Dibir Murtuzovich Izrailov; Alexandr Rollanovich Jikia; Oskar A. Kacharov; Svetlana N. Kalistratova; Elena Kallistova; Maria Kalmykova; Mikhail Kamenev; Aleksei V. Kamensky; Igor Kamianov; Dmitry Askoldovich Kantorov (1958); Valerii Kapterev; Ivan Karamian; Marina Karpova; Sergei Kasabian; Anatoly P. Kashigin; Ludmila Anatolievna Kavkina; Aleksei Kazachenko; Ekaterina Kazanskaia; Magrez Kelekhsaev; Pavel M. Kerestey; Nina Yurievna Kertselli; Igor Kharchenko; Rinat Kharisov; Viktor G. Kharlov; Vera Mayevna Khlebnikova; [Moscow-River-Kholopov-Trauser] Kholopov Trauser; Yury Alexeyevich Khorovsky; Konstantin V. Khudiakov; Sergei Kirillov; Alyona (Elena Valentinovna) Kirtsova; Sergey Yurievich Kiselev; Igor Kislitsyn; Ilya Vladimirovich Kitup; Georgy D. Kizewalter; Boris P. Kocheishvili (1940); Vyacheslav Fomich Koleichuk; Ivan Kolesnikov; Irina Yu. Kolesnikova; Anatolii F. Komelin; Iurii I. Kononenko; Aleksander Aleksandrovich Konstantinov; Maria Mikhailovna Konstantinova (Alexeyeva); Vladimir P. Korkin; Viktor I. Korneev; Ekaterina V. Kornilova; Aleksandr D. Kornoukhov; Sergei Korobov; Irina L. Korsakova; Irina G. Korzheva-Chuveleva; Iurii Iu. Kosagovskii; Valery Nikolaevich Koshlyakov (1962); Alexandr Kostin; Vasilii Kostiuchenko; Nina Davidovna Kotyol; Andrei N. Kovalchuk; Alexei N. Krasavin; Dmitrii Krasnopevtsev (1925 - 1995); Sergei Krasnov (1948); Andrei Krasulin; Aleksei Ilyich Kravchenko (1889 - 1940); Oleg M. Krotkov; Marina N. Kruchinina; Mikhail A. Krunov; Dmitrii A. Krymov; Vladimir Alexandrovich Kupriyanov (1954 - 2011); Leonid G. Kurilo; Svetlana Kurmaz; Totan Kuzembaev; Nikolai Vasilievich Kuzmin; Evgenii Kuznetsov; Pavel Varfolomeevich Kuznetsov (1878 - 1968); Valery Yu. Kuznetsov; Anna Alexeevna Kuznetsova; Valentina Kuznetsova; Alexander Arkadewitsch Labas (1900 - 1983); Daria Ladur; Gennadii D. Lakin; Natalia Mikhailovna Lamanova; Levon K. Lazarev; Aleksandr I. Lazarevich; Rostislav Evgenievich Lebedev (1946); Yuri Alexandrovich Leiderman (1963); Sergey Valentinovich Leontiev (1962); I. Levenstein; Bella Alexandrovna Levikova; Leonid Liah; Ula Likhtman; Dmitry Borisovitch Lion (1925 - 1993); Marina Yu. Lisitsyna; Georgy Semyonovich Litichevsky; Anton Victorovich Litvin; Nikolai Liubimov; Viacheslav Liui-Ko; Svetlana A. Liuzina; Alexandr Livanov; Olga Alexandrovna Lobanova; Vladimir Semyonovich Lubarov; Fedor Lykov; Machat; Gregori M. Maiofis (1970); Viola Maisuradze; Igor Glebovich Makarevich (1943); Igor Makarov; Sergei V. Maksiutin; Sergei Maliutin; Alexei A. Malykh; Bogdan Kirillovich Mamonov; Yuri M. Manelis; Sergei V. Mantserev; Mikhail D. Mantulin; Alexandr Vladimirovich Mareyev; Aleksei Markov; Boris Vladimirovich Markovnikov; Svetlana And Styopin Igor Martynchik; Yaroslav Martynov; Nikolai A. Mashukov; Peter A. Maslov; Evgenii E. Matko; Alexandr Matreshin; Medical Hermeneutics Inspection; Andrei V. Medvedev; Olga Medvedeva; David I. Melikishvili; Roman V. Mertslin; Gaik Mesrorian; Tatiana Pavlovna Mikhailik; Mikhail Alexandrovich Mikhalchuk; Vasilii Minev; Valerii Mironov; Yuri A. Mironov; Alexander M. Miroshnichenko; Maxim Danielievich Mitlianskii; Evgeny Alexandrovich Mitta; Andrei Molchanovskii; Mikhail Viktorovich Molochnikov; Tania Moon; Stanislav F. Morozov; Igor Vladimirovich Moukhin (1961); Andrey Vladimirovitch Mounts; Yurii Movchan; Irina V. Mudrova; Natalia V. Muradova; Shamil B. Nadrov; Phasil Nadzhafov; Vladimir N. Nasedkin; Arkady Ivanovich Nasonov; Sergei E. Naumov; Zaza Nebieridze; Marina N. Necheporuk; Ksenia Vasilievna Nechitailo; Yekaterina V. Nesterova; Pavel Nikiforov; Valerii T. Nikitin; Vladimir Viktorovitch Nikoulin; Leon G. Nisenbaum; Andrei Noda; Tatiana N. Novikova; Ivan Novozhenov; Anton Yulievich Olshvang (1965); Yelena N. Olsufyeva; Boris Konstantinovich Orlov (1941); Igor M. Orlov (1935); Valery Mikhailovich Orlov; Anatolij Felixovich Osmolovsky (1969); Andrei Ovcharov; Nikolay Nikolaevich Ovchinnikov; Maria (Dyuzhenko, Elena Nikolaevna) Ovchinnikova; Igor Palmin (1933); Lada Paniukova; Natalia Pankova; Vladimir K. Pankratov; Robert T. Papikian; Sergei Parshin; Natalia Pashukova; Mikhail Pavlenin; Alexander I. Pavlov; Vladimir Pentiuch; Pyotr Yulievich Perevezentsev; Yuly Yulievich Perevezentsev; Nadežda Petrović (1873 - 1915); Iurii Mikhailovich Petukhov; Viacheslav Phektistov; Pico-Cauwel; Ilya Vyacheslavovich Piganov (1964); Vladimir Sergejweitsch Pimenov (1941); Oleg M. Pirbudagov; Galina D. Pisareva; Igor Pischukevich; Andrei P. Platonov; Dmitri Petrovich Plavinsky (1937); Dmitrii V. Plotnikov; Mikhail Po; Konstantin V. Pobedin; Olga A. Pobedova; Iraida A. Pokladova; Vasilii Poliakov; Oleg Poluboiarov; Svyatoslav Igorevich Ponomaryov; Liudmila B. Popenko; Iurii N. Popkov; Andrei G. Pozdeyev; Alexander V. Pozin; Kirill Protopopov; Vladislav Provotorov; Leonid Anatoljewitsch Purygin (1951); Eduard M. Puterbrot; Oskar Yakovlevich Rabin (1928 - 2018); Marina Radiuk; Sergei Radiuk; Marie-Françoise Radovic-Douillard; Oleg Borisovich Raikis; Naftali Rakuzin; Sergei V. Razjivin; Yuliya Razumovskaya; Tatiana Revazian; Sergei M. Reznikov; Oleg Riabchenko; Svetlana G. Riazanova; Gia (Georgy Sergeyevich) Rigvava; Alyona (Elena Vatslavovna) Romanova; Larisa A. Romanova; Marianna B. Romanovskaia; Jakow Dorofejewitsch Romas (1902 - 1969); Bella Romelashvilii; Mikhail Georgievich Roshal-Fyodorov; Alexander A. Roytburd; Vladislav V. Rozhnev; Mikhail Rudakov; Alberto Ruiz; Alexander I. Rukavishnikov; Iulian M. Rukavishnikov; Nikolai I. Rybakov; Alexander M. Ryleyev; Mikhail V. Rytiayev; Stepan Saigaiko; Valerii Sakhatov; Vladimir Alexandrovich Salnikov; Yuri F. Salnikov; Sergei Sangalov; Kliment M. Sapegin; Liudmila G. Sapozhnikova-Duk; Karen Saprichian; Natalia G. Savinova; Timur Sazhin; Yelena A. Schepetova; Nikolay Lvovich Selivanov; Leonid Nikolaevich Semeiko; Aleksei Semienov; Mikhail N. Serebriakov; Vladimir Sergachev; Yevgeny V. Severukhin; Vladimir Sharapov; Sergei A. Sharov; Andrei Iu. Shatalov; Sergei A. Shcherbakov; Igor E. Shcherbina (1966); Pavel L. Sherbaum; Sergei A. Sherstiuk; Andrei V. Shevchenko; Pavel M. Shimes; Marina Vladimirovna Shlyapina; Gennadii Shlykov; Mikhail Shtyrev; Aleksandr P. Shubin; Anna Shubina; Alexey Anatolievich Shulgin (1963); Lidia M. Shulgina; Sergei Shumeikin; Sergei A. Shutov (1955); Alexandr Mikhailovich Sidorov; Alexandr Vasilievich Sigutin; Aleksandr Grigorievich Sitnikov (1945); Oleg Slepov; Anatolii Stepanowitsch Slepyshev (1922); Boris L. Smertin; Alexandr Smirnov; Natalia Vladimirovna Smolyanskaya; Lev N. Smorgon; Sergei Smurov; Alexandr Sokht; Vadim P. Sokolov; Elena V. Sokolova; Natalia L. Sokolova; Yurii Solomkin; Igor Soloviev; Sergei Soloviev; Vladimir Aleksandrovich Somov (1869 - 1939); Vladimir Dimitrijewitsch Soskiev (1913); Vadim Spirenkov; Marina L. Spivak; Vadim Stain; Irina Alexandrowna Starzhenetskaia (1943); Boris Dmitrievich Stuchebryukov; Timur Suleimanov; Ibragim-Khalil K. Supianov; Konstantin Sutiagin; Dmitry D. Svechnikov; Andrei G. Syrbu; Ilja L. Tabenkin (1914 - 1988); Lev Ilyich Tabenkin (1952); Andrei Alekseevich Tal; Margarita Veniaminovna Tarasova; Marc Tara-Tessier; Antoni Taule; Ruslan Tavasiev; Avdey Stepanovich Ter-Oganyan; Pavel A. Tiber; Oleg Aleksandrovich Timofejev; Igor N. Tishin (1958); Leonid Alexandrovich Tishkov (1953); Oleg Tistol; Sergei Tiukanov; Natalia O. Tolstaia; Igor Tomskii; Viacheslav Aleksandrovich Toropov; Totart; Georgii Totibadze; Gennady I. Troshkov; Sergei V. Trubnikov; Olga A. Trushnikova; Bilar Kh. Tsarikaev; Maya K. Tsetskhladze; Meghi L. Tsitlidze; Oleg Tskhurbaev; Ruslan N. Tsrimov; Revekka M. Tsuzmer; Dmitrii Tsvetkov (1961); Vasily N. Tsygankov; Dmitry N. Tugarinov; Alexander Ye. Tumanov; Rustam Turaev; Klavdia Tutevol; Evgenii Tykotskii; Victor Ivanovich Umnov; Ilias V. Usmanov; Marina P. Usova; Ilya Valentinovich Utkin; Vladimir Vakhrameev; Evgenii S. Vakhtangov; Yury Arsentievich Vashchenko; Lada Nikolaevna Vdovina; Anatolii Veselov; Luka Vialitsa; German Igorevich (Vine, Bicapo) Vinogradov; Mariia L. Vladimirova; Anna Ignatievna Vlasenko; Vladislava Victorovna Vlasenko; Petr Volchek; Vladimir Yurjevich Volegov; Natalia V. Volikova; Andrei Volkov (1948); Sergey Evgenievich Volkov (1956); Aleksei Alexandrovich Vorobiov; Lusija Voronova; Dmitry Vladimirovich Vrubel (1960); Igor A. Vulokh; Gunter Wirth; Mikhail F. Yakhilevich; Andrey Leonidovich Yakhnin; Sergey Alexandrovich Yakunin; Sofia V. Yakusheva; Valery M. Yashigin; Valery V. Yashigin; Eduard Yashin; Fedor Yastreb; Yevgeny N. Yerokhin; Geyur A. Yunusov; Igor Zadera; Nikolai Zakrytnyi; Natalia Zaloznaya (1960); Yelena I. Zasimova; Irina Vladimirovna Zatulovskaya; Gela G. Zautashvili; Tudor Zbyrnia; Isay M. Zeitman; Victor Zemskov; Yurii Zharkikh; Vasily D. Zhilinsky; Anatoly Evgenievich Zhuravlev; Olga Removna Ziangirova; Yury Savelievich Zlotnikov (1930 - 2016); Alexandr Gennadievich Zosimov; Iurii Stepanovich Zubenko; Konstantin Victorovich Zvezdochotov (1958); Larissa Yurievna Rezun-Zvezdotchotova (1958); Al Musavi Abbas; Jurij Abisalov; Michael Abramov; Ruben Adalian; Karen Agamjan; Marta Ajvazian; Robert Ajvazian; Armen Aknuni; Tigran Akopjan; Alexander Akopov; Konstantin Alexandrov; Sergeynikitovich Alexandrov; Zurab Alibegachvili; Annadurdi Almamedov; Georgij Ameridze; Rinat Animajev; Valentina Anopova; Vladimir Antipin; Andrej Antonjuk; Aren Arutjunjan; Akif Askerov; Mariam Arschaki Aslamazyan (1907 - 2006); Sergej Astapov; Adil Astemirov; Felix Azamatov; Aleksandr Iosifovich Babin; Valery Iosifovitch Babin; Nikolai Babushkin; Evgenii Vladimirovich Bachurin (1934); Nail Gabdoullovich Baibourin; Saule Bapanova; Michael Barinov; Sergej Basov; Auseklis Baudkenieks; Valerij Belenikin; Andrej Belle; Nina Afanasievna Belokhvostova; Vadim Belousov; Nikolay Alexandrovich Belyanov; Boris Berzins; Jaroslav Betekhtin; Ketevan Betlemidze; Ilmars Blumbergs; Evgenij Bogatov; Chleb Sergejewitsch Bogomolov (1933); Larisa Bolshakova; Andrei Nicolaevich Bondarenko; Ivan Bondarenko; Nadja Boretskaja; Elena Borsikh; Nickolaj Botcharov; Natalia Bragina; Kim Britov; Lidija Brodskaja; Liudmila Bruevitch; Nalbi Bugashev; Kerimbek (Akhmatov) Bukar; Gennadij Buralkin; Nikolai Burdykin; Alexander Burganov; Igor Chadykov; Dmitriy Dalinin; Sergej Daragan; Ruma Daurova; David-Ru; Alexander Dorofeev; Alexander Doronin; Isak Drize; Stepan Dudnik; Kendgebaj Dujsenbajev; Roland Dumbadze; Jurij Dzantiev; Oleg Dzubenko; Valerij Egorov; Olga Erohova; Luiza Faskhutdinova; Oleg Fedorov; Vladimir Fedorov; Irina Fetisova; Alexander Ivanovitch Fokin; Gago Chtchyan (1969); Zuphar Gajanov; Nail Galimov; Sergey Gashevsky; Fikret Gashimov; Marina Gavrilenko; Elena Gladkih; Leonid Glandin; Akaki Gocadze; Johni Gogaberishvili; Andrey Borisovich Gorenkov; Mikhail Gorshunov; Alexander Semenovich Goryachkin; Mikhail Greku; Georgij Grigorjev; Anna Grigorjeva; Gya Gugushvili; Farman Gulamov; Vasilij Gurin; Irina Gusejnova; Alexander Haritonov; Revaz Hasia; Ivars Heinrihson; Tatiana Hengstler; Konstantin Inal-Ipa; Damir Ishemgulov; Nickolaj Ivanov; Ruslan Ivlev; Mikhail Izotov; Vladimir K. Jukin; Igor Kadykov; Yulia Borisovna Kalmykova; Vladimir Kanischev; Vladimir Kapustin; Sergej Karpukhin; Anvar Kashaev; Gulnara Kasmalieva (1960); Zurab Kaulashvili; Vasil Mirgaziyanovich Khannanov; Arthur Yurikovich Kharazian; Ilgizar Khasanov; Edward Khoroshij; Andrey Kim; Vadim Kirillov; Alexej Kirjanov; Vladimir Kirjukhin; Sergej Kirjushchenko; Elena Filippovna Kisel; Muhadin Kishev; Aleksandr Kochishvili; Valerij Kokurin; Vladimir Yurievich Kolesnikov; Aleksej Kolybnjak; Nickolai Kononenko; Alexander Konov; Natalia Korneva; Alexander Korobov; Vera Korotaeva; Konstantin Koshkolda; Igor Kotsarev; Valeria Kotsareva; Svetlana Anatoljevna Kourmaz; Sergej Kovrigin; Reshat Kozhahmetov; Vasile Kozhokaru; Igor Kozlov; Petr Kozmin; Gennadij Krasnoshlikov; Nadezhda Krestinina; Vladimir Krylov; Oleg Kudriashov (1932); Victoria Kudriavtseva; Tatyana Kudrina; Anatolij Kulinitch; Rustam Kurbanov; Sukhrob Kurbanov; Andrej Kurnakov; Natalia Kuznetsova; Anatolij Kuznetzov; Levan Lagidze; Omar Godines Lanso; Gogi Lazarashvili; Nadezhda Lebedeva; Ljubov Lebid-Korovaj; Boris Leifer; Vasilij Lenivkin; Leonid Levchuk; Lylia Levshunova; Dace Liela; Vladimir Lityshev; Georgij Loiko; Grigory Losev; Jury Lutskevitch; Victor Nikolaevich Makarenko; Hachtur Makarian; Mamia Malazonia; Katib Mamedov; Gela Mandjavidze; Elena Margaritova; Mikhail Vladimirovič Matorin (1901 - 1976); Shalva Matuashvili; Alexander Mayorov; Sergey Olegovich Medvedev; Vladimir Melnik; Saparmamed Meredov; Vaza Meskhi; Rinat Minnebaev; Bejuk Aga Mirza-Zade; Alexej Mishchenko; Alexander Mitchri; May Mituritch-Khlebnikov; Alexander Molev; Natasha Moltchanova; Allamurad Mukhamedov; Nickolaj Mukhin; Elena Mukhina; Nadezhda Mukhina; Michael Nazarov; Artem Nekrasov; Sergej Nekrasov; Galina Alexandrowna Neledva (1938); Elena Nenastina; Vitali Nikolaev; Mikhail Novokshchionnyi; Fedor Novotelnov; Iskander (Deric) Nugmanov; G. Nurlyev; Timur Ordabekov; Andrej Pahomov; Gleb Panteleev; Pavel Penkovskij; Pavel E. Petrov; Vladimir Petrov-Gladky; Vladimir Philipenko; Victor Leonidovich Pismennyi; Stanislav Plutenko; Alexander Podmoskovnij; Sergei Efimovich Pogorelyi; Elena Poleshuk; Elena Ivanovna Ponomarenko; David Popiashvili; Sergey Potapov; Vladimir Psarev; Liga Purmale; Larisa Radevitch; Oleg Radin; Vladimir Radin; (Shikhaliev) Rahman; Yury Resnik; Kulnar (Akmatova) Rimbek; Viktor Nikolaevitch Rousanov; Egils Rozenberg; Iosif Rubanov; Rafik Dg. Saifulin; Fuad Salajev; Erkin Saliev; Olga Samosuyk; K. Sarushka.; Mansur Satarov; Ljubov Saveljeva; Inga Teodorowna Savranskaïa (1937); Boris Scherbakov; Jury Sergeev; Alexander Serikov; Marina Serikova; Grigorij Shedal; Igor Igorevich Shelaputin; Vera Shibaeva; Olga Edouardovna Shierbakova; Olga Shilova; Tamara Shilovskaja; Marina Shishkova; Alexej Shmarinov; Ekaterina Shtuts; Anatoly Ivanovich Shvets; Viktor Sidorenko; Vladimir G. Simonov; Inguna Skuja; Dzemma [Dscherwinna Ottowna] Skulme (1925); Vladimir Slobodtchikov; Harry Smbatjan; Boris Smotrov; Kerop Dsarukowitsch Sogomonjan (1951); Olga Sokolova; Leonid Sokov (1941); Ivan Sorokin; Victor Sorokin; Tatiana Sorokina; Andrej Spirov; Vladimir Feodorovich Stozharov (1926 - 1973); Tagir Subkhankulov; Fedor Sukhinin; Irakli Sutidze; Bahtijar Tabijev; Temur Tatanashvili; Viktor Tatarenko; Alexej Tchaikasov; Andrej Tchebykin; Mikhail Tcherepanov; Igor Dmitrievich Tchetvertkov; Vladimir Telegin; Begaim Tenizbaeva; Nikolai Borisovich Terpsikhorov (1890 - 1960); Michail Borisovich Tikhanovskii; Olga Tolstikova; Kako Topuria; Nodar Topuria; Konstantin Totibadze; Vladimir Tovstik (1949); Olga Trapitsyna; Vasilij Trusov; Zurab Tsereteli; Inessa Tsipina; Ludmila Tsoncheva; Tokar Tugurov; Marina Usatcheva; Jurij Uzhdavini; Gavriil Vashchenko; Eugenij Verechiagin; Andrej Verezhagin; Galina Veselova; Irina Volkodajeva; Valerij Volkov; Nickolaj Volokshanin; Mikhail Vorobjev; Rita Voskanjan; Vosvard; Victor Votskij; Arush Votsmoush; Diana Vouba; Margarita Nikolaevna Yurkova; Ravil Zagidullin; Oleg Zajarskij; Genadi Zakharai; Oleg Zakomornij; Darja Zakritnaja; Alexander Zaporozhtchenko; Anait Zardarjan; Aleksey Zarjanov; Nickolay Zarjanov; Aleksandr Vasilievich Zhernokluev; Eugenij Zhidkov; Dmitrij Dimitrewitsch Zhilinskij (1927); Mikhail Zhomier; Evgenii Petrovich Zhurukhin; Vladimir Zintchenko; Efrem Ivanovič Zverkov (1921 - 2012); Oleg Ivanovich Ardimasov; [Tatiana Arzamasova, Lev Evzovich, Evgeny Svyatsky] AES+F; George Dussau (1947); Stefan Voigt; Dmitrii Ikonnikov; Vladimir Nikolaevich Nemukhin (1925 - 2016); Boris Andriyovych Mikhailov (1938); Boris Messerer (1933); Birgit Kleber; Olg Wasiljewna Bulgakova (1951); Mikhail Vsenolodowitsch Ivanov (1927); Andris Varpa; [Vladimir Dubossarsky *1964 & Alexander Vinogradov *1963] Dubossarsky & Vinogradov; Olga Chernysheva (1962); Ivan Leonidowitsch Lubennikov (1951); Gogi Chagelishvili (1945); Natalya Dikareva; Maxim Kantor (1957); Alexander Ponomarev (1957); Oleg Kulik (1961); Mihail [Mikhail Shemiakin] Chemiakin (1943); Tatyana Liberman (1964); Nikolai Mikhailovich Romadin (1903 - 1987); Natalja Petrowa Turnowa (1957); Natalia Igorevna Nesterova (1944); Tatiana Grigorjewna Nazarenko (1944); Arkadij Iwanowitsch Petrov (1904); Georgij Georgievic Rjashsskij (1895 - 1952); David Petrowitsch Shterenberg (1881 - 1948); Vladimir Grigoryevich Veisberg [Weisberg] (1924 - 1985); Vladimir Igorevich Yakovlev (1934 - 1998); Alexander Vasilyevich Shevchenko (1882 - 1948); Alexander Grigorievitch Tyshler (1898 - 1980); Efimova Nadejda Simonovitch; Jelena Jelagina [Elagina] (1949); Nikolai Alexandrowitsch Sokolov (1903 - 2000); Porfiry Nikitich Krylov (1902 - 1990); Mikhail Vasilevich Kupriyanov (1903 - 1991);
Insight Basic

Display the full interactive exhibition history and all related artist, exhibition venue, and curator pages for your research. The SUMMARY above shows today's available scope.
Insight Basic 10 Days USD 378 / EUR 394

Insight Basic 1 Day USD 42 / EUR 44

To use Insight Basic or Insight Analytics
Sign-up for free first
Insight Analytics
Use Analytics tools for more insight based on documented exhibitions. More details on your RESEARCH user page.
(Includes Inisght Basic)
COMING SOON
NEW ARTWORK OFFERS/REQUESTS
NEW EXHIBITION ANNOUNCEMENTS
artist-info Status
Today you find 187253 artists and 7635 curators in 700345 shows (1880 - tomorrow) in 12383 venues in 1517 cities in 163 countries plus 281 professional and private classified offers.
Books at abebooks.com for this artist Show all

Michael Gross Recent Works: February-June 2002, Ayala Zacks Abramov Pavilion for Jewish Art.
By : Zalmona, Yigal.
Price : $29.00
ISBN : 982606836
Sorry, no books found at amazon.com
Subscribe to our artist-info Newsletter
Any questions or feedback
Get in touch
Use our pop-up form

Click Here
Art Fairs Calendar