https://www.artist-info.com/artist/Runwalt
Artist Portfolio Catalogue Overview \ 25
Biography
Biography
1945 geboren
aufgewachsen in Trier
Studium der Kunstgeschichte, Philosophie und Klassischen Archäologie in Saarbrücken
lebt zwischen Frankfurt und Wiesbaden
Exhibitions
Exhibitions
1989   Freiburg i.B., Kunstverein, IV. Freiburger Symposium; Modell "Kunst im Container"
1993   Frankfurt a.M., Galerie Oevermann; Bilder und Objekte (Katalog), solo exhibition
1993   Genf, Europ'Art, Galerie Oevermann, Frankfurt; Bilder und Objekte (Katalog), solo exhibition
1994   Frankfurt a.M., Park vor dem Museum für Kunsthandwerk; Kunstprojekt anläßlich der 1200-Jahrfeier Frankfurts; Außeninstallation, work in public space
1994   Hofheim a.T., Weilbächer Wälder; Außeninstallation, solo exhibition
1994   Bad Soden a.T., Ehemalige Eden-Fabrik; Installation
1995   Düsseldorf, art multiple, Kunstkabinett Hespert, Reichshof (Katalog)
1995   Morsbach, Ehemalige Gerberei, Stiftung für Kunst und Kultur e.V. Bonn und Kunstkabinett Hespert, Reichshof; Installation
1996   Kronberg, Receptur, solo exhibition
1996   Wiesbaden, Am Römerberg; Außeninstallation, solo exhibition

(1997 / 98   Romanmanuskript "Richtersamen")

1998    Trier, Deutsche Richterakademie, solo exhibition
About the work (deutsch / english)
About the work (deutsch / english)
Runwalt-Konzept
Künstlerische Schwerpunkte sind seit 1995 schmale, abstrakte Gestalten (Höhe: 1,50 - 2,20 m).
Sie bestehen aus verschiedenen Holzmaterialien, sind mit angewärmtem, farbigem Wachs bemalt oder in rohem Zustand belassen. Zu einander durchdringenden Gruppen formiert, sollen sie sich nach Planung zu einem in Teilen undurchdringlichen multikulturellen Gesellschafts-Wald zusammenfinden. "Freunde", die im Web posierten, werden dazu eingeladen und in seltener Weise geehrt ...


The Runwalt concept
Artistic focus since 1995 has been on slender, abstract figures (1.5 to 2.2 metres tall). They are made of various wooden materials, either painted with molten coloured wax or left in their natural, raw condition. Formed into intermingling groups, it is planned that they should congregate to build a - partly inpenetrable - multi cultural community forest. The "Friends" which have posed in the web will be invited to attend, and honoured in an unusual way ...


"Freund" zum Freundschaftspreis!
Welche Liebhaber(innen) der Bildenden Künste interessieren sich für einen schmalen, zwei Meter großen "Freund"?
Dieser ist leicht transportabel, eindrucksvoll und sorgt auch auf kleinstem Raum für größte Wirkung. Auf Kunstausstellungen machte er eine gute Figur. Freundlich, abstrakt und zurückhaltend steht er an den unterschiedlichsten Orten.
Zu Beginn jeden neuen Monats erscheinen im Internet drei "Freunde", welche sich Interessenten per eMail sichern können.
Jeder dieser "Freunde" kommt ungeklont daher, trägt einen Eigennamen und kann vorerst, zur Einführung ins neue Medium, zum Freundschaftspreis von je 500 Euro  (ohne Transportkosten) geordert werden.
Die Vorstellung der Freunde beginnt mit Jahreswechsel 1998/99.

Für die Zukunft geplant ist ein Treffen verstreuter Freunde ...


A "Friend" at a friendly price!
Which lovers of the fine arts are interested in a slender, two metre tall "Friend"?
He is easily transportable, impressive and has a large affect in the smallest of spaces. At art exhibitions he cuts a good figure. He stands - friendly, abstract and reserved - in the most varied places.
At the beginning of each month three "Friends" will appear in the internet, who can be reserved by interested persons via e-mail.
Each of these "Friends" is uncloned, bears an own name and can initially - to mark the introduktion to the new media - be ordered at the friendly price of Euro 500 (excluding transport costs).
Presentation of the "Friends" begins start 1999.

A reunion of scattered "Friends" is planned for the future ...


Statement zur Ausstellung in Trier
Das Leben verändert zuweilen meine Kunstausstellungen auf unvorhergesehene Weise, wie beispielsweise zuletzt in der Deutschen Richterakademie Trier: In die Mitte zwischen "Großer Diktator", "Escape", "Richter Dooley", "Direktor" und "Diogenes" unter der rostigen Tonne "Condor" - im gleichen Raum mit "Unabomber" und "Feuerwasser" wurde zum ersten Advent ein Weihnachtsbaum plaziert. Erst beim Aufbau meiner Gestalten hatten sich die Akademie-Leute an den angestammten Standort ihres Lichterbaumes erinnert, sahen aber keinen Ausweichplatz. Kunst und Leben fanden so zusammen; das "Idyll" war komplett. Es schien, als hätten Bernhard und Ionesco "aus dem Grabe heraus" Regie geführt. Der doppelt besetzte Raum kam meiner Intention unverhofft entgegen und übt seinen Einfluß auf mich aus. Jetzt kommt es für mich darauf an, eine größere Ausstellungsräumlichkeit zu finden, um in 1999 ähnliches mit weiteren Gestalten bewußt und spannend zu inszenieren.

Runwalt, Dezember 1998 


Runwalt-Résumée zur Ausstellung in der Deutschen Richterakademie Trier:
Sinn der Ausstellung war es, Öffentlichkeit in einem kritischen Umfeld zu wagen und einen Motivationsschub für neues Schaffen auszulösen. Beides wurde erfüllt. Trier ist von nun an abgehakt.
Besonderheiten gab es. Ignaz Bubis war am ersten Tag da, aber rein zufällig und gedanklich verwalsert.
Später vergriff man sich an "Richter Dooley". Sein Gemächte - das baumelnde Skelett zwischen Tee-Eiern - wurde dem "Großen Diktator" vor die metallene Mundöffnung gehängt. Ein entmannifizierter Dooley posierte nunmehr ohne sein spezielles Reiz-Symbol. Der "rechtswidrige" Eingriff hatte eine unauffällige Richtergestalt geschaffen. Doch Dooley stand für schlimme Juristen während der NS-Diktatur.(Dazu: Ralph Angermund, Deutsche Richterschaft 1919 - 1945). Die Künstlerin wurde bis Ausstellungsschluß nicht informiert. Ein Eintrag des "Künstlerkollegen" im Besucherbuch unterblieb. Schade...

Abschließend bleibt noch, einen "Verbündeten" schlagend zu zitieren:
"(...)
WELTVERBESSERER fährt mit dem Hörrohr in den Anzug hinein
Ich kann mich nicht erinnern 
daß ich den Anzug in Trier angehabt habe
Keine schöne Erinnerung
an Trier
DIE FRAU
Du hast Dich gekränkt
WELTVERBESSERER
Die Leute haben meinen Vortrag nicht verdient
Man geht nicht ungestraft nach Trier
man geht nach Trier und macht sich lächerlich
Habe ich denn keinen anderen Anzug
für diese Gelegenheit
fährt noch einmal mit dem Hörrohr in den Anzug
DIE FRAU
Warum willst Du den Anzug nicht anziehen
zieh ihn doch an
Was schert es Dich
daß du ihn in Trier angehabt hast
Was schert es Dich
ein so schöner Anzug
nur weil du ihn in Trier angehabt hast
soll er nicht mehr gut genug sein
WELTVERBESSERER
In Trier ist die Intelligenz
nicht zuhause
DIE FRAU
Ein so schöner Anzug
WELTVERBESSERER
Wenn die Schneider nicht so unverschämt wären
Die Schneider so unverschämt
und infam
Ich habe die Infamie der Schneider kennengelernt
DIE FRAU
Ziehst Du den Anzug an
oder nicht
WELTVERBESSERER
In Trier habe ich ihn getragen
du hast recht
das ist mein Trieranzug
Aber was schert es mich
daß ich ihn in Trier getragen habe
wo sie mich lächerlich gemacht haben
DIE FRAU mit hoch erhobenem Anzug
Es ist acht Jahre her,
daß wir in Trier gewesen sind
(...)
Die Komödie
muß ein Ende haben
Ich werde den Anzug anziehen
Glaubst Du die Herren wissen
daß ich den Anzug in Trier angehabt habe
DIE FRAU
Das glaube ich nicht
WELTVERBESSERER
Daß ich sie möglicherweise
unglücklicherweise
an meine Schlappe in Trier erinnere
wenn ich diesen Anzug anhabe 
DIE FRAU 
Kein Mensch weiß mehr
welchen Anzug Du in Trier angehabt hast
WELTVERBESSERER
Ich möchte nicht an Trier
erinnert sein
aber jetzt bin ich es schon
zieht den Rock wieder aus, die Frau hilft ihm dabei
Im Grunde ist es vollkommen gleichgültig
was wir anhaben
Wenn wir nur etwas im Kopf haben
Wie der Rock ausgezogen ist
Er muß natürlich gebügelt werden
gebügelt und ausgebürstet
Die Frau nimmt den Rock und den ganzen Anzug
und geht hinaus
WELTVERBESSERER
Wer Rücksicht nimmt
bereut es
Wir haben keine Rücksicht zu nehmen
Wo wären wir hingekommen
wenn wir jemals Rücksicht genommen hätten
Die Frau kommt mit einem Paar Lackschuhen herein
(...)"

Text aus: Thomas Bernhard, Der Weltverbesserer, Bibliothek Suhrkamp, Seiten 48 - 51.
Bibliography
Bibliography
Der Katalog "Runwalt - Materialbilder und Objekte 1989 - 1992" ist gegen eine Schutzgebühr von DM 10,- noch zu erhalten. Bestellungen bitte an Runwalt.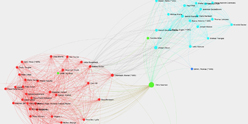 Interested in discovering more of this artist's networks?
3 easy steps: Register, buy a package for a visualization, select the artist.
See examples how visualization looks like for an artist, a curator, or an exhibition place: Gallery, museum, non-profit place, or collector.

Exhibition History

SUMMARY

based on artist-info records. More details and Visualizing Art Networks on demand.
Venue types:

Gallery

/

Museum

/

Non-Profit

/

Collector

Exhibitions in artist-info
1 (S 1/ G 0)

Shown Artists

- 0 of 0 artists
(no. of shows) - all shows - Top 100

Exhibitions by type

1: 1 / 0 / 0 / 0
Venues by type

1: 1 / 0 / 0 / 0
Curators
0
artist-info records
Jan 1993 - Apr 1993

Countries

- Top 1 of 1
Germany (1)


Cities

1 - Top of 1
Frankfurt am Main (1)


Venues

(no. of shows ) Top 1 of 1
| | | |
| --- | --- | --- |
| | | Curators (no. of shows) Top 0 of 0 |
Offers/Requests

Exhibition Announcement

S / G Solo/Group Exhibitions

(..) Exhibitions + Favorites

Galerie Oevermann
S
Jan 1993 - Apr 1993
Frankfurt am Main
(28)
+0