Artist

| Michel Hanique (*1949)
https://www.artist-info.com/artist/Michel-Hanique
Artist Portfolio Catalogue Overview \ 10
Biography
Biography
Belgier, geb. 1949, erster Preisträger des Grand Prix Marie-France de la Photographie (Espace Canon in Paris), hat bereits in zahlreichen Einzel- und Gruppenausstellungen in zahlreichen Ländern ausgestellt. Seine Werke befinden sich in vielen privaten und öffentlichen Sammlungen. Haniques Arbeiten wurden in diversen Publikationen vorgestellt.
Solo Exhibitions
Solo Exhibitions
1993   La Chambre Claire, Namur, Belgique
1986   Galerie Le Petit, "Oiseau va partir", Maredret, Belgique
1987   Photo-galerie C. Renault, Lüttich, Belgique
1988   Ken Damy Photogallery, Brescia, Italie
           Moment Galerie für Photokunst, Hamburg, Allemagne
           Maison des Arts et Loisirs, Laon, France
           Galerie Triangl, Bruxelles, Belgique
1989   Posada del Potro, Cordoba, Espagne
           Balatum, Lille, France
1990   Espace Mod's Hair, Lille, France
1991   Gallery Art Photography, Kaunas, Litauen
           Mariapold, Litauen
           Vilnius, Litauen
           Photography Museum, Siauliai, Litauen
           Esther Woerdehoff, Paris, France
           Museo Ken Damy, Brescia, Italie
1992   Ken Damy Photogallery, Urbino, Italie
           Rosamilia Photogallery, Salerno, Italie
1993   L'Autre Musée, Bruxelles, Belgique
           Palermo Foto 93, Photografia, Palermo, Italie
           in focus, Köln, Allemagne
1994   in focus, Köln,
           Fotogrammatica, Rom, Italie
1995   PSL- Gallery, Berlin, Allemagne
           Musée de la Photographie, Siauliai, Litauen
1996   (mit Fauville und Pietrzok) in focus, Köln, Allemagne

sowie zahlreiche Ausstellungbeteiligungen und diverse Publikationen Haniques Arbeiten befinden sich in vielen privaten und öffentlichen Sammlungen.
About the work (deutsch / français)
About the work (deutsch / français)
Intérieurs jour
Die Abzüge des Photographen Michel Hanique sind im Bichromatverfahren (Gummidruck) auf schwerem Aquarell- oder Büttenpapier hergestellt (limitiert und signiert). Der Gummidruck ist ein photographisches Verfahren aus der Mitte des 19. Jahrhunderts und wurde insbesondere von Photographen des Piktorialismus angewandt. Der Photograph erstellt eine eigene lichtempfindliche Lösung mit mineralischen Pigmenten, die auf Papier verteilt, belichtet und anschließend ausgewaschen wird. Diese Technik ist neben anderen Edeldruckverfahren z.B. dem Platin-Palladium Druck hinsichtlich Farbbeständigkeit und Haltbarkeit unübertroffen.

Michel Hanique bittet Frauen, sich von ihm in ihren Wohnungen photographieren zu lassen. Nackt, an den Orten und in den Posen, die sie selbst wählen würden. Die entstandenen Photographien haben nichts von der frustrierenden Dramaturgie eines Striptease oder von der belanglosen Statisterie der großen Gala-Revuen, wie sie das Fernsehen einmal im Jahr an Sylvester ausstrahlt. Die Szenen drucken ganz alltägliche Leidenschaft aus, selbst wenn sie in einigen Bildern über das alltägliche hinaus provozieren - doch wer weiß, was für jede einzelne der Frauen, die posiert haben, alltäglich ist? ...

Der Anthropologe könnte in diesen Bildern Dokumente über einen Zustand der Zivilisation sehen. Die Frauen, die eingewilligt haben, sich photographieren zu lassen, haben, ohne sich dessen bewußt zu sein, viel von dem Selbstvertrauen und der Verwirrung der Körper unserer heutigen Zeit ausgedrückt. Ob harmlos oder provokativ, die Pose rückt mehr als nur den einzelnen Körper ins Blickfeld. Es wird vielmehr eine Gesamtheit der heutigen Frauen dargestellt. Nicht "die Frau", dieses ewig Weibliche, das nur von bornierten Phallokraten gefeiert wurde, sondern ganz konkrete Frauen, wie wir ihnen jeden Tag bei der Arbeit, auf der Straße, im Supermarkt und in der Freizeit begegnen.
Es sind einfache Frauen, die, in der Nachfolge der Kurtisanen, entdeckt haben, daß sie einen Körper besitzen und daß es legitim ist, ihn zu zeigen. Und sie zeigen ihn, wie sie glauben, daß ein Körper heute gezeigt werden muß. Mit Unbefangenheit und Lasterhaftigkeit, mit Unschuld und dem Appell an die Leidenschaft.

(Auszüge aus dem Text von Claude Javeau, Prof. der Soziologie an der Universität Brüssel und Vizedirektor der Libre Académie de Belgique; Michel Hanique - Intérieurs Jours, Brüssel 1995)


Intérieurs jour
Clotilde a rencontré un homme qui lui a fait une curieuse proposition. C'est un photographe. Il lui a demandé de se laisser photographier par lui dans sa maison à elle. Nue, aux endroits qu'elle choisira et dans les poses qu'ene voudra.

Clotilde a été trés troublée. Elle n'a aucune honte de son corps, qu'elle croit bien connaiître. Elle ne déteste pas se montrer nue, à son amant, ou sur les plages, quand les regards des hommes, et parfois aussi des femmes, se font furtifs et glissent sur elle comme des caresses un peu honteuses. Mais l'idée de jouer au modèle ne l'avait jamais effleurée. Elle a pourtant dit oui, un peu sans réfléchir, un peu par provocation.

Le photographe est venu, avec son matariel. Elle s'est mise nue devant lui et il l'a photographiée, par rafales de prises, entrecoupées de bribes de conversation. Ils ont été dans la cuisine, dans la chambre à coucher, dans le grenier, dans le living, dans la salle de bains. Elle s'est placée devant la fenêtre, sur le lit, sur le canapé, dans l'évier, dans l'embrasure d'une porte. Elle a tendu les seins en avant, a écarté les jambes, s'est agenouillée, s'est accroupie, s'est renversée en arriére. Elle a mis des chaussures, les a retirées, a posé un châle sur ses épaules, a joué avec une paire de ciseaux dans les poils de son pubis.

Elle a posé sa main sur son sexe. Elle s'est caressée, comme on dit, tout étonnée que ce geste lui soit venu si naturellement. A-t-elle mimé la caresse ou l'a-t-elle ressentie pour de bon? Elle ne serait plus capable de le dire.

Le photographe est reparti avec sa moisson d'images. Il a promis de lui envoyer une des photos, fortement agrandie, dans un bel encadrement. Tirée à la gomme bichromatée, comme on faisait au siécle dernier. On a alors l'impression d'un tableau un peu délavé, une gravure aux contours estompés.

Elle s'est retrouvée un peu secouée, surprise par ce qu'elle avait fait. Son corps avait obéi à la fois à sa volonté et à une volonté qui la dépassait. Elle s'était exhibée et s'en trouvait contente. Et en méme temps un peu perplexe sur ce qu'on appellerait ses motivations. Le photographe lui avait dit qu'il préparait un album où figureraient d'autres photos de femmes, saisies comme elle dans leur intérieur familier et dans les poses qu'elles proposeraient à l'objectif. Ainsi des étrangers, feuilletant l'album, la découvriraient dans sa nudité. Et aussi daus ses audaces, car elle avait souvent erré loin des fades nus acadamiques ou des images anonymes de publicités pour cosmétiques. Elle en éprouvait une curieuse fierté, mêlée de quelque appréhension. Et si, par hasard, l'un ou l'autre regardeur la trouvait vilaine? Elle avait accepté le risque, elle le courrait jusqu'au bout. Elle se mit à attendre la sortie de l'album avec impatience.

L'anthropologue pourra voir dans ces images des documents sur un état de civilisation. Les femmes qui ont accepté de se laisser photographier (et méme plus fortement dit: se laisser prendre en photographie) ont exprimé, à leur insu, beaucoup des assurances et des désarrois des corps d'aujourd'hui. Qu'elle soit anodine ou provocante, la pose met en scène davantage qu'un corps unique. C'est quelque chose de l'ensemble des femmes d'aujourd'hui qui se trouve représenté. Non pas la Femme, cet « éternel féminin» qui n'a jamais été fêté que par des phallocrates bornés, mais bien les femmes conerètes, celles que nous croisons tous les jours au travail, dans la rue, dans les grandes surfaces ou sur les lieux de loisirs. Certaines, de celles qui n'auraient jamais accepté de répondre à la curieuse proposition du photographe, seraient bien étonnées de lire ces lignes. Et pourtant, à chaque époque sa nudité et sa mise en scène. Si l'Olympia emprunte sa pose à la Venus d'Urbino, on est passé de la courtisane allanguie à la courtisane fatiguée, pendant que l'on passait de la Renaissance au Second Empire. Les femmes de Michel Hanique ne sont pas des courtisanes, ce métier ne s'exerce plus guére. Ce sont des femmes ordinaires qui, à la suite des courtisanes, ont découvert qu'elles avaient un corps et qu'il n'était pas illégitime de le montrer. Et elle le montrent comme elles croient que les corps d'aujourd'hui doivent être montrés. Avee ingénuité et perversité, avee innocence et appel au désir.
Bibliography
Bibliography
Michel Hanique - Intérieurs Jours; Préface de / Vorwort von Claude Javeau; Verlag Apex / in focus, Köln 1995 - ISBN 2-87317-046-8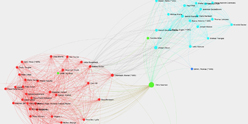 Interested in discovering more of this artist's networks?
3 easy steps: Register, buy a package for a visualization, select the artist.
See examples how visualization looks like for an artist, a curator, or an exhibition place: Gallery, museum, non-profit place, or collector.

Exhibition History

SUMMARY

based on artist-info records. More details and Visualizing Art Networks on demand.
Venue types:

Gallery

/

Museum

/

Non-Profit

/

Collector

Exhibitions in artist-info
9 (S 1/ G 8)

Did show together with

- Top 5 of 59 artists
(no. of shows) - all shows - Top 100

Exhibitions by type

9: 7 / 2 / 0 / 0
Venues by type

4: 3 / 1 / 0 / 0
Curators
0
artist-info records
Nov 1994 - Feb 2010

Countries

- Top 2 of 2
Germany (3)
Belgium (1)


Cities

4 - Top of 4
Köln (5)
Leipzig (2)
Frankfurt am Main (1)
Bruxelles (1)


Venues

(no. of shows ) Top 4 of 4
| | | |
| --- | --- | --- |
| | | Curators (no. of shows) Top 0 of 0 |