Artist

| Martha Jungwirth (*1940)
https://www.artist-info.com/artist/Martha-Jungwirth
Artist Portfolio Catalogue Overview \ 4
Biography
Biography
1940   in Wien geboren
Studium an der Hochschule für Angewandte Kunst in Wien
1968   Gründungsmitglied in der Gruppe"Wirklichkeiten" in der Secession, Wien
1971   Erste Reise nach New York
1973   Reise nach Israel
1976   Reise in die USA
1977   Arbeitsaufenthalte in Rom und in Sizilien
1979   Reise nach Ägypten
1982   Arbeitsaufenthalt in Salzburg
1983   Arbeitsaufenthalt in Venedig
1992   Reisen in den Oman und nach Chicago, USA
1993   Reise nach Mexiko und Guatemala
1993   Aufenthalt auf Bali
Solo Exhibitions
Solo Exhibitions
1962   Erste Ausstellung in der Galerie "Zum Roten Apfel", Wien
1967   Galerie im Griechenbeisl, Wien
1970   Ausstellung sowie Publikation der Mappe"Denkblasen" in der Galerie Stubenbastei, Wien
1975   Ausstellung der Serie "Die schwarze Küche", Galerie Contact, Wien
           sowie in der Galerie Klang, Köln
1976   Galerie Suzanne Fischer, Baden-Baden
           Ausstellung großformatiger Zeichnungen unter dem Titel "Hausfrauenmaschinen" im Museum des 20. Jahrhunderts, Wien
           im Kulturhaus Graz
           im Künstlerhaus Klagenfurt
1980   Ausstellung der entstandenen Arbeiten des DAAD-Stipendiums in der Galerie Nothelfer, Berlin
           sowie 1981 in der Galerie Suzanne Fischer, Baden-Baden
1983   Ausstellung der in Salzburg entstandenen Arbeiten im Kulturhaus Graz
           sowie im Künstlerhaus Klagenfurt
1984   Serie "Neue Wasserfarbenbilder" in der Privatgalerie Archiv (Arch. Ebner) in Wien
1986   Ausstellung einer Serie großformatiger Ölbilder unter dem Titel "Abgeschabte Pinsel" in der Hellerfabrik, Wien
1987   Ausstellung neuer Ölbilder und Aquarelle in der Neuen Galerie, Wien
1988   Ausstellung in der Galerie Stubenbastei in Wien
1991   Ausstellung von Olbildern und Aquarellen unter dem Titel "Alfred Schmeller zuliebe" im Rupertinum, Salzburg
1992   Ausstellung in der Galerie Serafin, Wien
1993   Ausstellung im Künstierhaus Klagenfurt
1994   Ausstellung der Spittelauer Aquarelle im Rupertinum, Salzburg
1996   Ausstellung der auf Bali entstandenen Arbeiten in der Galerie Contact, Wien
           sowie der Galerie Kalb, Wien
1996   Ausstellung neuer Ölbilder und Aquarelle in der Galerie Poller, Frankfurt/Main
Group Exhibitions
Group Exhibitions
1970   Ausstellung der Künstlergruppe"Roter Apfel" im Vikingsbergs Museum, Hälsingborg, Schweden
1970   "Denkblasen" zusammen mit M.J.M.Ringel und Drago Perlog, Forum Stadtpark, Graz
1972   Ausstellung mit M. J. M. Ringel in der Wiener Secession
1973   Teilnahme an der Wanderausstellung "From Austria with Love" (veranstaltet vom BfUuK)
1982   Teilnahme an der Documenta 5 in Kassel
1987   Teilnahme an der Ausstellung "lnnovativ" im Kulturhaus G raz
1988   Teilnahme am Österreichischen Kunstsalon des ORF im Kulturhaus Graz
1991   Teilnahme an der Ausstellung "Das Jahrzehnt der Malerei", Sammlung Schömer, im Kunstforum, Wien
Awards
Awards
1964   Verleihung des Theodor-Körner-Preises
1967   Verleihung des Joan-Mirò-Preises, Barcelona
1969   Erster Preis für Malerei bei der 20. Jugendkulturwoche in Innsbruck
1973   Förderungspreis der Stadt Wien für Bildende Kunst
1974   Preis der Graphik-Biennale in Florenz
1982   Preis des Bundesministeriums für Unterricht und Kunst für Aquarell
1986   Preis der Stadt Wien für Graphik
Scholarships
Scholarships
1980   Stipendium des Deutschen Akademischen Austauschdienstes (DAAD) in Berlin
Lecturing
Lecturing
1967 - 77   Lehrauftrag an der Hochschule für Angewandte Kunst in Wien
1991          Lehrtätigkeit an der Internationalen Sommerakademie in Salzburg
1992          Lehrtätigkeit an der Berliner Sommerakademie
Bibliography
Bibliography
1979   Publikation "Zweiwegebuch" in der Schriftenreihe des Museums des 20. Jahrhunderts in Wien
1992   Illustration für den vom Rupertinum, Salzburg, herausgebrachten Band mit Texten von Friederike Mayröcker "Als es ist"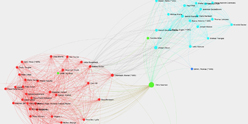 Interested in discovering more of this artist's networks?
3 easy steps: Register, buy a package for a visualization, select the artist.
See examples how visualization looks like for an artist, a curator, or an exhibition place: Gallery, museum, non-profit place, or collector.

Exhibition History

SUMMARY

based on artist-info records. More details and Visualizing Art Networks on demand.
Venue types:

Gallery

/

Museum

/

Non-Profit

/

Collector

Exhibitions in artist-info
21 (S 11/ G 10)

Did show together with

- Top 5 of 160 artists
(no. of shows) - all shows - Top 100

Exhibitions by type

21: 9 / 4 / 3 / 5
Venues by type

15: 8 / 3 / 3 / 1
Curators
5
artist-info records
Sep 1968 - Feb 2019

Countries

- Top 2 of 2
Austria (14)
Germany (7)


Cities

- Top 5 of 9
Wien (12)
Passau (2)
Düsseldorf (1)
Bochum (1)
St.Pölten (1)


Venues

(no. of shows ) Top 5 of 15
| | | |
| --- | --- | --- |
| | | Curators (no. of shows) Top 5 of 5 |